The Atlantic Politics & Policy Daily: Trump Declares Himself Winner of VP Debate
The Republican nominee said he's "getting a lot of credit" for Mike Pence's debate performance on Tuesday.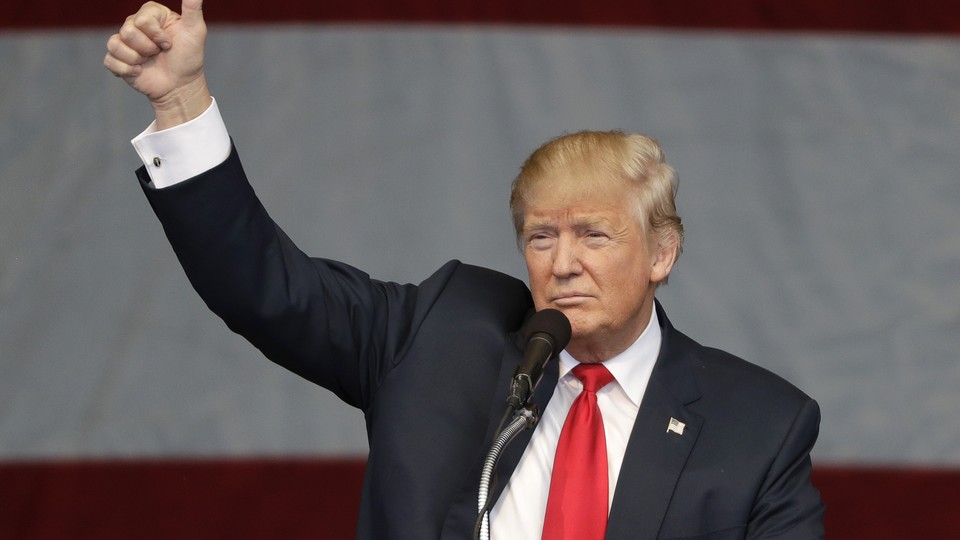 Today in 5 Lines
President Obama urged residents in the path of Hurricane Matthew to follow evacuation orders following a briefing at the Federal Emergency Management Agency. Obama also hailed the Paris climate agreement, which will take effect in November, as a potential "turning point for our planet." Former Vice President Al Gore will reportedly campaign on behalf of Hillary Clinton. Federal prosecutors said a National Security Agency contractor was arrested in August for allegedly stealing classified information. And Donald Trump said he's "getting a lot of credit" for Mike Pence's strong debate performance on Tuesday night.
---
Today on The Atlantic
A Word From the Editors: In 1860, The Atlantic endorsed Abraham Lincoln. In 1964, the magazine endorsed Lyndon B. Johnson. And today, for the third time in its 159-year history, The Atlantic has endorsed a candidate for president: Hillary Clinton.

Falling Out of Line: During Tuesday's vice-presidential debate, Mike Pence deviated from Trump's message on foreign policy and trade and in doing so, "ignored the choices GOP voters made in their primaries." (Peter Beinart)

Keeping the Faith: Mike Pence brought up abortion during Tuesday's debate, saying: "What I cannot understand is Hillary Clinton—how she can support a process like partial-birth abortion." He also acknowledged Kaine's "pro-life views." The comments underscore why religion and conscience are important in this election. (Emma Green)
Follow stories throughout the day with our Politics & Policy portal.
---
Snapshot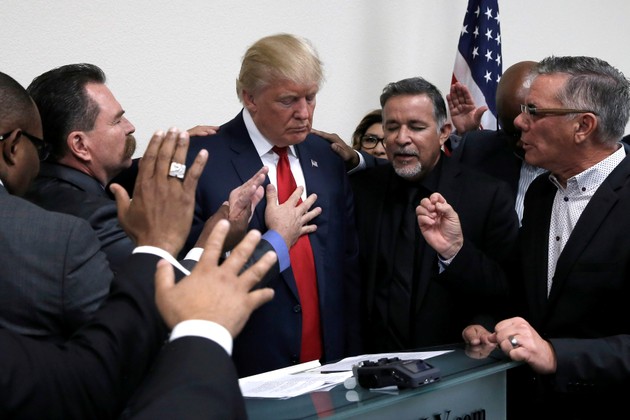 ---
What We're Reading
The Fab Five: The Democratic Senatorial Campaign Committee reportedly canceled ad times in three states, leaving the focus on five states, all of which are likely to decide whether Democrats or Republicans will control the Senate next year. The Washington Post's Chris Cillizza explains what elections to watch out for ahead of Election Day.
'96 Hours in Charlotte': The fatal shooting of Keith Lamont Scott has brought the twin issues of police brutality and racial injustice to a boiling point in the Queen City, and locals are disappointed in athletes Cam Newton and Michael Jordan for not joining in their city's protests. (Tyler Tynes, SB Nation)
Under the Shadow of Trump: Senator Tim Kaine and Governor Mike Pence had brief moments of spirited, substantive discussion during Tuesday's vice-presidential debate, but mostly, "the conversation, like so many conversations in 2016, kept drifting toward Trump." (Michael Grunwald, Politico)
Muslims and National Security: Janis Shinwari is an Afghan interpreter for the U.S. military and a Muslim refugee who saved an American soldier's life. Here is the story of his fight to move to the United States and his challenges navigating life in the era of Trump. (Anna Mulrine Grobe, The Christian Science Monitor)
'The Ugly American': Vanity Fair's editor Graydon Carter recaps his 30-year history encountering and observing Donald Trump. The relationship, Carter writes, was "never strong," and "progressively went sour."
---
Visualized
The Truth About Your Vote: An investigative documentary and interactive web series by Fusion explores "how well-connected pols water down the votes of minorities, young people, and progressives for their own personal benefit."
---
Question of the Week
SCOTUS is back in session and ready to rock and rule after the summer break. If the Court was to weigh in on one apolitical, pop-culture quandary—Kanye West v. Taylor Swift, Star Wars v. Star Trek, Daniel Craig v. Pierce Brosnan, for example—what would it be, and why?
Send your answers to hello@theatlantic.com, and our favorites will be featured in Friday's Politics & Policy Daily.
-Written by Elaine Godfrey (@elainejgodfrey) and Candice Norwood (@cjnorwoodwrites)