The Atlantic Politics & Policy Daily: 'Believe Me, She Would Not Be My First Choice'
Donald Trump denied accusations of sexual misconduct during a rally in North Carolina.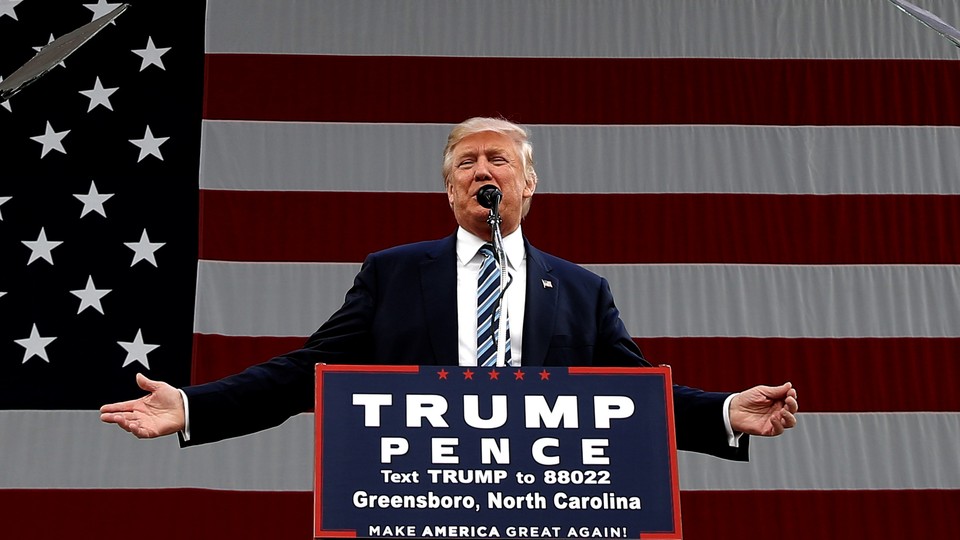 Today in 5 Lines
Two more women came forward with allegations of unwanted sexual advances by Donald Trump: Kristin Anderson told The Washington Post that Trump groped her at a club in the early 1990s, and Summer Zervos, a former Apprentice contestant, said Trump attempted to force himself on her in 2007. During a rally in North Carolina, Trump responded to an earlier allegation from Jessica Leeds, saying, "Believe me, she would not be my first choice." Republican vice-presidential nominee Mike Pence also defended his running mate. The Obama administration announced changes to U.S.-Cuba policy that include removing restrictions on the amount of Cuban rum and cigars Americans can bring from the country. And the president delivered a strong rebuke of Trump at a campaign rally for Hillary Clinton.
---
Today on The Atlantic
'Trump Goes to War': The Republican nominee's supporters remain loyal, even as his campaign descends into chaos. "They are sticking with him to the bitter end, and maybe after that," Molly Ball writes, "in the conflagration that envelops the Republican Party."

Mending Broken Relations: The Justice Department plans to launch a "nationwide data-collection effort aimed at cataloguing, and hopefully analyzing, law-enforcement interactions with civilians." The initiative is a small, but important, step toward increasing transparency in policing. (Juleyka Lantigua-Williams)

Ivanka, Undaunted: The daughter of the Republican nominee is keeping things in perspective on the campaign trail. "It is a very emotional experience," Trump told Salena Zito. "On many levels, you have very high moments and you have very difficult moments."
Follow stories throughout the day with our Politics & Policy portal.
---
Snapshot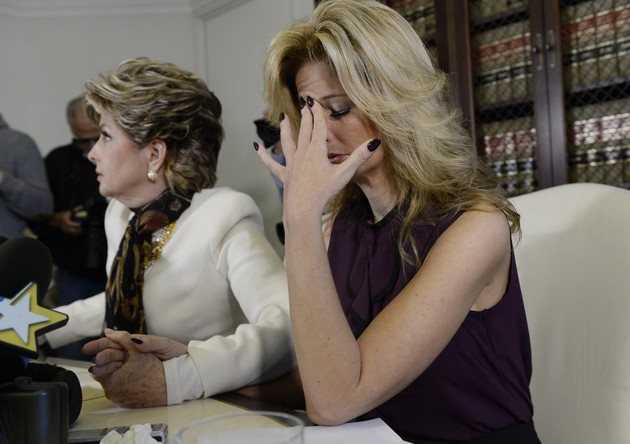 ---
What We're Reading
Hopping Off the Trump Train: White working-class Americans have long formed Donald Trump's base. But women make up a large share of this group, and it appears they are rapidly changing their minds about him. (Julia Sonenshein, Politico)
Democracy—IRL: During a time of increasing polarization in the United States, people are frequently participating in digital communities that reinforce their beliefs. But democracy would benefit more by breaking away from cyberspace and interacting with different people in the real world. (Alex Pentland, Nautilus)
Trump's 'Fury and Failure': Rolling Stone's Matt Taibbi recounts a boisterous scene during House Speaker Paul Ryan's annual "GOP Fall Fest" in Wisconsin last week. The event, which took place the day after he uninvited Donald Trump, highlights how the Republican nominee "has laid waste to the American political system."
The Day Bill Came Out: Bill Kennedy, a 20-year referee with the NBA, stepped into the national spotlight last December when he publicly came out as gay after player Rajon Rondo was suspended for hurling a slur at him during a game. Here is the story behind his decision. (Kevin Arnovitz, ESPN)
Fighting for Survival: Tom Tremblay, a police-officer-turned-consultant, has advocated for sexual assault and domestic violence victims over the last three decades. He spoke with Vox about the reasons victims often wait to come forward with their stories. (Sarah Kliff)
---
Visualized
Free Fallin': Donald Trump's campaign is currently in a state of "bad free fall," as states that typically vote for Republican candidates are suddenly coming into play for Hillary Clinton. Take a look here. (Chris Cillizza, The Washington Post)
---
Question of the Week
This week, we asked who would represent Mars in Congress, if President Obama's goal is accomplished and humans are able to "remain there for an extended time." We got some great responses, but here are two of our favorites:
Reader Michael Wood recalls that Dennis Kucinich, a former Democratic presidential contender, saw a UFO in Washington and claimed he had "felt a connection in his heart and heard directions." Wood said Kucinich is "clearly best positioned to continue his role as liaison."
And props to Michael Zarrelli for suggesting the late Congressman James Traficant, another Ohio Democrat, who used to end speeches with the phrase, "Beam me up!"
Check out our Notes section for more great submissions, and stay tuned for next week's Politics & Policy Daily.
-Written by Elaine Godfrey (@elainejgodfrey) and Candice Norwood (@cjnorwoodwrites)