Q of the Week: What Should the Candidates Be for Halloween?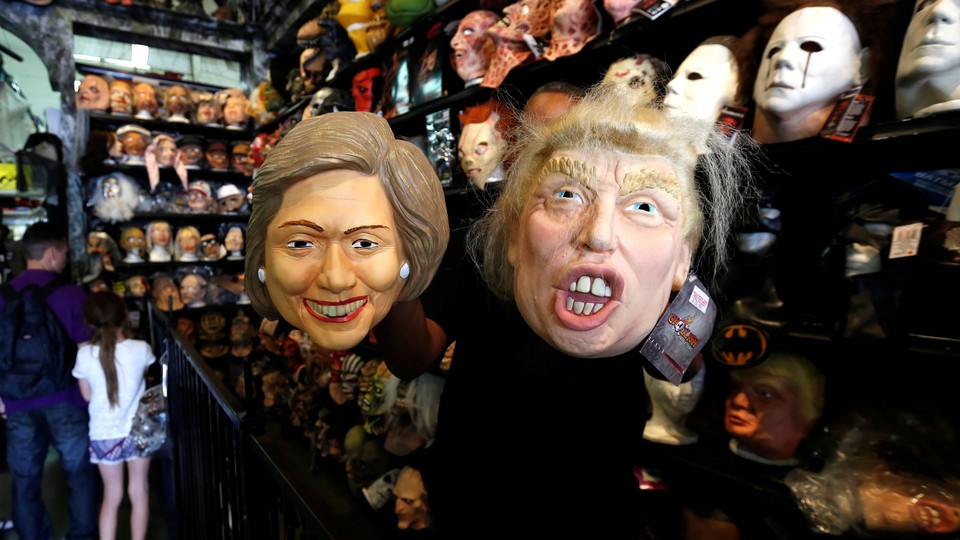 Editor's Note:
This article previously appeared in a different format as part of The Atlantic's Notes section, retired in 2021.
This week we asked our Politics & Policy Daily readers what they thought the presidential candidates should be for Halloween, and we got a number of great responses. Thanks to everyone—and there were several—who suggested Hillary Clinton and Donald Trump simply dress as each other to achieve peak scariness.
But props to Joanne Allard from Tucson for a truly creative submission: Allard suggested Clinton will dress as Ellen Ripley, the protagonist from the 1979 film Alien, while Trump go as the alien, wearing an orange headpiece. From Joanne:
I will resist the temptation to suggest her obvious catchphrase, except to point out that it would, of course, be delivered upon her reaching in to grab, er, to extract The Donald.
Reader James Miles suggested Libertarian Party nominee Gary Johnson dress as Elmer Fudd, and John Bianchi said Green Party nominee Jill Stein would be Gaia—"nuff said."
A handful of other costume ideas came from Jane Wilson, who got really into word play. For Trump:
1. Putin's Puppet / Moscow Muppet
3. Hot Mic
4. Mr. Bigly
And for Clinton:
1. Neo-Nasty
2. ALT + Right + DELETE
3. Swamp Queen