Independents and Women Bail on Trump, Giving Clinton a Double-Digit Lead
The latest PRRI/The Atlantic poll shows Hillary Clinton building a double-digit advantage—after being locked in a dead heat two weeks ago.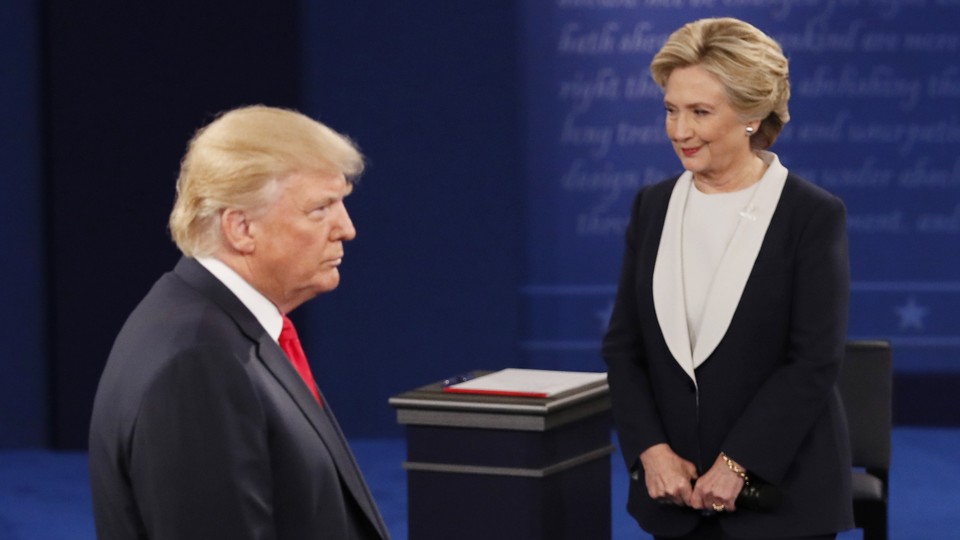 With less than a month to go until Election Day, Donald Trump's standing has plummeted with likely voters, falling from a dead heat just two weeks ago to a double-digit deficit behind Hillary Clinton, according to a PRRI/The Atlantic poll released Tuesday.
Clinton holds a 49-38 lead over the Republican. Two weeks ago, a previous PRRI/Atlantic poll found Trump and Clinton tied at 43-43. Following the first presidential debate in Hempstead, New York, the Democrat broke out to a 47-41 lead. She has now built on that lead.
---
Presidential Choice Among Likely Voters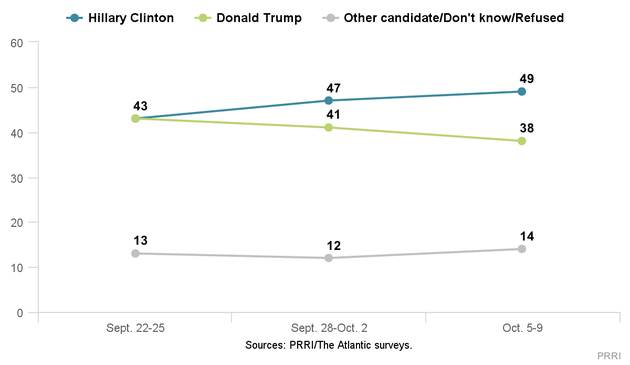 ---
That's the bad news for Trump. The worse news is that this poll likely does not include the full impact of a video, published Friday afternoon by The Washington Post, in which Trump boasts about sexually assaulting women. The poll was conducted Wednesday through Sunday, meaning some respondents were interviewed before the video's release and some afterward. It also does not take into account the second presidential debate, in which Trump's performance drew widely varying reviews.
"At a time when Trump needs to be expanding his support, this new survey shows him faltering with independent voters and slipping further with women voters," said Robert P. Jones, CEO of the Public Religion Research Institute. "While white evangelical voters are mostly standing by their man, enthusiasm among his base supporters alone is certain to leave him short on Election Day."
The shift toward Clinton is driven almost entirely by movement among independent voters. One week ago, Trump led Clinton 44-36 among independent voters. Those numbers have roughly flipped, with 44 percent backing Clinton now, and 33 percent supporting Trump.
---
Independent Voters' Preference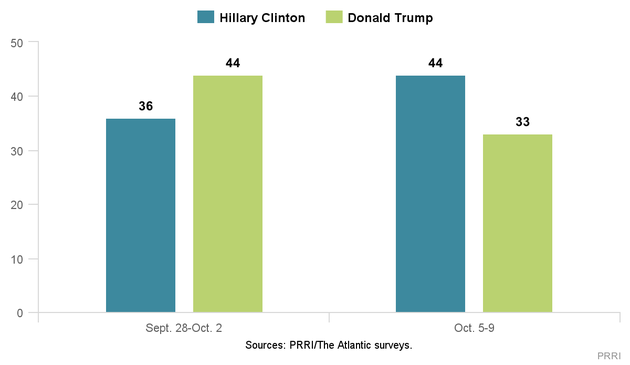 ---
Clinton also continues to lead Trump by hefty margins among women, with a 33-point gap separating the candidates. Just 28 percent of likely women voters intend to pull the lever for Trump, a five-point drop from one week ago, while 61 percent plan to vote for Clinton. The lewd video of Trump might lead to an even greater gap in the home stretch toward the election.
Even more remarkably, Trump's support has collapsed among white women without college degrees. Until recently, they formed Trump's largest bloc of support. In 2004, they voted for George W. Bush by 19 points; in 2008, they backed John McCain by 17 points; and in 2012, they went with Mitt Romney by 20 points. This poll finds them evenly split between Clinton and Trump, with each drawing 40 percent support.
One thing that makes the 11-point topline gap between the candidates so notable is that Trump retains impressive support—and Clinton remains conspicuously weak—among a couple of key demographics. Trump's support among male voters is roughly flat, at 48 percent. Trump has a huge lead among white men with no college degree, 65-22, but also leads among college-educated white men, who back him at 46 percent to Clinton's 39 percent.
---
The Gender Gap in Presidential Preference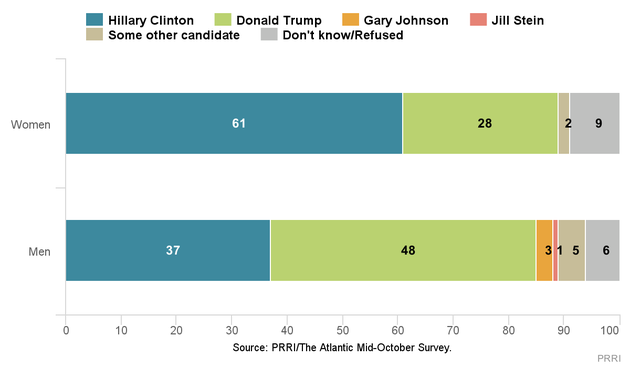 ---
Trump also remains very popular among evangelical voters. Roughly two of every three white evangelicals plans to vote for Trump, with only 16 percent backing Clinton. Among other white Christians, however, Trump's support is weaker than previous Republican candidates.
The survey polled 1,327 adults living in the United States through telephone interviews, including 886 likely voters. The margin of error for the entire sample is +/- 3.2 percentage points, and the margin of error for the subsample of likely voters is +/- 3.9 percentage points at the 95 percent confidence interval. The topline questionnaire, including methodology, is available here.
The results lay out the stiff odds facing Trump as he attempts to put the video behind him and close his gap with Clinton. The PRRI/The Atlantic poll is the second in as many days to show Clinton opening up a double-digit lead. On Monday, an NBC News/Wall Street Journal poll found Clinton holding a 14-point lead, 52-38, in a two-way race. In a four-way race, she led Trump 46-35.
But the impact of Trump's video has not been fully felt in polls, nor has the tidal wave of Republican officeholders who have renounced Trump, withdrawn their support, and called on him to withdraw from the race. He shows little interest in doing so, and has struck a defiant tone. Yet there are now just four weeks left before the end of the race, and more than 400,000 ballots have already been cast. The Republican nominee's political problems have become a math problem.
---
Related Videos