Presidential Debate Boosts Clinton's Numbers as Trump Trails
A post-debate bounce materializes for Hillary Clinton in the latest survey from the Public Religion Research Institute, but Trump remains competitive.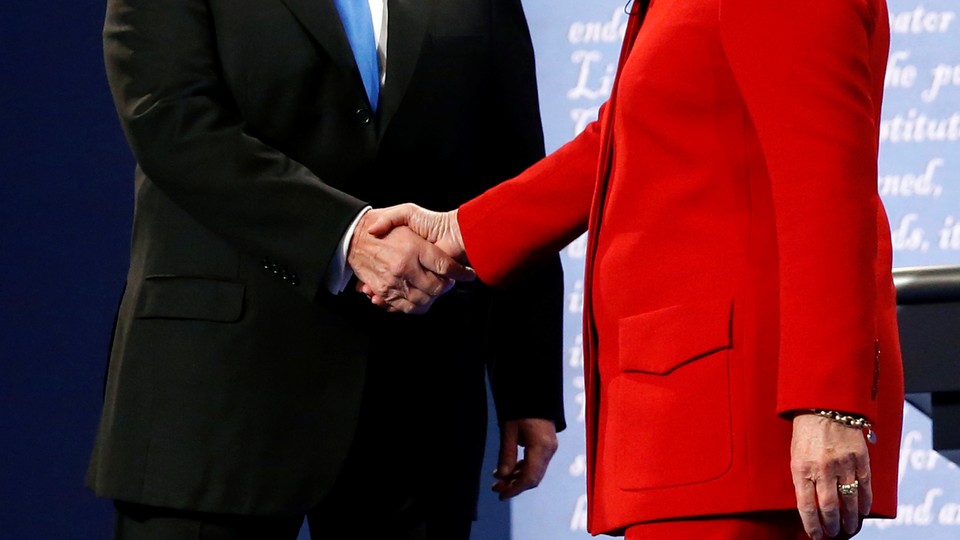 Hillary Clinton continues to hold the line against Donald Trump, bolstered by a modest bump following the first presidential debate, according to a before-and-after PRRI/The Atlantic poll released Thursday.
Prior to meeting onstage at Hofstra University, the candidates were statistically tied, stuck at 43 percent among the voters most likely to cast a ballot. That changed in the days following the debate; Clinton jumped four percentage points to 47 percent, the poll showed, while Trump fell to 41 percent. The Democrat also remains ahead among the wider pool of registered voters.
Even so, Clinton hasn't yet reclaimed the heights she hit during her post-convention honeymoon in August, and she struggles among white working-class voters far more likely to support Trump, who is drawing very little support from voters of color.
"Trump really is appealing to people who don't regularly vote in elections," said Daniel Cox, PRRI's director of research. "At least part of his base are folks who have only recently become activated to get involved.
"Do these folks come out to vote?" he continued. "That's a real question mark."
He's right to ask. Uniformly, people are less interested in voting than in previous elections. At this point in 2012, more than 70 percent of Americans said they were certain they'd vote—and that wasn't a particularly stunning election as far as turnout goes. This time around, only 59 percent are positive they'll cast a ballot, and more than a quarter told pollsters they'd put their odds of voting at 50-50 or less.
Many people doubt either candidate understands issues facing local towns. Donald Trump scores far worse on this metric: Two-thirds of respondents said the New York billionaire has only a weak grasp of the average American's problems. But Clinton is no great shakes, either: 48 percent said she had only a dim idea of the challenges confronting communities. That's led some people to throw up their hands.
"I have no desire to vote—I'll just sit back and watch everybody else mess this up," said Gloria Groves, 47, of Clarksburg, West Virginia, in a follow-up interview. "I don't see no good coming from either one of them. We don't have a candidate where we can win."
The survey polled 1,017 adults living in the United States through telephone interviews. Its margin of error is ± 3.6 percentage points.
Clinton still struggles among white men, trailing Trump by 31 percentage points. That's not much worse than Obama's deficit in 2012—Romney beat him by 27 points among white men—and is somewhat balanced by Trump's overall unpopularity with women (25 points lower than Clinton) and minority voters (59 points lower).
Trump is popular among Americans who never left their hometowns, and his supporters tend to be reasonably well-off; previous surveys suggest his message appeals most to insulated communities who haven't yet faced hardship, but fear that economic and demographic tides will soon turn against them.
Third-party candidates remain an option for some voters, though a distant one. Libertarian candidate Gary Johnson polled at 3 percent, which is within the margin of error; Jill Stein fared worse. But 9 percent of likely voters plan to cast ballots for someone else, or said they hadn't made up their mind.
Wayne Carter, 20, finds Clinton dishonest and Trump distasteful; he's settled on Johnson. "If I didn't vote for him, that would reinforce the stipulation behind a third-party vote as being thrown away, or cast away as a useless vote," said Carter, a finance major at the University of North Texas. "If enough people vote, that also takes votes away from the two major party candidates, which can heavily influence their outcomes."
In some ways, this poll fits in with what the electorate has seen for the past few months. Clinton's ahead, but not overwhelmingly so; Trump has closed in, but can't break through a ceiling in the polls. On balance, seeing the candidates together for the first time doesn't seem to have altered the fundamentals of this race.