Paul Ryan Misses His Chance
The House Republican leader could have withdrawn his endorsement of Donald Trump immediately after a controversial 2005 recording surfaced last week. Why didn't he?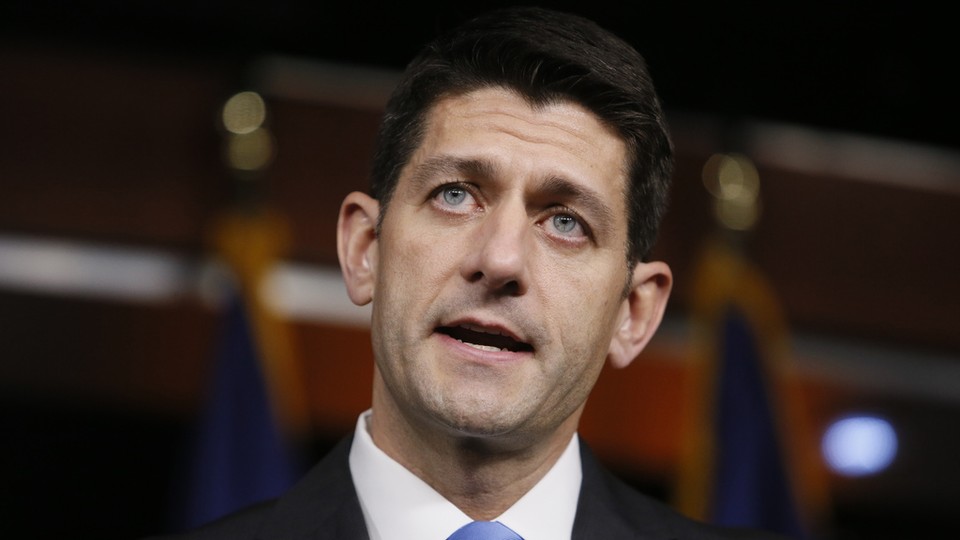 Paul Ryan claims he was "sickened" by Donald Trump's remarks in a 2005 recording in which Trump brags about using his celebrity status to grope unsuspecting women. But by declining to immediately withdraw his endorsement of the Republican presidential nominee, the House speaker missed a chance to take a principled stand.
Ryan has worked to brand himself as a compassionate conservative—a lawmaker who has put forward an agenda to improve the lives of everyday Americans while promoting conservative values. After failing to fully withdraw support for Trump in the wake of his comments—which degrade women and seem to glorify sexual assault—it will be far more difficult for Ryan to credibly promote himself that way. Especially when other Republicans, like senators John McCain and Kelly Ayotte, have used this latest controversy as an opportunity to jump ship and pull their support from the GOP nominee.
Despite assertions to the contrary, Ryan has not abandoned Trump so long as he continues to endorse him. An endorsement is, after all, an implicit approval of what a candidate says and does. So far, Trump's campaign has included attacks on a Gold Star family, accusations of ethnic bias against a judge, and threats to jail Hillary Clinton. Ryan can condemn Trump's remarks all he likes. But if he maintains his endorsement going forward, he'll be asked to answer for Trump all the same. The Clinton campaign is certainly trying to tie Ryan to Trump over the endorsement, as the Republican nominee's standing in the polls slips and Democrats attempt to retake the House.
For his part, Ryan has tried hard in recent days to distance himself from Trump. After criticizing the taped remarks, Ryan announced that Trump would no longer attend an event in Wisconsin where the two had been slated to appear. That wasn't all: "Ryan told House Republicans on a conference call Monday morning that he's done defending Donald Trump and will focus on maintaining his party's increasingly imperiled House majority," Politico reported. Crucially, though, the story noted that "Ryan stopped short of formally rescinding his endorsement of Trump." On Tuesday, AshLee Strong, a spokeswoman for Ryan, confirmed that "there is no update" on the endorsement when asked if it still stands, though she added: "The speaker is going to spend the next month focused entirely on protecting our congressional majorities."
Ryan's actions aren't without risk, even if he hasn't entirely denounced Trump. Ever since he announced his endorsement in June, the speaker has gambled that voters won't view his decision to support his party's nominee—a man whom he has criticized many times—as evidence that he is willing to sell out his principles for politics. His latest attempt to distance himself will inevitably incite backlash from some conservative voters who feel the Republican Party hasn't adequately supported Trump. It already appears to have incensed the GOP nominee. "Our very weak and ineffective leader, Paul Ryan, had a bad conference call where his members went wild at his disloyalty," Trump tweeted on Tuesday morning.
The House speaker faces a difficult political calculus, and one that is different from most Republican elected officials. As the top-ranking House Republican, Ryan faces far more pressure to show loyalty to his party's nominee than rank-and-file congressional Republicans. Now that Trump is openly feuding with Ryan, a rescinded endorsement would escalate tensions within the party—between Trump loyalists and critics, and among those worried about the future of the GOP. The ensuing chaos could depress Republican voter turnout and hurt down-ballot candidates. Yet even for that pressure, Ryan may be anxious that continuing to support Trump will imperil his reputation as a principled conservative, and along with it his political future.
And so it's possible his support for Trump may not last. "There's a distinct possibility Ryan will go a step further and completely yank his endorsement," Politico reported on Tuesday, citing "sources close to him." The story asserts that "Ryan has personally been on the edge of pulling the plug but has held out because his decision is about more than just his personal feelings: It's about saving his massive 60-seat majority." Ryan, Politico reports, "feels torn between his own conscience and his obligations as the top Republican in the country."
But if Ryan does decide to withdraw support for Trump, it will likely have more to do with strategic political calculation than anything else. Politico's sources make it sound as if the speaker can't decide whether to listen to his moral compass or to put aside his own personal concerns to help his fellow Republicans. That framing sounds relatively principled. In the end, though, the most important determinant behind Ryan's decision-making could be how far the Republican nominee falls in the polls. Trump's standing in national surveys is already eroding. If it collapses further, Ryan could withdraw his endorsement to limit the damage to the House Republican brand—and because there would be less political risk for him in doing so. Ryan could have pulled his endorsement immediately after the 2005 recording of Trump was released, or at many other controversial junctures during his campaign. But he may wait until association with Trump seems to offer no political upside at all.