Obamacare's Problems Probably Won't Save Trump
Will recent reports about challenges for Obamacare make health reform a bigger issue at the polls?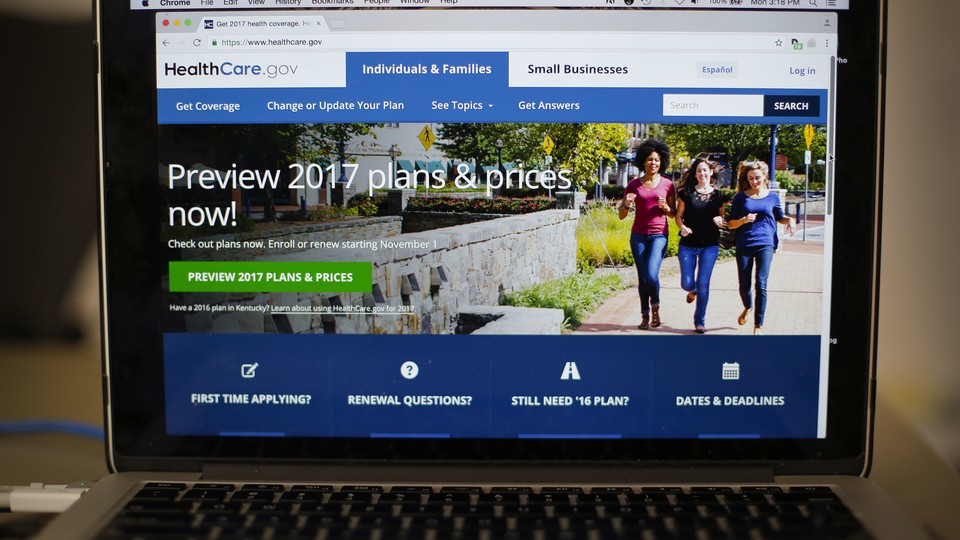 It's crunch time for the Affordable Care Act.
Days after a long, thorough speech from President Obama defending the law and laying out his vision for it in the years ahead, the administration released confirmation of what the industry had been signaling for most of the past few months: double-digit percentage point premium increases for benchmark plans for people insured through plans purchased on the Obamacare insurance marketplaces, known as exchanges, this upcoming year.
Though uninsured rates have never been lower in the country's history, health reformers were already on the defensive because of bad news earlier in the year. Young people are still slow to sign up, premiums have steadily risen in the exchanges, and big insurers like Aetna have left the exchanges, leaving several counties and at least one entire state with only one insurer.
The administration's announcement comes just a week until the start of the November 1 health insurance open enrollment period, and two weeks before election day. This is the kind of announcement that might be expected to be used as campaign fodder, both for Republicans seeking to destroy the law, and Democrats who have become increasingly vocal about further reforms or radical changes to the law. But will the bad news about Obamacare actually affect the election in a meaningful way?
Donald Trump certainly seems to think the news of premium hikes will work in his favor, though his criticism in reaction to news has revealed more about the limitations of his own policy knowledge than anything about how he'd fix the problem. On Tuesday after the administration's announcement, Trump appeared to confuse "Obamacare" for an actual insurance plan, and seemed unclear as to how his employees are covered.
"We don't use Obamacare," Trump said to Fox News. It is unclear, based on these comments, if Trump knows what a double-digit premium increase for people on the insurance exchanges even means.
Assuming a charitable explanation of his remarks, Trump's main difficulty, and the one that his party also faces in many down ballot races, is that even with the bad news, it might be hard to recapture the political urgency of health reform—and repeal—as a critical campaign issue in 2016. For one: The administration's announcement is a mere formalizing of increases many people familiar with the industry predicted throughout the year.
If Trump is indicative, Republican politicians don't have the language to capitalize on some of the weaknesses of the law right now. Over the past two years, neither their calls for blanket repeal of Obamacare, nor the coverage of historic gains in insurance coverage, have meaningfully altered public opinion one way or the other.
Perhaps the reason why it's so hard to move public opinion either way is because many of the most publicized changes don't have real measurable impacts on the lives of most voters right now. Only a small sliver of the population is enrolled through the exchanges, and most people in the country are covered through their employers, where premiums have risen at rates similar to previous years.
Of that small sliver of people in the exchanges, over 80 percent of enrollees are shielded from the true costs of insurance premiums by government subsidies and cost-sharing. The federal government will protect most Americans from the real financial impacts of a spike in premiums, and only between five and seven million people will bear the full sticker shock of Obamacare premium hikes. That's no small number, but spread across states, it's certainly a tough demographic to target in a presidential campaign, and probably too diffuse to target for local and congressional races. Additionally, most people with subsidized coverage who are directly threatened by the loss of Aetna or other major insurers won't have to go shopping for new plans until 2017.
A recent Kaiser Family Foundation tracking poll suggests that the future of the Affordable Care Act isn't even the top health care issue for registered voters, but that finding comes with a few grains of salt. Sixty-six percent of those polled viewed the future of Medicare as a non-exclusive "top priority," with an equal proportion viewing access and affordability of health care as such. Both the future of the Medicaid program and affordability of prescription drugs rank ahead of the integrity of the ACA law itself, and the opioid epidemic, access to reproductive health services for women, and Zika round out the list of important concerns for voters.
What that ranking does indicate is that in four years since the administration started implementing the major ACA reforms, pieces of the law have become normalized as discrete parts of everyday life for many Americans that they wish to improve. Upheaval has been a big issue: signing up for new insurance and understanding it are often so complex that they require third-party assistance.
Proposals like Donald Trump's that involve remaking a system that is just beginning to settle have challenges with winning over many people who actually have to navigate the changes involved. That Trump is not a particularly effective salesman for even the idea of repeal can't be useful for persuading even the millions of Americans facing sticker shock that Republicans have a real plan for dealing with health care costs.
So what's left for Republicans and Donald Trump? Probably not another health-reform-fueled revolution. It's unlikely that premium increases can influence enough lives now to provide that kind of momentum at the polls, and Trump's incoherence looks more like a last-ditch gambit than legitimately savvy capitalization on what appear to be real problems with the law.
What's left are cautious voters considering nuanced questions about the real challenges of changing a law under which millions of people now pay for their some of their biggest expenses. Americans are seeking affordable ways forward with what they have in ways that disrupt their lives the least. For now, their response is probably not panic.