The GOP Shouldn't Wish for a Mike Pence 2020 Run
The vice-presidential candidate offers a stark contrast with Trump. That doesn't mean he can appeal to the kind of voters the Republican Party needs to win.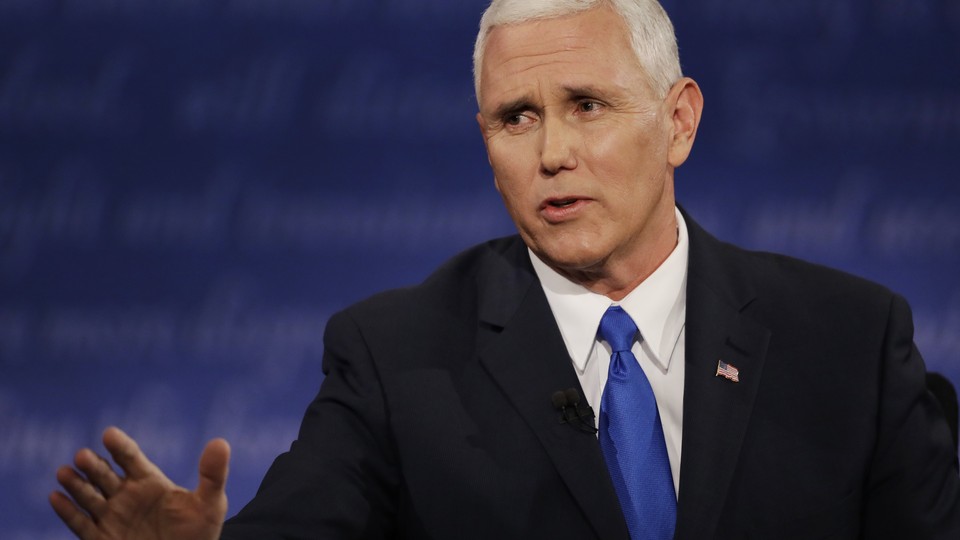 Not long ago, Mike Pence was relegated to second-tier status within the Republican Party. Before he joined the 2016 GOP ticket as Donald Trump's running mate, the Indiana governor signed a religious-freedom bill into law that alienated business groups inside and outside of the state, along with Indiana voters who support LGBT rights. His approval ratings dropped in the wake of the controversy, while tourism officials estimate it may have cost Indianapolis as much as $60 million in lost revenue.
Now, Pence is suddenly the subject of 2020 presidential speculation. "Mike Pence Sets Himself Up for 2020," conservative anti-Trump writer Erick Erickson wrote on The Resurgent in the aftermath of Tuesday's vice-presidential debate. "Mike Pence Ditches Donald Trump, Starts His 2020 Run at VP Debate," The Daily Beast declared in its post-debate analysis.
What changed? Pence turned in a steady and even-tempered performance—though notably one riddled with false and misleading statements—at the vice-presidential debate. Compared to Trump's brash and blunt tone, Pence came across as polite and soft-spoken. When asked to answer for Trump's insults, Pence acted as though they had never happened. While Trump has praised Russian president Vladimir Putin on the campaign trail, Pence denounced Putin as "small and bullying" at the debate.
In other words, Pence succeeded where mainstream Republicans believe Trump has failed. The vice-presidential candidate's rhetoric on Russia must have been a welcome relief for veterans of the Republican establishment who have balked at Trump's apparent embrace of Putin. His more approachable and less abrasive style compared with Trump undoubtedly comforted Republicans worried that Trump's offensive comments will alienate voters. His traditional social conservatism is more in line with previous Republican leaders than Trump. But that doesn't mean that Pence can be a post-Trump savior for the Republican Party.
Judged against the aspirations that the Republican Party itself has outlined, Pence is as improbable a GOP presidential contender as Trump. Trump has defied calls from the party establishment to adopt a more inclusive, compassionate approach to politics in the aftermath of Mitt Romney's presidential defeat in 2012. Yet Pence also represents a stark break with what the party hoped for in a leader when it penned its infamous autopsy only a few years ago. The autopsy famously called for  the GOP to reach out to "Hispanic, black, Asian and gay Americans and demonstrate we care about them, too." Trump tore that ambition to shreds when he started out his presidential run by calling Mexican immigrants rapists and criminals. Yet while Pence is unlikely to be as cavalier as Trump in dispensing insults, there's not much to suggest that he would expand the party's appeal either.
Pence has a record of advocating positions at odds with mainstream public opinion. While campaigning for Trump, Pence has predicted that a president Trump would overturn the Supreme Court's landmark Roe v. Wade ruling that affirmed the legality of a woman's right to have an abortion. "I'm pro-life and I don't apologize for it," he said in July. "We'll see Roe v. Wade consigned to the ash heap of history where it belongs."
A Pew Research report from April found that 56 percent of Americans say that abortion should be legal in all or most cases, while only 41 percent say it should be illegal in all or most cases. In March, Pence signed one of the most restrictive abortion laws in the country, requiring burials or cremations for aborted fetuses. Pence's "views seem out of step with the majority of Americans on abortion," Brookings Institution's senior fellow John Hudak wrote in July.
Before Pence was picked to become Trump's veep pick, his political star seemed to be fading. The Indiana governor provoked backlash from business groups and LGBT advocates after signing a religious freedom act into law that critics claimed would sanction discrimination against gay people. There was so much backlash, in fact, that Pence felt compelled to sign a revised version of the bill into law. But damage was done. "Gov. Pence got hurt, obviously, with the Religious Freedom Restoration Act fight," Indiana Senate President Pro Tempore David Long, told Politico in July. "Pence was once seen as a potential presidential hopeful himself, but his prospects dimmed in the spring of 2015 amid a nationwide controversy over his state's 'religious-freedom' law, seen by many as targeting gay and lesbian residents." ABC News wrote in July after Pence was officially named to the VP slot.
Pence does little to broaden the party's demographic appeal, either as a running mate or potential GOP standard-bearer. "The Trump-Pence ticket badly needs to make inroads into the insufficient coalition Mitt Romney assembled in 2012," Hudak noted in his July analysis, adding: "It is unclear, given his demographic characteristics, experience, policy positions and ideology, how Pence would appeal any differently than does Donald Trump or did Mitt Romney or Paul Ryan."
Of course, just because Pence would likely do little to expand the appeal of the GOP, it's unclear how much that matters. Hillary Clinton currently has a roughly 4 percentage point advantage in national polling for the 2016 presidential race. But given that Trump has never held office and has alienated so many different constituencies during his political rise, it is remarkable that the race is so close.
If nothing else, the fact that Pence is currently being talked about as a potential 2020 contender, not because he defended Trump at the vice-presidential debate, but because he distanced himself from his running mate, highlights the GOP's struggle to identify what it stands for and what kind of party it wants to be.
A Pence presidential run would be a remarkable reversal for the Republican Party from the candidacy of Donald Trump. It would also be a departure from the ideals that GOP leaders themselves laid out after their last presidential defeat.