Voter Groups Are Pushing Latinos to the Polls
This slice of the electorate has shown increased interest in casting a ballot in November. So outside organizations are lending a hand.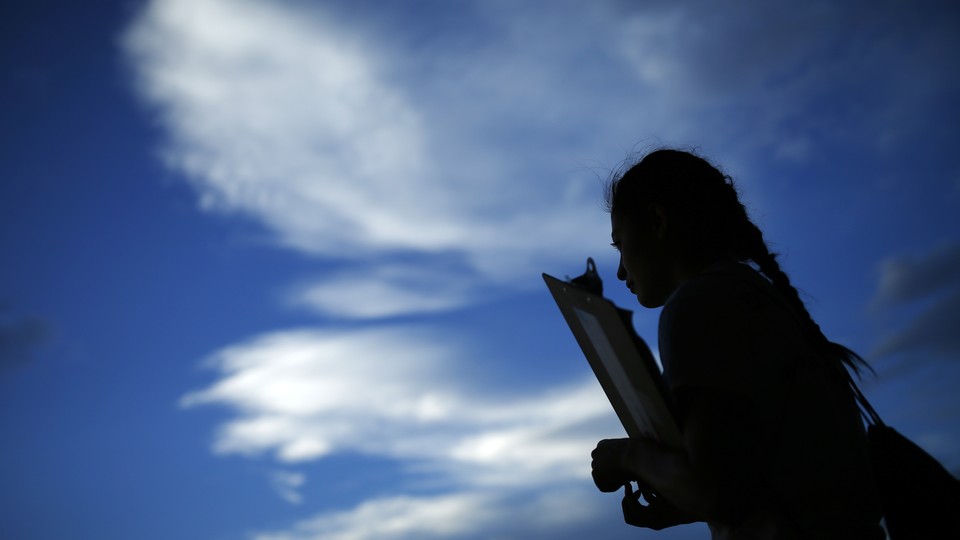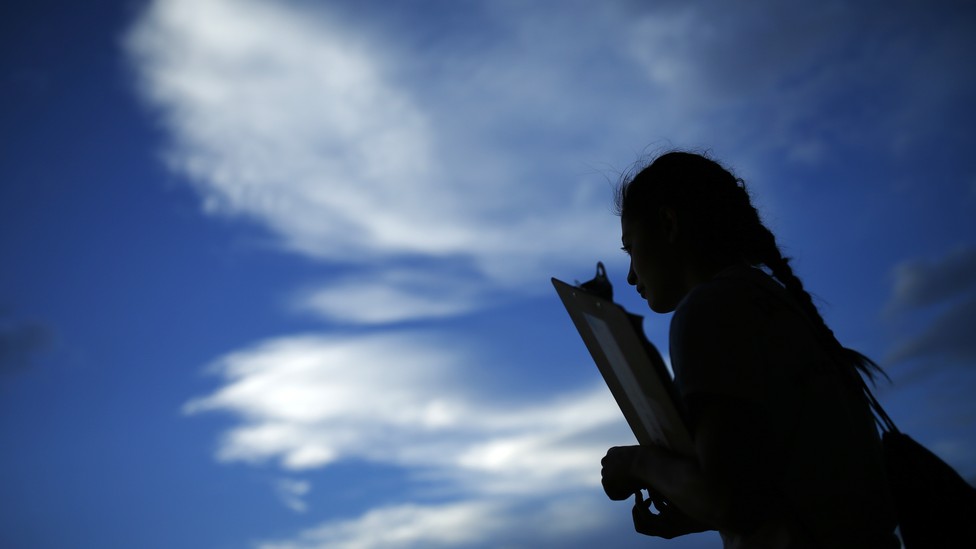 The Latino population in the United States reached nearly 57 million in 2015 and according to U.S. Census Bureau projections, it's expected to increase to 119 million by 2060. But just how much influence Latino voters will bring to bear on future elections is hard to assess. Latinos have historically been the least likely group of voters in the country to cast a ballot, but this year's contentious election might serve as a turning point in their turnout. A number of organizations are hoping to capitalize on increased interest in the election by launching initiatives specifically designed to help Latinos register to vote.
In 2012, 48 percent of eligible Latino voters cast a ballot, compared with roughly 66 percent of black voters and 64 percent of white voters. But their voting habits may be changing: Latino voter registration is reportedly climbing in Colorado, Florida, and Nevada, three important swing states. And on the night of the first presidential debate in September, the search term "registrarse para votar"—translated to "register to vote" in English—spiked on Google, reaching the highest level ever seen in the United States. Areas with a high concentration of Latinos—like California, Texas, and Florida—saw the biggest jump in searches for "registrarse para votar."
Ahead of next month's election, voter organizations are promoting registration in ways that are catered to the Latino electorate and their proclivities. One such group is Phone2Action, a civic engagement platform that launched an app on Voter Registration Day, September 27, that capitalizes on Latinos' dependency on mobile devices. A Pew Research Center survey released in July found that 94 percent of Latinos said they access the Internet through a mobile device—a higher percentage than among white users—and a 2015 Nielsen report found that Latinos use "more mobile minutes than average device users."
The Phone2Action tool, also available on desktop, allows users to check their registration, find information about early voting and polling locations, and learn more about presidential and down-ballot candidates. The U.S. Chamber of Commerce, Consumer Technology Association, and National Association of Manufacturers are among those who have partnered with Phone2Action to offer the app on their websites. Recent data seems to affirm Phone2Action's strategy: Since National Voter Registration Day—which was heavily promoted on Google, Facebook, and the nation's largest Spanish-language network, Univision—searches for "registrarse para votar" have been largely conducted on mobile. According to Google trends data, 87 percent of searches were on a mobile device, compared with 13 percent of searches on a desktop computer. Meanwhile, search interest for "register to vote" stood at 76 percent on mobile and 24 percent on desktop.
Other voter organizations are also working to mobilize Latinos. Voto Latino, a nonpartisan group that focuses on engaging young Latinos, announced this month that its outreach efforts have so far resulted in 101,720 voter registrations. President and CEO Maria Teresa Kumar said in a statement that the group's "digital-first strategy of engaging young Latinos has led to more than 5,000 voter registrations per day in the last weeks." National Council of La Raza and Mi Familia Vota, two organizations that focus on Latino voter participation, are also deploying efforts to increase turnout.
Latino outreach efforts could have a lopsided benefit for Hillary Clinton, whose opponent has used inflammatory language about Latinos and proposed policies that would directly impact the immigrant community.
Donald Trump launched his campaign calling Mexican immigrants rapists and criminals. More than a year later, after the first debate, he doubled-down on his past criticisms of Venezuelan-born Alicia Machado, the former Miss Universe. Trump's campaign has ostensibly tried to land Latino voters through his National Hispanic Advisory Council, but even that effort has come with its hiccups. Following his recent speech on immigration in Phoenix, Arizona—where he demonstrated a continuing hardline stance on deportations and border security—some members decided to leave the group.
Clinton's Latino outreach has also fallen short, though, when compared with President Obama's strategy in 2012—and these initiatives could help compensate for any deficiencies. The Clinton camp has been criticized, for example, for the rollout of its Latino targeting efforts; staffers waited until only recently to release ads directed toward Spanish speakers in some states. Still, as BuzzFeed reports, Obama may have spent more than Clinton on paid Spanish-language media, but he wasn't facing Trump—a man whose rhetoric on the trail alone has alienated Latinos.
Generally speaking, Democrats stand to gain more from increased Latino voter registration. According to a Pew survey from 2014, "half of Latino registered voters say the Democratic Party has more concern for Latinos than the Republican Party." In 2012, Barack Obama received overwhelming support from Latino voters: Seventy-one percent of Latino voters cast a ballot for Obama compared with 27 percent for Mitt Romney. The dismal showing for the then-Republican nominee alarmed the GOP. After the election, the party released its so-called autopsy report, which called for a greater emphasis on minority outreach. Years later, Trump's candidacy appears to have hindered those efforts, as he trails behind Clinton among Latino voters. In a Univision poll released last month, the Democratic nominee held a commanding lead among Latino voters in battleground states. A Fox News Latino poll showed Clinton 46 points ahead of Trump among Latinos nationwide.
Across the board, private, seemingly apolitical companies are assisting in voter registration this year. Facebook, for example, launched its first voter registration drive in September. Uber, in partnership with Google, has pushed out registration information via email and social-media campaigns. "This is a historic election and we plan to spend the weeks leading up to Election Day making sure every eligible Uber rider and driver has the opportunity to get involved," the company said in a statement.
Despite low Latino voter turnout in the past, the NALEO Educational Fund projects the number of Latinos expected to go to the polls in November to increase by 17 percent, up from 8.7 percent in 2012. Google-search spikes and an uptick in some states' voter registration could be early hints at increased interest among Latinos. But whether those searches and visits will translate to votes on Election Day is a whole different story.