The Justice Department Corrects for a Use-of-Force Blind Spot
A new program might signal the feds' readiness to get more involved in local policing practices.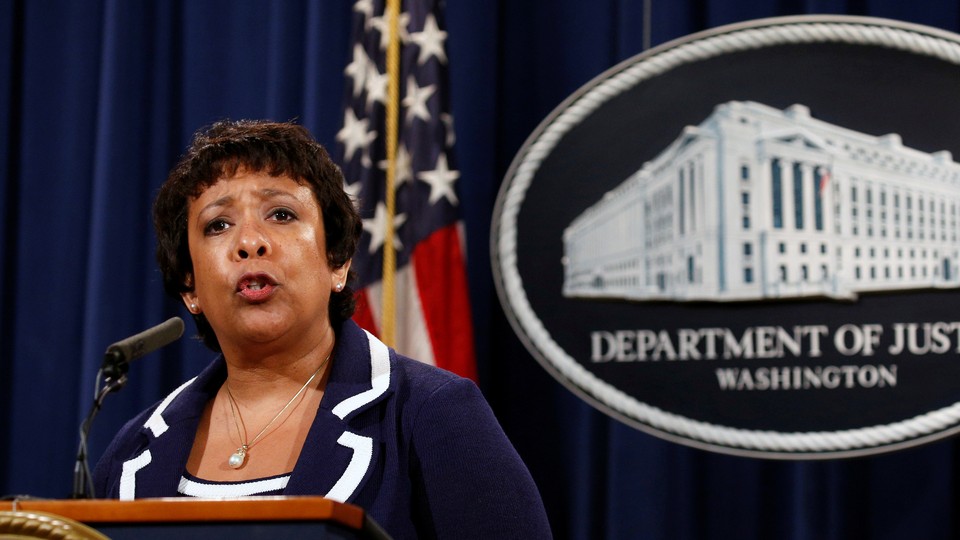 The Justice Department has decided to respond in a small but significant way to the rising call for reforms in police use-of-force practices. Attorney General Loretta Lynch has directed the department to begin a nationwide data-collection effort aimed at cataloguing, and hopefully analyzing, law-enforcement interactions with civilians, an effort she deemed "essential to an informed and productive discussion about community-police relations."
The goal is to increase transparency and build trust between law enforcement and residents by keeping track of incidents that turn violent and may even result in the death of a civilian.
Reform advocates will likely welcome the initiative because of its potential to increase accountability, improve data gathering and sharing, and pave the way for proactive and informed measures that could eventually be replicated nationally. Right now, the community-policing and civil-rights branches of the Justice Department only conduct separate city-by-city studies (such as those in Milwaukee, Baltimore, San Francisco, and Ferguson, Missouri), which can take years and only focus on the issues and needs of a single city, often only after a tragedy has taken place. Through a national structure for gathering, analyzing, and sharing data, the Justice Department, as well as local police departments, could access vital information from cities with similar characteristics and policing challenges.
With over 18,000 police departments operating in the country, such a centralized system would be a tremendous asset for training, revising guidelines, and responding to community needs. It's also a potential gold mine for academics and other analysts who could request access to the data in order to create simulations, in-depth reports, and forecasts for proposed or established practices.
Reporting of crime data, police-involved incidents, and in-custody fatalities by local law-enforcement agencies is often identified as one of the blind spots in criminal justice. There are multiple channels through which information filters up from a local police station to state authorities, and from there to the Justice Department and the FBI. And much of the reporting happens on a voluntary basis, which adds an unintended measure of selectivity that makes the data incomplete.
One big exception is the Death in Custody Reporting Act, or DCRA, passed in 2014, which requires that state and federal law-enforcement agencies report on civilian deaths "during interactions with law enforcement or in their custody," according to the Justice Department statement. DCRA also allows the attorney general to levy financial penalties on states that do not comply.
But even the most highly publicized and scrutinized collection of data, the FBI's annual crime report, is a foggy reflection of reality given that it only accounts for 18 percent of all crimes and is also compiled from information volunteered by some agencies. As welcome as it may be to reformists, the Justice Department's data-gathering initiative will likely face similar limitations given that there is no legal mandate that could compel police departments to volunteer the information.
More concerning still is the fact that, currently, deaths at the hands of police officers across the country are not automatically included in local or national homicide totals, as departments undergo investigations to determine whether each one was a "justifiable homicide" due to self-defense or another qualifying circumstance. The Justice Department's program still won't change that. To fill the gap, some media and nonprofit outlets have launched online counters for such incidents.
Gathering data on police use of force will be helpful if the information is analyzed in a timely fashion, shared widely, and with sufficient transparency. Doing so at a national level may also be a careful first step toward increased federal involvement when civilian and police encounters fall outside the boundaries of acceptability. If a city, for example, sees a spike in such incidents, the data set could be used to qualify and justify early direct interventions by the Justice Department. That's probably a long way off given how independently city, county, and state law-enforcement agencies operate. But this data-gathering initiative, if implemented with care and rigor, will cast light into heretofore obscure areas of the criminal-justice system.