Ivanka Trump on the Trail
The Republican nominee's daughter discovers the rough and tumble of politics.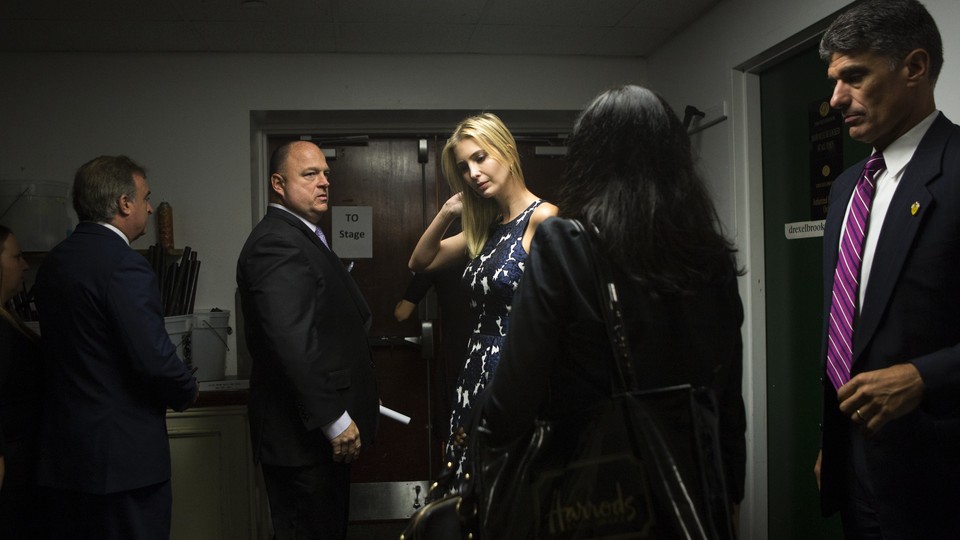 DREXEL HILL, Penn.—"Politics is a vicious business," Ivanka Trump said on Thursday. "It is certainly not for the faint of heart. It does sort of extend and there is sort of the collateral damage and implications to families as well."
She didn't say what she had in mind. She didn't need to. She sat in the Drexelbrook Banquet Hall, where 300 supporters would shortly gather for a "Coffee with Ivanka" event. Her father was in Florida, where he tried to fight back from an embarrassing 2005 videotape and a New York Times report of allegations by two women that he once groped them. But in the banquet hall where a young Dick Clark once kicked off "American Bandstand," all was tranquil.
It's her family and her faith, Ivanka said, that keep her centered every time the presidential campaign takes a dark turn. "Faith is what I always turn to," she said. "Always."
She was preparing for one of three question-and-answer "coffees" she hosted Thursday in Chester, Bucks, and Delaware counties, three of the four so-called collar counties surrounding Philadelphia that Trump must win in November in order to secure Pennsylvania's 20 electoral votes and the White House.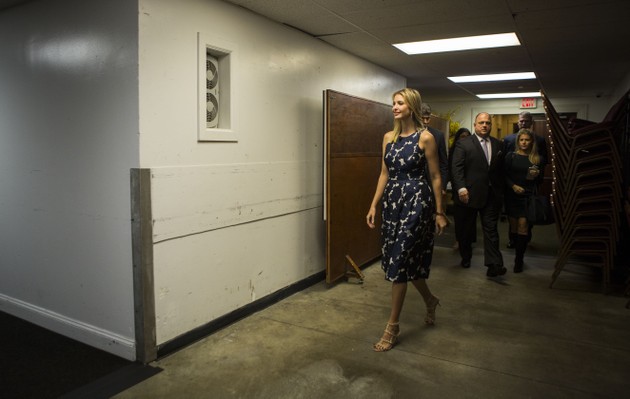 Her father's campaign faces a stream of tumultuous moments and accusations in the closing weeks of the presidential race. Ivanka, though, was poised, deliberate, smart, and charming. Before the interview, she shared photos from her iPhone of her children—six-month-old Theodore, Joseph, 3, and her eldest, Arabella, who affectionately held Joseph's cheeks in one candid shot—acting like any proud mother.
"It is just perspective, faith and family," she said. "I know that my children offer me tremendous perspective. I'll have days when I read things that are so vicious, and I will look at my children and suddenly things are better."
Before marrying Jared Kushner in 2009, Ivanka converted to Judaism.
That is what living a life guided by your priorities is all about, she said: "Knowing that I have my family and I have my faith, friends, and siblings, it does lend perspective to everything."
Hundreds of men and women crammed past the cherry reservation desk of the suburban banquet hall. It holds a certain 1950s charm, right up to the portico and white columns greeting guests who pull off the old U.S. 1. When she spoke to her supporters, Ivanka focused on her father as a mentor: "My parents were strong, they were disciplinarians, both of them. They didn't tolerate rudeness, there was sort of an expectation of what was appropriate and ... I think they raised us to be sensitive to that."
The town of Drexel Hill is a perfect portrait of middle-class America: The leaves were slightly tinged with reds, golds, and oranges; the houses modest and well-kept; and the sidewalks filled with a variety of people going on with the business of life.
On the early-morning, 280-mile drive between Pittsburgh and Philadelphia, the rural rolling hills and farms were spotted with large homemade "Make America Great" or "Trump-Pence" campaign signs.
Here in Delaware County, however, Trump is struggling: Voters are faring better economically than those in western counties around Pittsburgh; they are just as white as those in the West, but more educated, more affluent, and less affected by economic downturns of recent decades.
"We need her here," said Gloria Keleshian, 69, a small business owner. "There are a lot of people who are undecided and I believe Ivanka, with her accomplishments as a businesswoman and a devoted mother, can appeal to those who are unsure about her father."
Keleshian, wearing a ruby-red sweater, said Delaware County is ripe for picking by someone with a good message: "It could be either one. The last time Obama won here, people were looking for change. Well, when they got the change they didn't like it."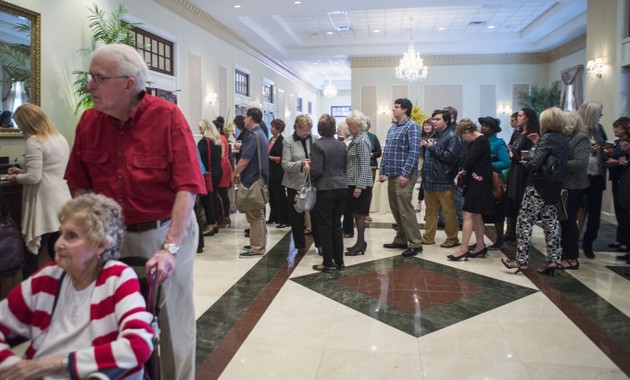 Although her father struggles in polling among educated men and women, Ivanka's moderate Republicanism fits well with these voters who supported Republican presidential candidates such as George H.W. Bush, Ronald Reagan, and Richard Nixon, and moderate GOP governors such as Tom Ridge, Dick Thornburg, and Tom Corbett.
Despite its reputation as a solid Democrat-blue state in presidential elections, Pennsylvania has become 0.4 percent more Republican every four years since 1996, when Bill Clinton won 28 of the state's 67 counties in his reelection bid.
In 2012 that number dropped down to just 13 counties for Barack Obama; two of those backed the Democrat incumbent by a hair's breadth. Delaware County in 2012 gave Obama a 60,000-plus voter margin over Republican Mitt Romney; Chester stuck to its GOP roots, barely, giving Romney 500 votes more than the president. And while Bucks went for Obama by 4,000 votes, today it remains a wildcard for Trump, who has appeal in the more blue-collar "Lower Bucks" but faces skepticism in the more affluent "Upper Bucks". It is the one county surrounding Philadelphia that is most similar to suburban counties around Pittsburgh.
"Ivanka reflects a different side of her father, and she connects with better-educated voters—and her father needs them [or] the electoral majority will stay out of reach for him," said Erin Troy, 37, of Drexel Hill, who waited outside for the event to begin. A fitness instructor, she thought Ivanka's brand of conservatism would impact people in her area.
The campaign has had a deep effect on Ivanka. "It is a very emotional experience," she said with a deep sigh, "On many levels, you have very high moments and you have very difficult moments."
But she was quick to return to message. "For every negative experience I have, it is really counterbalanced with the unbelievable experience of just traveling around this country and meeting so many people that I may have never met in my life," she said.
Like her father during a recent visit to Pittsburgh, she connected personally with the service staff in the hall, smiling broadly, shaking hands, and greeting them individually. And, as in her father's case, her warmth appeared to be genuine.
She is, she said, always is a bit stunned to attend an event and see the energy of supporters, only to read news reports the next day that have Trump sinking: "The disconnect is jarring."
She said the one thing that no one really understands is why her father ran in the first place. "I think we are at a place and moment in time where this country needs fresh solutions, and the problems ... become so systematic that they continue, decade after decade, without much progress to report," she said. That is why he ran, she said: "I do believe that. He looks at the issues this country is facing and sees past the noise and knows he can change that."
He is not beholden to any interest group, she added, "I wonder, will we ever be able to say that again about a candidate for president? It is such a unique circumstance we find ourselves in."
Or maybe not; campaigning has grown on Ivanka. "You know, going into so many neighborhoods, talking to so many people, hearing their concerns, hearing what they are optimistic about, that is what I have loved about this campaign," she said.