It's the Moms Who Get Kids to Church
A new study suggests women are the primary models for religious faith in many households.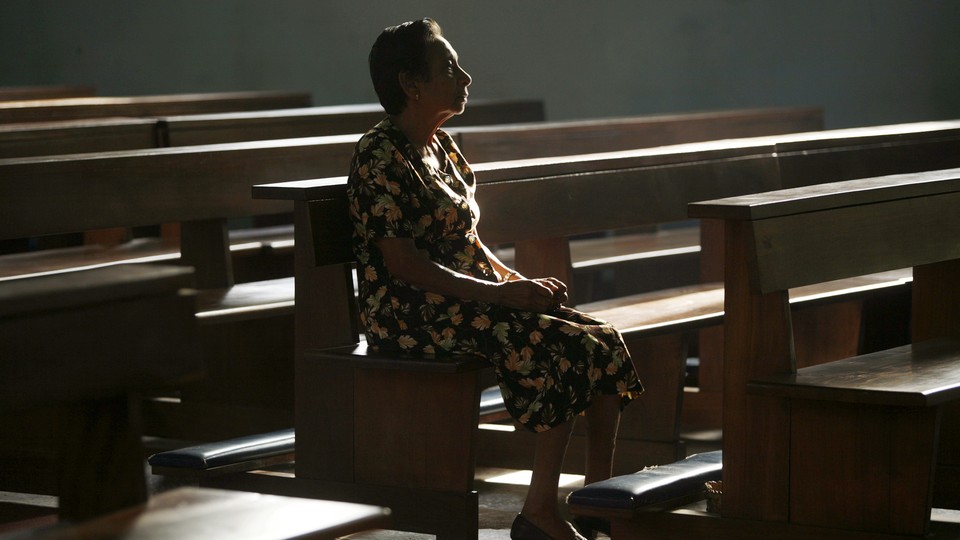 It's often the moms: the ones who do the cleaning and volunteer at school and know the ins and outs of their kids' diets and health records. Men and women in American households may be taking on more and more equal roles, but there are some spheres in which women still dominate.
And that, apparently, includes religion.
A new report from the Pew Research Center suggests mothers have more influence on their children's religious upbringings than fathers, especially  in interfaith households. One-third of respondents in a survey of roughly 5,000 Americans said their mom was more responsible for their religious experiences than their dad. In families with parents of mixed religious backgrounds, the percentage was well more than half. This was especially true in households in which one parent was religious, and the other wasn't; in those cases, nearly two-thirds of respondents said their mom had the most influence on their religious lives.
There are some straightforward demographic explanations for why this might be the case. American women tend to be more religious than men: In surveys, they're more likely than men to say religion is "very important" to them; to report going to services at least once a week; and to report praying on a daily basis. They also tend to hang onto their faith, even when they marry someone who isn't religious: In roughly 83 percent of interfaith households in which one parent is non-religious, Pew reports, the women are the ones who are still religious.
All of that being said, it's difficult to know why, exactly, mothers tend to have this kind of influence on their kids, especially given the wide variety of religious traditions and experiences that were covered in the report.
Women's religiosity can have tangible consequences on the lives of families. According to Pew, nearly half of people who grew up in interfaith households now practice their mom's faith, compared to less than a third who practice their dad's. And religiosity factors much more into women's perceptions of their marriage prospects and happiness: 68 percent of unmarried women said a potential spouse's religion is "very" or "somewhat" important to them, compared to 55 percent of men.
Gender imbalance has long been a part of religious communities. Women often keep churches, synagogues, mosques, and other houses of worship functioning—the Christian polling firm, Barna, even calls women the backbone of U.S. churches. But some religious communities, and particularly those that are conservative, worry about the lack of men among their ranks. Books have been written about "why men hate going to church" and the "feminization" of Christianity. At some congregations, leaders have created special ministries to make the congregations more attractive to men—Christianity Today, an evangelical magazine, called it the "masculinity movement."
One possible reason for this worry is that religion seems to be good for everybody, and particularly men who are struggling. The sociologists Brad Wilcox and Nicholas Wolfinger, for example, found that young black men who are involved in religious communities are less likely to have committed crimes, been incarcerated, or be unengaged in work or schooling. In general, men across ethnic and racial groups are more likely than women to stay away from religious activities. If men are uninvolved in these communities, it's not only the religious groups that are losing out—the men are potentially losing something as well.
Parents' involvement in their kids' religious lives can have long-term consequences.
The Pew findings offer a slightly different perspective on how people might think about the gender imbalance in their communities, though. For one thing, the survey suggests that women might bear more of the burden of religious education—whether that's hauling kids to Sunday School, talking with them about their faith, or teaching them the traditions of their inheritance. The takeaway may be that women need extra support from their religious communities. But it might also be an argument for a more equitable sharing of duties—as this report suggests, parents' involvement in their kids' religious lives can have long-term consequences.
In a lot of families, these patterns aren't true. Some kids grow up in households with two dads, two moms, or some other array of relatives. Roughly 14 percent of people in this survey said they were raised by a single parent. Overall, a lot of people grew up in households in which religious duties were shared: 58 percent of all respondents said their parents played an equal role in their religious upbringing. Among couples who are currently raising kids, 68 percent of women and 75 percent of men said they and their spouse are sharing in their children's religious education.
This might suggest a generational shift ahead—kids who are growing up now may be less likely to credit their faith to their mom in the future. Still, the numbers aren't even—women's special role in their kids' religious lives will likely always be there.