Why Haven't the Candidates Put Families at the Center of Their Campaigns?
Hillary Clinton and Donald Trump have offered competing proposals, but neither has served up a comprehensive vision for supporting families.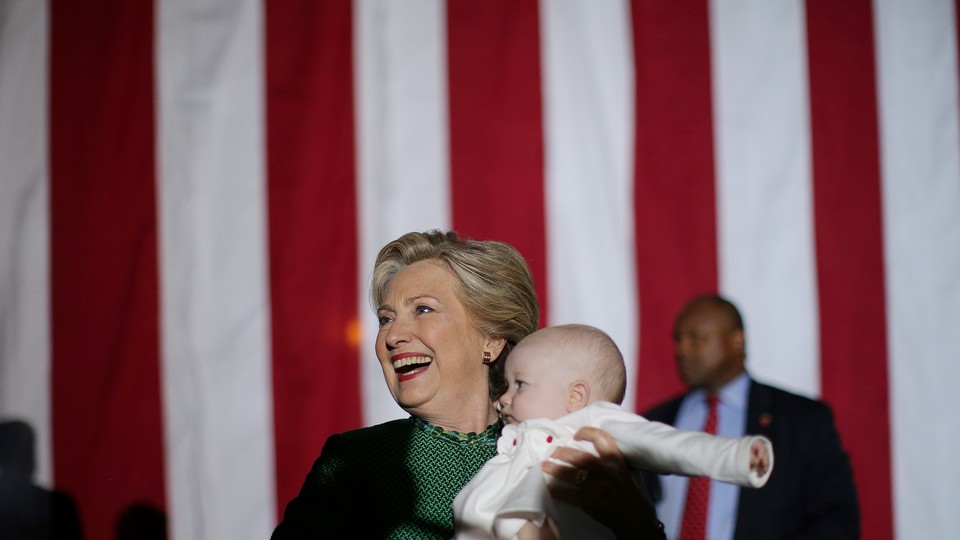 In an election year that has largely lacked in policy, gender issues have taken center stage in recent weeks, in light of a slew of sexual assault allegations against Donald Trump that subsequently placed added emphasis on the lack of equality between men and women. Until this point, these issues had been largely absent from the campaign trail, to the detriment of both Hillary Clinton and Trump—and ultimately, the United States.
Gender inequality in the United States is, in part, a result of antiquated social structures that disempower women, including the lack of guaranteed paid parental leave, the lack of paid sick days and paid vacations, and the lack of universal access to affordable and high-quality childcare. When parental leaves are not guaranteed nor paid, when childcare can cost more than college tuition, and when an employer might not allow their employees to stay home to care for a sick child, having one parent cut back on work while the other keeps working long hours can be the only rational choice. More often than not the one putting brakes on their career is the woman.
The World Economic Forum has been tracking gender equality for years. In this year's Gender Gap report, the United States ranked 45th among countries in gender equality, as measured by differences in men and women's health, education, economic participation and opportunity, as well as political empowerment—a drop from 2015 when the United States came in at 28. The drop is partly due to a revision in the study's estimate of differences in American men and women's income. The report, however, also concludes that over the past year American women's participation in the labor force has declined. It further points to stagnation in female participation in key professions, including lawmakers, senior officials, and managers.
Polls indicate that Americans are well aware of the gender gap, and also have clear views on workable solutions. Almost two-thirds of parents with small children—across income groups—say it is hard to find affordable, high-quality childcare in their community. A Fortune/ Morning Consult poll from April found that a majority of registered voters support paid family leave. (The United States is the only industrialized country that doesn't guarantee paid leave.) Respondents in another New York Times/ CBS News poll from 2015 overwhelmingly favored a universal requirement that all employers offer paid parental leaves and paid sick days; ditto for raising the minimum wage and taxing the wealthy at higher rates.
According to the World Economic Forum, affordable, good-quality childcare is the key to advancing gender equality, since it allows women to combine work and family and because women tend to end up taking care of children more than men in most countries. But current childcare costs in the United States can take a significant toll on families with two working parents. It is no wonder then that even though the United States still has many high-powered women in leadership positions, overall the share of mothers who stay home has been rising.
Hillary Clinton and Donald Trump have vaguely acknowledged this. Clinton, for example, has embraced policies that would benefit families while advancing gender equality, but she's been oddly hesitant to actually campaign on them. Take her proposal for paid family leave. Clinton says she would guarantee new parents up to three months of paid family and medical leave. Currently, only about one in 10 workers have access to paid family leave. But Clinton has failed to clarify whether her proposal would indeed apply to all Americans or only to those currently guaranteed three months of unpaid leave by the Family and Medical Leave Act, which covers only slightly more than half of American workers. As for childcare, she would expand public preschool for every 4 year old, and guarantee that no family has to pay more than 10 percent of its income for childcare. While these positions stand to benefit families, Clinton has failed to convey a larger vision of how such policies empower all individuals alike—and help the United States catch up with other advanced nations on gender equality.
Donald Trump, meanwhile, has also seemingly acknowledged the hunger for such reforms among voters. In September, Trump introduced proposals to make childcare more affordable. Trump's plan guarantees new mothers six weeks of paid maternity leave, as well as payments equivalent to what they'd receive for being out of work, furnished through unemployment insurance. His proposal also includes an expansion of the Earned Income Tax Credit to help low-income taxpayers with the costs, and the creation of tax-free savings accounts that would allow families to set aside money to pay for childcare and education. Individuals earning more than $250,000, however, would not be eligible for his proposed tax deduction. Still, Trump's childcare plan has been widely criticized for providing the biggest benefits to the wealthiest taxpayers.
Initiatives such as family-leave policies and childcare assistance are usually associated with Democrats. But by focusing on the multiple benefits of such policies—for the free-market economy, for employees and employers, and to empower women—Clinton could earn the support of Republicans who already favor such policies and can't stomach Trump. The refusal of both candidates to build a comprehensive vision around supporting families, easing work-life balance, and empowering mothers and fathers indicates a failure to understand that these policies have support among a vast portion of the electorate.
Voters, after all, have been sending a clear message: They want candidates who are big, bold, and disruptive. They want a presidential nominee who fights for them, and who is pitching a fresh and dramatic plan for improving their lives in immediate, concrete ways. And yet neither Clinton nor Trump has put forth a vision to better the lives of all Americans.