Hillary Clinton's Play for Arizona
The Democratic nominee is pouring resources into a state that has traditionally been carried by Republicans.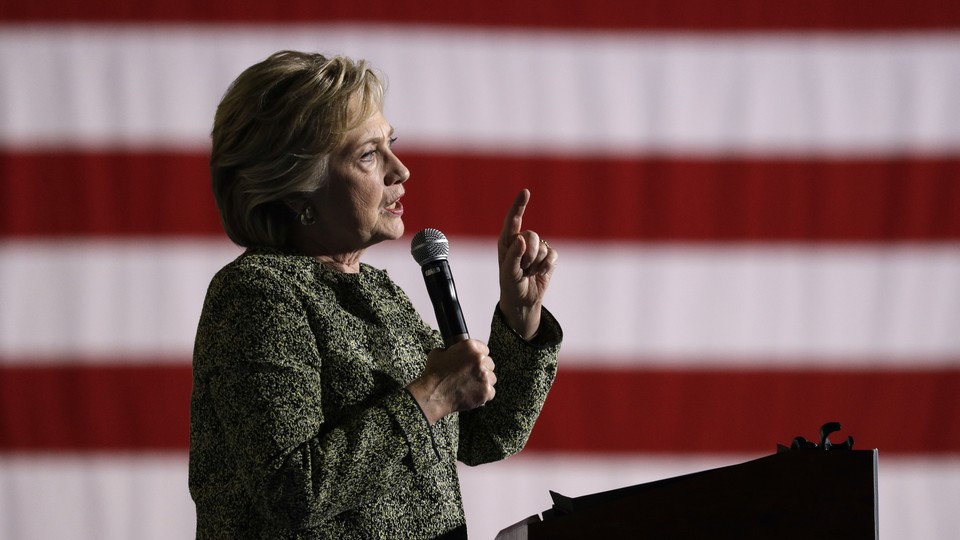 Arizona has been a Republican stronghold for 11 of the last 12 presidential elections. But in light of a tumultuous month for Donald Trump, Hillary Clinton is moving in.
On Monday, the Clinton campaign announced that it would pour $2 million in television, digital, and mail advertising, as well as deploy key surrogate, Michelle Obama. The first lady joins a list of Democratic heavyweights that'll campaign in Arizona this week, including Bernie Sanders and Chelsea Clinton. A future visit by Hillary Clinton might also be in the cards, according to campaign manager Robby Mook. Trump's divisive rhetoric, Mook said, has made the state "more competitive."
It's not just Clinton campaign officials who see an opportunity for the former secretary of state in Arizona. GOP operatives in the state told NBC News that Trump was in real peril of losing there. The state's junior Republican senator, Jeff Flake, told CNN in September that Trump's behavior had made Arizona competitive.
Trump holds a slight lead against Clinton in Arizona, according to the RealClearPolitics polling average. But Trump's comments about popular figures like Senator John McCain, who is cruising to re-election against his Democratic challenger, has lead the Clinton campaign to believe it can take the state. Last year, Trump said that McCain was "not a war hero" despite  his military service and his time as a prisoner of war in Vietnam. McCain, who previously backed Trump, recently withdrew his support in the wake of a leaked 2005 video clip that revealed Trump bragging about being able to grope women because of his star power.
McCain joined a number of Republicans who have backed away from Trump this month, some of whom have since reaffirmed their support for the GOP presidential candidate. The Republican nominee has faced numerous allegations of sexual assault in recent weeks, and has seen his poll numbers slide. Trump has responded to his faltering position in the polls by calling the election "rigged," a claim that has been rejected by several high-ranking Republican officials, including House Speaker Paul Ryan.
Clinton's campaign now sees an opportunity—one that secures a White House win in November, but also places an emphasis on down-ballot candidates.
The campaign is also allocating resources in other battleground states. In Indiana and Missouri, where Clinton is down by an average of five and eight points respectively, the campaign is kicking in a combined $1 million, to be split evenly, Mook said. The campaign also sees an opportunity in North Carolina, though Mook conceded a win would be "razor thin." (A Clinton win in North Carolina is far more likely than in Arizona, Indiana, or Missouri, she is ahead in the polls there by an average of three points.) Overall, the campaign said it has more than 400 offices set up in battleground states.
The campaign is also banking on what's expected to be "the biggest turnout in electoral history," as Mook put it. All of this is welcome news for Democrats who are seeking to secure a majority in Congress––still a long shot despite Clinton's lead in presidential polls. The Washington Post reports that Priorities USA Action is also assisting to accomplish that goal:
Priorities USA Action, the pro-Clinton super PAC, is considering devoting television air time to Senate races in four states: Nevada, New Hampshire, North Carolina and Pennsylvania, according to a person familiar with the discussions. A decision is expected to be made by the middle of the week.
The Clinton campaign, for its part, is demonstrating renewed confidence as it attempts to make inroads in Arizona—and attempts to reverse a state that has traditionally been carried by Republicans.