Al Gore Returns to Florida for Hillary Clinton
"Your vote really, really, really counts," the former vice president told Democrats. "You can consider me an Exhibit A of that truth."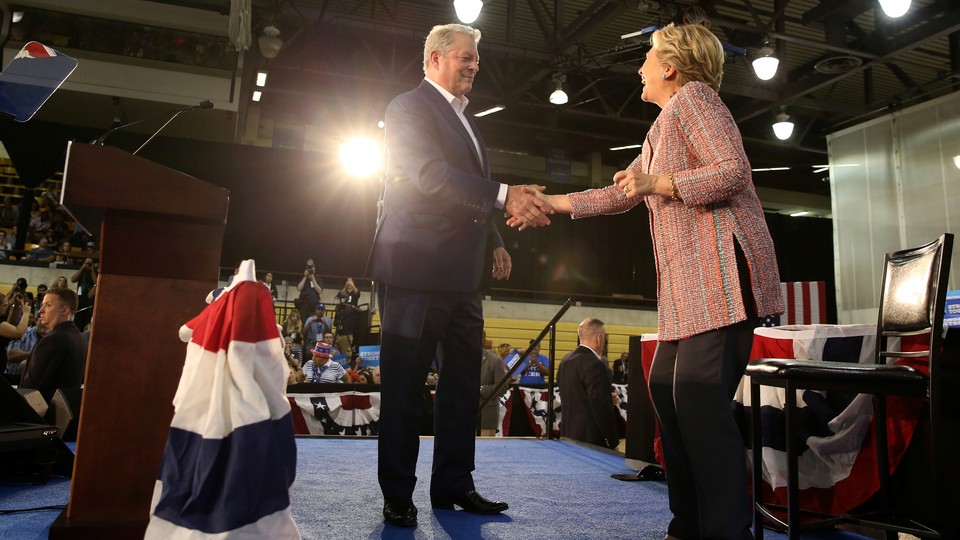 If many people in the campus crowd at Miami Dade College on Tuesday were too young to personally remember Al Gore's crushingly close defeat to George W. Bush in Florida 16 years ago, at least they knew their history.
"You won! You won!" the students chanted when the former vice president took his quadrennial walk down memory lane. Sitting behind Gore on the stage was Hillary Clinton, and she nodded right along with the crowd. "Take it from me," Gore said. "It was a very close election."
Gore's exact words on Tuesday weren't that important. His presence alongside Clinton in the state that decided the 2000 election was itself the message of the day. Her struggle to win over the very voters least likely to be haunted by the Florida recount—millennials who were children at the time—has raised the specter of history repeating itself. Green Party nominee Ralph Nader won just 1.63 percent of the vote in Florida that year, less than 100,000 votes. But that was plenty more than the 537 votes that officially separated Gore and Bush. Collectively, third-party candidates Gary Johnson and Jill Stein are polling at nearly 7 percent in Florida at the moment, and many of their supporters are voters under the age of 30.
Gore didn't mention Johnson or Stein during his remarks. He didn't even name Nader or go into the particulars of the 2000 mess. And he didn't make an argument so much as issue a plea. "Your vote really, really, really counts," Gore said. "You can consider me an Exhibit A of that truth."
Clinton has rallied most of the Democratic Party behind her candidacy in the months since she defeated Vermont Senator Bernie Sanders in the primary. The Obamas are on board, and so are the Bidens. Sanders and Massachusetts Senator Elizabeth Warren have been campaigning for her. Former President Jimmy Carter spoke by video at the Democratic National Convention. But Gore had steered clear of the campaign, an absence that fueled stories about their tense, even competitive, relationship as battlers for Bill Clinton's ear in the White House two decades ago. Gore issued a fairly boilerplate written endorsement of Clinton over the summer, but until Tuesday, he had not campaigned or spoken out much on her behalf.
Their appearance together on Tuesday was workmanlike. Introducing him, Clinton barely mentioned the fact that he served as vice president or came within a single Supreme Court vote of winning the White House. Instead, she hailed him as a singular leader on climate change; touted his Oscar-winning movie, An Inconvenient Truth, from a decade ago; and described his 2007 Nobel Peace Prize as the pinnacle of a long career. "In the years since, the climate challenge has only grown more stark," Clinton said. "And I will tell you this: It is one of the most important issues we face in this election."
Clinton described Hurricane Matthew and other recent storms as products of climate change, and she warned against putting, in Donald Trump, "a climate denier in the White House." (At a couple of points, she had to compete with a heckler who was screaming "Bill Clinton is a rapist" in the crowd.) Gore delivered a similar message on climate change, affirming that Clinton would make the issue "a top national priority" and asserting that, given the urgency of the moment, "the entire state of Florida and its future are on the ballot." He seemed a bit rusty on the stump, reading closely from the kind of prepared remarks he would have delivered from memory in elections past. When he finished on a high note, Clinton clapped her hands and they embraced. "Should we raise hands?" Gore asked her, and they did.
It was a happy moment, and one the Clinton campaign surely appreciated. But Gore had already done what he came to Miami to do—to warn Florida Democrats not to let happen to Clinton what happened to him. As the crowd chanted, "You won! You won!" Gore smiled briefly but then turned serious, even poignant. "Here's my point: I don't want you to be in a position years from now where you welcome Hillary Clinton and say, 'Actually, you did win. It just wasn't close enough to get all the votes counted, or whatever,'" he said. "Elections have consequences."