Does Trump Understand What Obamacare Is?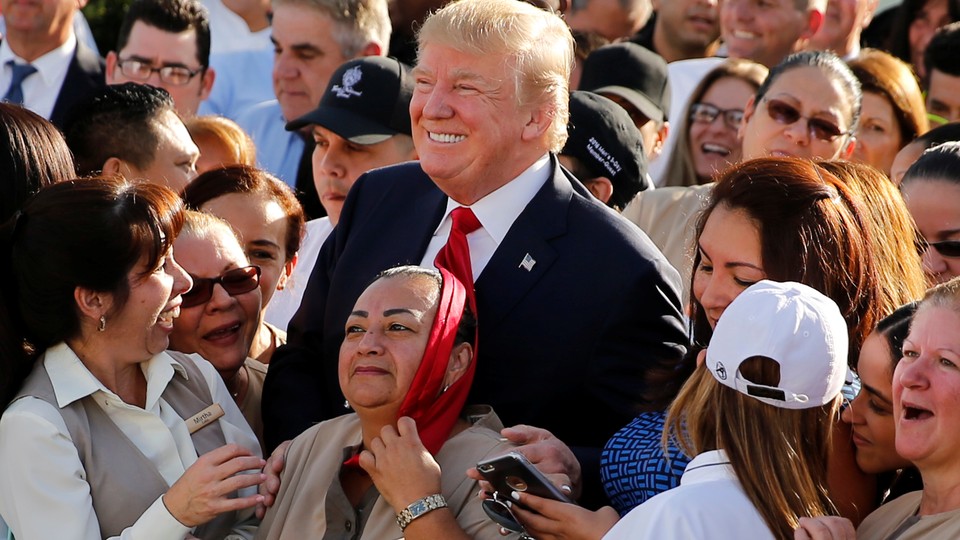 Editor's Note:
This article previously appeared in a different format as part of The Atlantic's Notes section, retired in 2021.
The candidate: Donald Trump
The gaffe: During a campaign swing on Tuesday morning in Miami, the Republican tried to capitalize on the news that insurance premiums under the Affordable Care Act are set to rise by as much as 25 percent next year.
Trump: "All of my employees are having a tremendous problem with Obamacare."

— Reid J. Epstein (@reidepstein) October 25, 2016
Later, Eli Stokols says, a reporters asked if Trump's employees were covered by Obamacare or by employer-sponsored coverage, and he replied, "Some of them, but most of them no." Here's the problem: Employers are required to provide insurance to anyone working more than 30 hours a week. So either Trump is lying, or he doesn't understand what Obamacare is, or both.
The defense: Really, hardly anyone understands Obamacare, right? I've asked both the Trump campaign and the Trump Organization to explain if they have employees who are purchasing insurance through the markets created by Obamacare. (No one is "on" Obamacare, which, unlike Medicare or Medicaid, is not an actual insurance plan.) Meanwhile, Trump later told Fox News, "We don't use Obamacare," which is obviously true, because no employer "uses" Obamacare.
Why it matters (or doesn't): Obamacare has been a remarkable non-factor in the race this year, although policy has largely been a sideshow overall. One reason is that for all the ACA's flaws, Trump's proposal for a replacement doesn't really do anything to explain how he would replace the law. One reason for that might be that Trump has no idea what the law does and would rather offer empty, nonsensical jabs at it.
The lesson: Refusal to understand the law is one preexisting condition the Affordable Care Act doesn't cover.