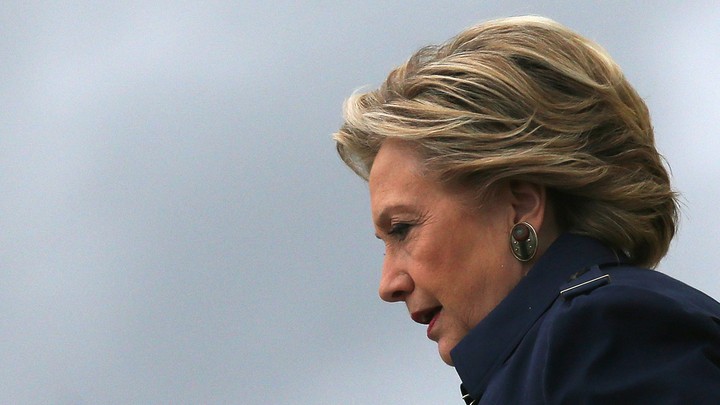 Updated on October 28 at 9:16 p.m.
Hillary Clinton's email saga isn't over.
The FBI is reviewing a new set of emails "to determine whether they contain classified information," the bureau's director, James Comey, told congressional committee chairmen in a letter on Friday. Comey wrote that the FBI discovered the messages in an unrelated case and "cannot assess whether or not this material may be significant."
"In connection with an unrelated case, the FBI has learned of the existence of emails that appear to be pertinent to the investigation," Comey wrote in the three-paragraph letter. "I am writing to inform you that the investigative team briefed me on this yesterday, and I agreed that the FBI should take appropriate investigative steps designed to allow investigators to review these emails to determine whether they contain classified information, as well as to assess their importance to our investigation."
The letter did not specify who sent the emails, who received them, or where they were found. The New York Times on Friday afternoon reported that the emails "were discovered after the F.B.I. seized electronic devices belonging to Huma Abedin, an aide to Mrs. Clinton, and her husband, Anthony Weiner." The FBI last month began investigating whether Weiner, the former New York congressman, had sent inappropriate texts to underage girls in violation of the law.
Comey said he didn't know how long it would take to review, but the mere announcement that the FBI was revisiting a case it appeared to have closed without charges this summer had the potential to shake up a presidential race that has been trending decidedly in Clinton's favor. The Republican chairman of the House oversight committee, Representative Jason Chaffetz of Utah, immediately released Comey's letter publicly and proclaimed the investigation "reopened."
In New Hampshire, a jubilant Donald Trump immediately seized on the news as a roaring crowd renewed its chant of "Lock her up!"
"I have great respect for the fact that the FBI and the Department of Justice are now willing to have the courage to right the horrible mistake they made," Trump said at the outset. "In all fairness, for all the people who have suffered for doing so much less, including just recently, four-star General James Cartwright, General Petraeus, and many others, perhaps finally, justice will be done."
At a short press conference Friday night, Clinton herself responded for the first time to the FBI's letter, echoing comments her campaign chairman, John Podesta, made earlier in the day demanding that Comey make public details of what exactly his agency is examining.
We are 11 days out from perhaps the most important national election of our lifetimes. Voting is already under way in our country. So the American people deserve to get the full and complete facts immediately. The director himself has said he doesn't know whether the emails referenced in his letter are significant or not. I'm confident whatever they are will not change the conclusion reached in July. Therefore it's imperative that the bureau explain this issue in question, whatever it is, without any delay.
Asked about Abedin's connection to the FBI review, Clinton didn't confirm her aide's potential involvement.
We've heard these rumors. We don't know what to believe and I'm sure there will be even more rumors. That's why it's incumbent upon the FBI to tell us what they're talking about, Jeff [referring to the reporter]. Because right now, your guess is as good as mine, and I don't think that's good enough.
An FBI spokesman declined to comment beyond Comey's letter and wouldn't provide further information on what the new emails say or how the FBI acquired them. But with just 11 days until an election—and with more than 10 million votes already cast—that may not matter.
"Yet again, Hillary Clinton has nobody but herself to blame," House Speaker Paul Ryan said in a statement in which he reiterated his call for intelligence officials to stop giving Clinton classified briefings as the Democratic Party nominee.
She was entrusted with some of our nation's most important secrets, and she betrayed that trust by carelessly mishandling highly classified information. This decision, long overdue, is the result of her reckless use of a private email server, and her refusal to be forthcoming with federal investigators. I renew my call for the Director of National Intelligence to suspend all classified briefings for Secretary Clinton until this matter is fully resolved.
Clinton's running mate, Senator Tim Kaine, told Vice News that Comey's decision was "very, very troubling" and backed up Podesta's call that the director provide "a full accounting" of what the FBI found. Other congressional Democrats began echoing the campaign's line later in the afternoon and suggested that Comey had bowed to unrelenting pressure from Republicans who criticized his original decision not to seek charges against Clinton.
In a subsequent email to FBI employees late Friday, Comey did not provide more details about the substance of the emails but sought to explain why he decided to send a letter to Congress knowing it would be made public. In the message, which was reported by the Washington Post, he acknowledged there is "significant risk in being misunderstood":
Of course, we don't ordinarily tell Congress about ongoing investigations, but here I feel an obligation to do so given that I testified repeatedly in recent months that our investigation was completed. I also think it would be misleading to the American people were we not to supplement the record.  At the same time, however, given that we don't know the significance of this newly discovered collection of emails, I don't want to create a misleading impression.  In trying to strike that balance, in a brief letter and in the middle of an election season, there is significant risk of being misunderstood, but I wanted you to hear directly from me about it.
One top Republican, Senator John Cornyn of Texas, appeared more befuddled than outraged by the timing of Comey's letter. "Why is FBI doing this just 11 days before the election," he asked in a tweet.
In July, Comey announced that the government would not bring charges against Clinton over the private email server she maintained as secretary of state, but he called her handling of sensitive information "extremely careless." NBC's Pete Williams reported Friday afternoon that the new emails were discovered on "another device" but did not appear to be withheld by Clinton or the State Department from the FBI originally. An FBI official, speaking on the condition of anonymity, would not confirm NBC's reporting other than to say Friday's letter was not related to the hack of Clinton campaign chairman John Podesta's emails. "It's not WikiLeaks," the official said.
Democrats had little to say in the initial aftermath of the report, but those that did comment appeared as shocked as anyone that it might be the sudden reemergence of Anthony Weiner, the long-since-disgraced lawmaker, that posed a last-minute threat to Clinton's candidacy. "Good grief," tweeted Donna Brazile, the interim chairwoman of the Democratic National Committee. Hawaii Senator Brian Schatz chimed in: "I think we can go back to our regularly scheduled lunacy now."
While the Clinton campaign implicitly criticized Comey's decision to take another look at the email case, others rose to the director's defense, arguing that he had no choice but to inform Congress that his previous sworn testimony that the matter was concluded was no long longer operative. "If you're inclined to be angry with Comey over this, imagine that he had not said something and it emerged after the election that, having testified that the investigation was complete, he authorized additional investigation of a new trove of emails," wrote Benjamin Wittes, a senior fellow at the Brookings Institution. "Comey and the FBI are in a terrible position here, one in which they would be accused of playing politics whatever they ended up doing."
We want to hear what you think about this article. Submit a letter to the editor or write to letters@theatlantic.com.
Russell Berman
is a staff writer at
The Atlantic
, where he covers politics.