Donald Trump's Bitter Barrage Against Republicans
Four weeks before Election Day, the GOP's nominee is attacking not Hillary Clinton but his own party and its most senior office-holder.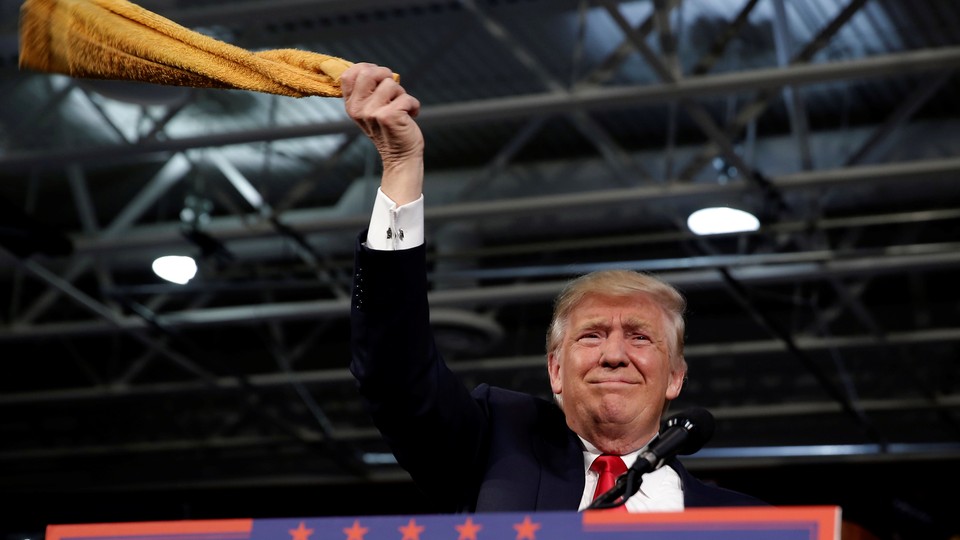 How many times has the press declared a "Republican civil war" since the Tea Party wave of 2010? It turns out we had no idea. Just as Donald Trump has underscored and amplified many of the existing gulfs in the GOP, he's also taking the concept of intraparty civil war to a new high.
The Republican nominee has been perhaps comparatively quiet on Twitter the last few weeks, but Tuesday morning, he started breaking loose—a metaphor Trump himself used:
Who knew that Trump had been shackled before? It certainly hadn't shown in in much of his approach to the campaign, which has been freewheeling. It's true that Trump had appeared to be taking a more subdued approach in the weeks leading up to the first presidential debate. Pundits speculated that Trump's new campaign team of Stephen Bannon and Kellyanne Conway had instilled some discipline. But since that meeting in Hempstead, New York, he's been closer to the old Trump—tweeting at 3 a.m., improvising speeches on the stump.
The target of his new barrage is not Hillary Clinton, nor is it the press, nor is it a long-ago Miss Universe. Instead, it's his own party—or perhaps more accurately, the leaders of the party whose nomination he accepted in July.
The proximate cause appears to have been House Speaker Paul Ryan's announcement Monday that rather than do anything to help Trump win the White House, he would cease defending him, would not campaign with him, and would focus on trying to salvage Republican control of the House and Senate. That did not sit well with Trump, it seems:
It is not, however, just Ryan who has criticized Trump. Dozens of Republicans—including a third of the Senate GOP caucus—have rescinded endorsements of Trump, called on him to withdraw from the race, or both. That's not lost on Trump, who then turned to attack the party as a whole:
And then the coup de grace, in which Trump explicitly said that the GOP was worse than his Democratic opponent for president:
According to the well-sourced Washington Post reporter Robert Costa, Trump is holed up at Trump Tower, watching cable news. One can imagine him getting ever more agitated at the flood of condemnations from Republicans. It has become an article of faith that Trump tends to tweet the most aggressive statements, from his Android phone, while tweets from other platforms represent staffers tweeting for him. As some reporters noticed, however, one of the two Ryan tweets came from an Android and the other from an iPhone. Are Trump's aides ready to battle the GOP, too?
The Twitter outburst drew new expressions of shock from even the most hardbitten political observers. Needless to say, a situation where a presidential nominee views his own party as a "shackle" and is praising his opponent does not bode well. (As an aside, that "shackle" word choice is peculiar. In 2012, Joe Biden was pilloried for telling a mostly black audience, "They're gonna put y'all back in chains.")
At no time within recent memory has a candidate chosen to go to war with his own party, just four weeks ahead of Election Day. With Senator Bob Dole trailing badly ahead of the 1996 election against President Bill Clinton, the Republican Party effectively abandoned Dole to his fate, focusing on Congress, but Dole, a good soldier for the party, largely took the swipe stoically. Trump, with no longstanding links to the party and none of Dole's stoicism, clearly has no intention of doing the same.
Of course, we've seen skirmishes between Trump and the Republican establishment before. The primaries featured an ongoing dance in which Trump and Republican National Committee Chair Reince Priebus would feud and make up. But that was before Trump had won the nomination, before the RNC had taken up the task of doing all the field work needed for Trump to get out the vote, before the last four weeks of the campaign.
Trump appears to be trailing badly at this late stage in the campaign. A PRRI/The Atlantic poll released Tuesday shows Clinton with an 11-point lead over Trump in a head-to-head race, 49-38. On Monday, an NBC News/Wall Street Journal poll found Clinton had a 14-point lead, 52-38, in a two-way race. With third parties included, she led 46-35.
Trump surely knows this; he has demonstrated over the last 16 months that he is an obsessive watcher of polls, if not always a scrupulous or rigorous one. He [[has shown that he]] tends to overestimate the importance of crowd sizes, and thousands came to see him Ambridge, Pennsylvania, on Monday. He has also emphasized the importance of "winning" throughout this campaign; the gerund better summarizes the theme of his candidacy than any other word. Faced with the discrepancy between the rapturous crowds he sees on the trail and his poll numbers, Trump is searching for a culprit. He's not a loser, but a winner; if he's losing, it can only be the fault of traitorous Republicans.
But calling the latest meltdown a "civil war" also begs the question: Is Trump in fact attacking his party? For that matter, what is the Republican Party now? For months, Republican elders insisted that Trump was neither a Republican nor a conservative. In some ways, Trump remains very much an outsider in the Republican Party, a truth underscored by his willingness to torch them on a Tuesday morning 28 days before the election. He has magnified existing trends in the GOP—reliance on white voters, for example, or a tax policy friendly to the wealthy—while throwing out pieces of long-established dogma, like favoring free trade agreements.
Whether the likes of Ryan can wrest the party back, or whether it now belongs to Trump, remains to be seen. Suppose Trump loses on November 8. He has revealed that the traditional GOP agenda likely does not enthrall a majority of Republican voters, and he has managed to capture the endorsement of figures like Ryan, who has not withdrawn his endorsement, or Priebus, who continues to insist that all is well and that Trump Tower and the RNC are working hand-in-glove, even as Trump takes potshots at them. Once a civil war has begun, it's often unpredictable which side will win.