There Was No Trump Pivot
The Republican nominee had opportunities to reverse his controversial positions during Wednesday's debate, but he refused to take them.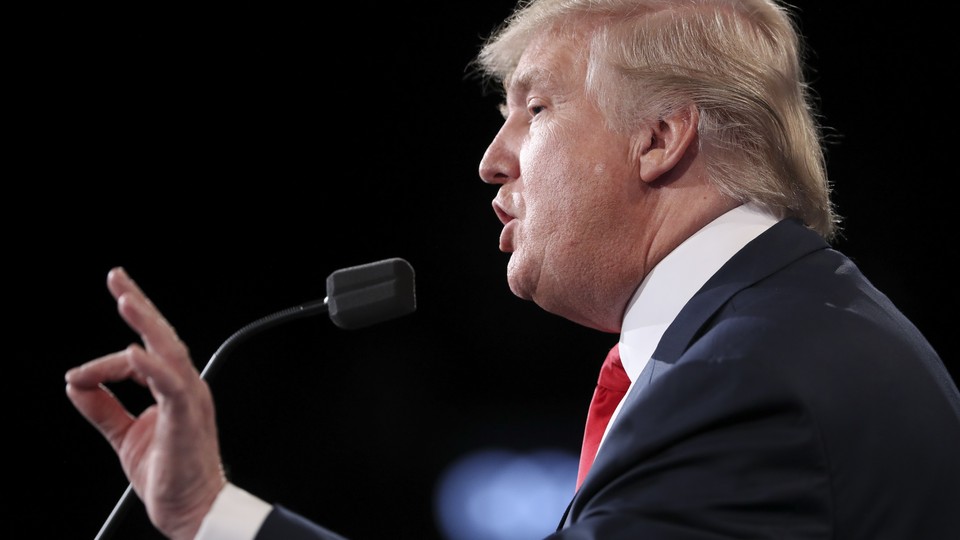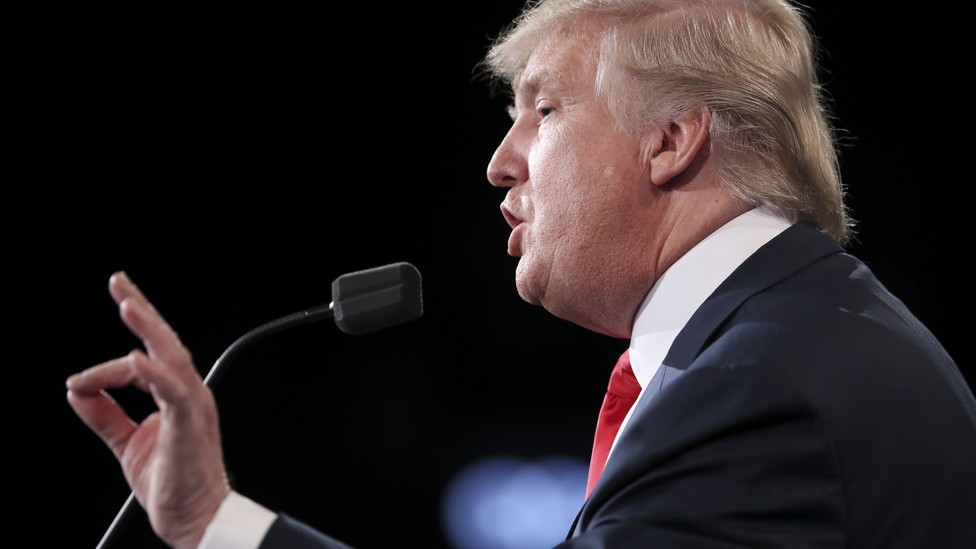 Donald Trump was going to be different.
He made that clear from the day he announced his presidential campaign from Trump Tower in Manhattan. The real-estate mogul cast himself as the ultimate Washington outsider and immediately championed himself as the candidate to stop illegal immigration. He's been consistent in his messaging since.
Despite near-constant speculation that he'd change his personality or policies heading into the general election, Trump's inflammatory rhetoric and erratic behavior have continued to define his campaign. On Wednesday night, that continued to be the case. It was a full-circle moment of sorts: Trump stuck to his regular talking points and sought to appeal to the base that fueled his surge—and only them.
While Trump has successfully built a base of ardent supporters, he has struggled to appeal to other voter groups. Clinton is leading by an average of six percentage points against Trump, according to RealClearPolitics. It's unclear whether Trump ever intended to alter his rhetoric after launching his campaign in the summer of 2015—or if he still buys his pitch to this day. But at the very least, he's been relatively consistent in his reactive persona. During the general-election debates, Trump has frequently fallen back on his most controversial positions, even when they have cost him. Wednesday was no exception.
The final general-election debate was perhaps the most substantive of the three. Fox News' Chris Wallace, who moderated the event, began by asking about the U.S. Supreme Court, but the topic soon turned to immigration. As it goes, Wallace then went on to question the candidates on a number of other issues, many of which Trump has been criticized on. And in each of these areas, Trump could have reversed his controversial positions, but he refused to do so time and time again.
Take immigration. Trump did not waver on his hardline stance on immigration. He reiterated his call for a wall on the U.S.-Mexico border and the deportation of "bad people." Trump went on to deliver one of the most memorable lines of the night, saying, "We have some bad hombres here, and we're going to get them out." While it was a break from his responses in previous general-election debates—when he only cited the endorsement of the National Immigration and Customs Enforcement Council—it was in tune with Trump's rhetoric on the issue throughout the election.
Similarly, Trump refused to say whether Russia interfered in the U.S. election, even though intelligence agencies have confirmed the Kremlin's involvement. True to form, he dismissed Clinton for saying so. "She doesn't like Putin because Putin has outsmarted her at every step of the way," Trump said. The Republican candidate's position on Russia has been a point of contention on the trail, as well as within the GOP ticket. Mike Pence appears to be at odds with his running mate. "I think there's more and more evidence that implicates Russia," Pence told NBC's Meet the Press earlier this month. Still, Trump has shown no indication on reversing his position on the country.
That may come as no surprise, however, as Trump also faces backlash for his remarks that the election is rigged. Despite criticisms by Republicans, Trump still suggested that he might not concede to Clinton on Election Day, if she wins. "I will look at it at the time," Trump said on Wednesday night. "I'm not looking at anything now. I'll look at it at the time." And on Thursday, he added that he would accept the results—if he wins.
Republicans have been announcing that Trump would be "pivoting" to a more moderate persona throughout the presidential election. Wednesday night—perhaps the last time the candidates would have the attentions of millions of voters before Election Day—could have been an opportunity for Trump to reverse or moderate some of his controversial positions. But the Republican nominee resorted to what he knows best, and there's no indication that he'll change that approach moving forward. There was no pivot, and there won't be one.