Donald Trump Faces a Barrage of New Allegations
A spate of new stories raise questions about the Republican nominee's ties to Russia and his tax-avoidance schemes.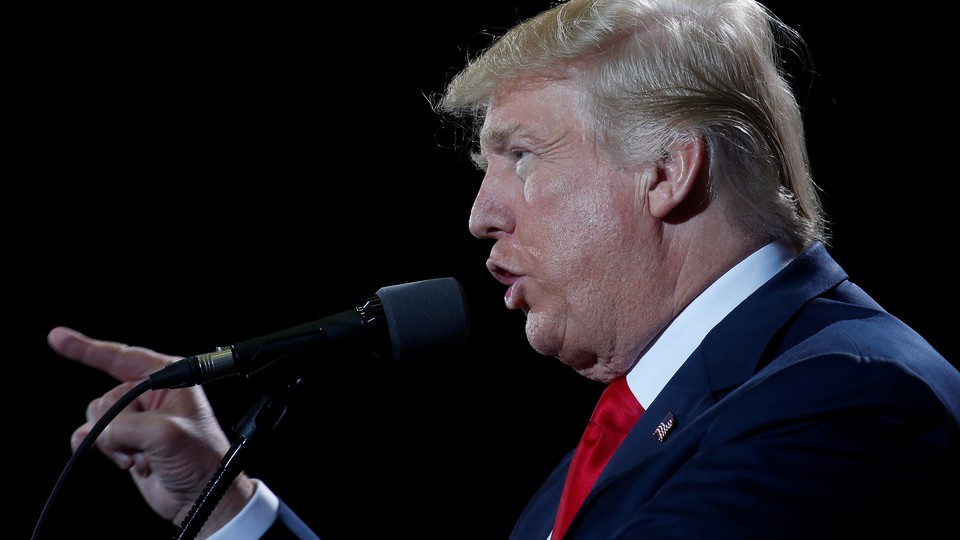 Since the director of the FBI on Friday announced the discovery of new emails potentially pertinent to the investigation into Hillary Clinton's private server, the presidential campaign has been shaken up. First, came the round of recriminations, as Clinton and her allies, career prosecutors, and even some Republicans assailed James Comey for the disclosure.
Now, with about a week left, there's a new spree of investigative reports related to the election. Two, related to potential interference by Russia in American elections, are now in dispute. A third, alleging ties between Russian intelligence and Donald Trump, is still fresh. The fourth (and perhaps most solid) concerns his tax returns.
Comey's decision to notify Congress elicited critiques by those who said he had sidestepped Department of Justice policies, but it also inspired accusations that the director was withholding information about Trump—and some leaks from the FBI. In a letter over the weekend, Senator Harry Reid, who has a habit of lobbing inflated or fanciful accusations and forcing someone to debunk them, claimed that Comey had declined to reveal information about ties between Donald Trump and Russia. That charge was initially met with skepticism, but a former FBI official told CNBC's Eamon Javers that in fact Comey had decided not to reveal information suggesting Russian meddling in the election, reasoning that it was too close to Election Day and such an announcement might be perceived as an attempt to influence the election. Shortly thereafter, The Huffington Post reported on another source "familiar with the interagency discussions" confirming the CNBC report.
Elsewhere, a report in Slate by Franklin Foer focuses on an alleged covert communication channel between the Trump Organization, Trump's business fiefdom, and Alfa Bank, a Russian institution with ties to the Russian oligarchy and Putin. The story is complex and often difficult to understand, based on arcane analysis of even more obscure data, but Foer suggests an elaborate back channel that showed spikes in activity right around key moments in the election, but was quickly closed when reporters began making inquiries into it.
But a fresh New York Times report casts some doubt on both stories. The paper reports that the FBI came to believe that Russian hacking was intended not to elect Trump president, but simply to interfere with American elections. While its investigations are still ongoing, sources said there was no evidence Trump was involved. As for the Slate article, the Times reports that "the F.B.I. ultimately concluded that there could be an innocuous explanation, like a marketing email or spam, for the computer contacts."
There are several other stories in play, however. Later Monday afternoon, NBC News reported that the FBI has been conducting an inquiry former Trump campaign manager Paul Manafort's ties with Russia. That's a step short of a full-blown investigation. Manafort was forced to resign from the Trump campaign this summer, amid reports that he had lost the trust of the candidate, but also a series of damaging reports tying him to the Kremlin, via deposed Ukrainian President Viktor Yanukovych, the Vladimir Putin client for whom Manafort previously worked. Manafort said there was no investigation that he was aware of. (The Times suggested that while there was a Manafort inquiry, it focused on whether he had violated income rules, not on Russian electoral interference.)
Also Monday evening, Mother Jones's David Corn reported that a former senior spy for a Western country had uncovered evidence that the Kremlin had launched an operation—approved by Putin—to turn Trump into a Russian asset. One memo,
based on the former intelligence officer's conversations with Russian sources, noted, "Russian regime has been cultivating, supporting and assisting TRUMP for at least 5 years. Aim, endorsed by PUTIN, has been to encourage splits and divisions in western alliance." It maintained that Trump "and his inner circle have accepted a regular flow of intelligence from the Kremlin, including on his Democratic and other political rivals." It claimed that Russian intelligence had "compromised" Trump during his visits to Moscow and could "blackmail him." It also reported that Russian intelligence had compiled a dossier on Hillary Clinton based on "bugged conversations she had on various visits to Russia and intercepted phone calls."
The spy said the FBI was horrified and requested more information, corresponding to a "substantial inquiry." The FBI wouldn't comment, though another senior government official vouched for the spy.
Finally, the same New York Times team that previously uncovered Trump's $916 million deduction in 1995, which allowed him to avoid paying federal income taxes for almost 20 years, produced a new report, aimed at understanding his maneuver better. They point out that while Trump managed to get creditors to write off huge amounts of debt in the mid-1990s, he would typically have had to report that forgiven debt as income, and to pay taxes off it. Yet he appears not to have done so. They surmise that he avoided doing so using a maneuver in which (worthless) "partnership equity"—similar to stock—was "exchanged" for the debt, sidestepping the income requirement. The maneuver was based on a loophole that was later closed, and which the IRS had frowned on, and Trump's alleged use was a step beyond that. Following standard procedure, Trump sought a letter from tax lawyers saying that what he was doing would pass IRS muster. (The point of such letters is to show good faith, so that even if the IRS rejects a move, it will not levy punitive fines.) But the lawyer refused to grant even "more likely than not" status, meaning a 51 percent likelihood of success if challenged in an IRS audit. Trump's campaign denied the story.
None of these reports is definitive. The CNBC, Huffington Post, and Slate stories are now in dispute, while the Mother Jones piece is the only one currently addressing the topic. The New York Times article on taxes is necessarily speculative. The result is that none of them provides as clear a smoking gun as the infamous tape of Trump bragging about sexually assaulting women. Together, however, they suggest an air of controversy, subterfuge, and duplicity around the Republican nomnee. Their timing is also remarkable—perhaps each of the news organizations was simply eager to get their stories in before the stroke of midnight, so as to qualify as an October surprise, or perhaps some of them were "oppo dumps," with leads provided to reporters by politically interested parties. (Such urging is common, and does not in any way undermine the reporting in the stories.) It would not be a surprise to see these October surprises stretch into November, though; after all, this is an unusually long election, since November 8 is the latest Election Day can fall. The stories also seem like a boon to the Clinton campaign. Even if none of them is a clear-cut bullseye, together, they may shift attention away from the investigation into Clinton's emails and toward Trump's own controversies.