Donald Trump Doesn't Care If You're Innocent
The Republican nominee continues to insist that five men exonerated in a notorious case were guilty.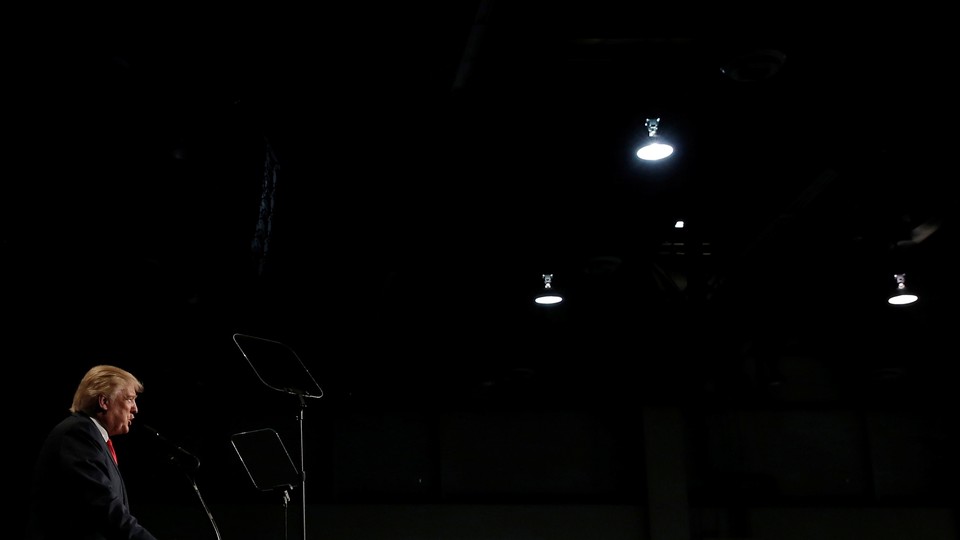 In April 1989, a white 28-year-old investment banker was brutally beaten and raped while jogging in Central Park. Local tabloids sensationalized the attack, describing it as the work of "crazed misfits" and a marauding "wolf pack." NYPD officers arrested five Hispanic and black teenagers between 14 and 16 years old, who police said had been involved in other beatings that night, for the crime.
What followed was a miscarriage of justice. After two days under repeated questioning, four of the five teenagers signed contradictory confessions and were each sentenced to between five and 15 years in prison. DNA evidence later established that Matias Reyes, a serial rapist already behind bars, had committed the crime by himself. All five men had their convictions vacated in 2002.
Donald Trump disagrees. On Friday, he told CNN he still believes the Central Park Five committed the crime for which they have been exonerated.
"They admitted they were guilty," Trump said this week in a statement to CNN's Miguel Marquez. "The police doing the original investigation say they were guilty. The fact that that case was settled with so much evidence against them is outrageous. And the woman, so badly injured, will never be the same."
Trump's statements are not a gaffe or a misunderstanding. They are policy. He has stood by this position for a quarter century. And, as is so often the case, he has chosen to focus his ire on racial minorities.
Shortly after the Central Park Five's arrests, Trump took out an infamous full-page ad in multiple New York City newspapers that proclaimed "BRING BACK THE DEATH PENALTY. BRING BACK OUR POLICE!" Although he did not mention the Central Park Five specifically, the timing made the connection unmistakable.
In the ad's text, Trump outlined a worldview in which the state exists not merely to try and convict those accused of committing a crime, but to make them suffer, to use their suffering to inspire fear in others, and to kill them if possible.
Mayor [Ed] Koch has stated that hate and rancor should be removed from our hearts. I do not think so. I want to hate these muggers and murderers. They should be forced to suffer and, when they kill, should be executed for their crimes. They must serve as examples so that others will think long and hard before committing a crime or an act of violence. Yes, Mayor Koch, I want to hate these murderers and I always will. I am not looking to psychoanalyze them or understand them, I am looking to punish them. If the punishment is strong, the attacks on innocent people will stop. I recently watched a newscast trying to explain "the anger in these young men." I no longer want to understand their anger. I want them to understand our anger. I want them to be afraid.
To underscore his point, he then summarized it in all capital letters: "CIVIL LIBERTIES END WHEN AN ATTACK ON OUR SAFETY BEGINS!"
Their exoneration in 2002, long after the media frenzy and the broader crime wave of the 1990s had receded, did not dissuade him. When Mayor Bill de Blasio announced the city would settle their lawsuit for $40 million in 2014, Trump called it "politics at its lowest and worst level." He criticized the courts, which had a "lot to answer for," as well as the "stupidity" of city officials. Only the police officers who had extracted false confessions from five teenagers escaped his scorn.
"Speak to the detectives on the case and try listening to the facts," he wrote in an editorial. "These young men do not exactly have the pasts of angels."
The Central Park Five case is not an anomaly. Trump told a police union last December he would use executive orders to mandate the death penalty for people who kill police officers. When asked at a recent town hall how he would stop "black-on-black crime," he said he would apply stop-and-frisk nationwide. After the arrest of Ahmad Khan Rahami for allegedly planting pressure-cooker bombs in Manhattan in September, Trump voiced dismay that the "evil thug" would be given "amazing hospitalization" and "an outstanding lawyer."
"His case will go through the various court systems for years and, in the end, people will forget, and his punishment will not be what it once would have been," Trump later told a crowd of supporters about Rahami's case. "What a sad situation. We must have speedy but fair trials, and we must deliver a just and very harsh punishment to these people."
Each of Trump's stances raises serious constitutional questions. But what's revealing is his consistency throughout them. Trump's stances on social issues, domestic policy, and foreign affairs are often mercurial at best. His disdain towards basic constitutional protections is a rare point of constancy.