Trump Faces a Slew of New Allegations of Sexual Assault
The Republican presidential nominee categorically denied any past incidents, but several women have come forward to report unwanted attention from him.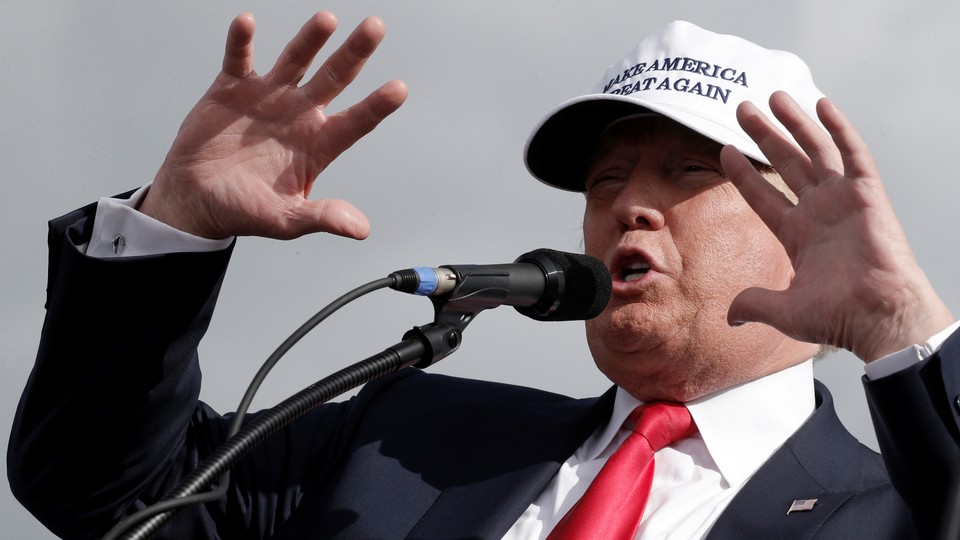 Updated on October 12 at 11:06 p.m.
Early in the second presidential debate, moderator Anderson Cooper confronted Donald Trump about a video in which the Republican presidential nominee boasted that stars like himself could do what they wanted with women. "Grab them by the pussy. You can do anything," Trump said in the 2005 clip.
"You bragged that you have sexually assaulted women. Do you understand that?" Cooper asked. Trump insisted that wasn't the case. Cooper asked three times whether Trump denied that he had ever done such a thing. Finally, Trump replied, "No, I have not," and quickly changed the subject.
But in the aftermath of that report, five women have come forward to say that Trump sexually assaulted them, including a People magazine reporter who published a first-person account of an alleged assault.
In a story published early Wednesday evening, The New York Times reported the stories of two women who say that Trump assaulted them, one in the 1970s and one in 2005.
Jessica Leeds told the paper that watching the debate made her want to punch Trump. She said that she was seated next to him during a flight three decades ago, when he began touching her breasts and tried to put his hand up her skirt. "He was like an octopus," she said. "His hands were everywhere. It was an assault."
Rachel Crooks introduced herself to Trump at an office in 2002; her company did business with his. She shook his hand, but then he didn't let go, and then, she said, forcibly kissed her on the mouth. "It was so inappropriate," she said. "I was so upset that he thought I was so insignificant that he could do that."
In the video, Trump told Billy Bush, "You know I'm automatically attracted to beautiful... I just start kissing them. It's like a magnet. Just kiss. I don't even wait."
Long-ago allegations are, of course, usually impossible to prove. But both women have told friends their stories over the years, and the friends confirmed those accounts to the Times. Meanwhile, their stories seem to have opened up floodgates for other women to air their stories.
Mindy McGillivray told The Palm Beach Post that Trump had groped her while she was assisting a photographer friend at Trump's Mar-a-Lago resort in January 2003. (A Trump spokeswoman denied the story.) A Miss USA contestant from Washington state reportedly posted on Facebook that Trump had groped her.
And Natasha Stoynoff, a former People reporter, wrote for that magazine about an assault that she says occurred while she was writing a story on the first anniversary of Trump's wedding to Melania Knauss in 2005. Stoynoff, who had been covering Trump for some time, says that Trump wanted to show her a room at Mar-a-Lago:
We walked into that room alone, and Trump shut the door behind us. I turned around, and within seconds, he was pushing me against the wall, and forcing his tongue down my throat. Now, I'm a tall, strapping girl who grew up wrestling two giant brothers. I even once sparred with Mike Tyson. It takes a lot to push me. But Trump is much bigger—a looming figure—and he was fast, taking me by surprise, and throwing me off balance. I was stunned. And I was grateful when Trump's longtime butler burst into the room a minute later, as I tried to unpin myself.
Stoynoff said that a few moments later, Trump told her, "You know we're going to have an affair, don't you?" Stoynoff said she told a colleague about the incident, but blamed herself, did not act, and asked to leave the Trump beat. A Trump spokesperson denied that story, too.
Trump has insisted that his language in the video was nothing more than "locker-room" conversation. But Leeds and Crooks are not the first women to lodge such accusations. Jill Harth, who worked with Trump on pageants in the 1990s, has said that Trump tried to grope her on various occasions, and sexually assaulted her in his daughter Ivanka's bedroom. "I was admiring the decoration, and next thing I know he's pushing me against a wall and has his hands all over me," Harth told Nicholas Kristof, the Times columnist. "He was trying to kiss me. I was freaking out." On another occasion, she says she vomited as a defense mechanism.
Contacted by the Times about the two allegations it published, Trump blew up:
"None of this ever took place," said Mr. Trump, who began shouting at The Times reporter who was questioning him. He said that The Times was making up the allegations to hurt him and that he would sue the news organization if it reported them.

"You are a disgusting human being," he told the reporter as she questioned him about the women's claims.

Asked whether he had ever done any of the kissing or groping that he had described on the recording, Mr. Trump was once again insistent: "I don't do it. I don't do it. It was locker room talk."
After the video was released, dozens of Republican officeholders disavowed Trump, either calling on him to withdraw from the presidential ticket, rescinding their endorsements, or both. Trump has remained defiant, however, insisting he will stay in the race and feuding with the GOP and Speaker Paul Ryan, its highest elected official. His standing in the polls was already tumbling, and the first polls to emerge since the video was released show even greater collapse.