Everyone Is Angry at James Comey Now
The FBI director finds himself targeted not only by the Clinton campaign but also by former Republican officials for his handling of the Hillary Clinton email case.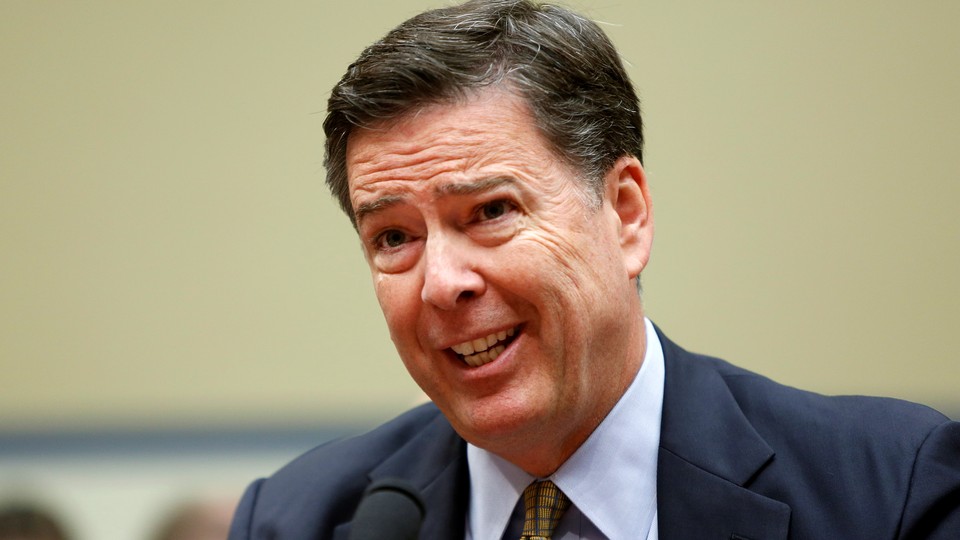 What does it take to unite former Obama Attorney General Eric Holder, former Bush Attorney General Alberto Gonzales, liberal columnist Paul Krugman, and pitchfork-wielding former Tea Party Representative Joe Walsh?
In today's polarized times, it should be practically impossible—but FBI Director James Comey has managed to pull it off. On Friday, Comey sent a letter to the Republican chairs of committees relevant to the investigation into Hillary Clinton's emails, saying that the FBI had discovered new, pertinent emails.
Comey's short note—just three paragraphs, with little other information about the number of emails, their source, or when they might be reviewed—shook the presidential race. Coming with several polls showing a slightly tighter race, it suddenly looked like the Clinton campaign might be falling apart at the seams, and that Trump had a renewed chance.
Since then, the public has learned more about the emails in question, complicating the picture. Adding to the difficulty, much of the new information has emerged in anonymous leaks to a range of outlets, producing a sometimes contradictory image. It's been reported that the emails in question were turned up during an investigation into former Representative Anthony Weiner for allegedly sexting a North Carolina 15-year-old. Weiner's estranged wife is top Clinton aide Huma Abedin, and apparently the emails in question were on a shared laptop. First, there's no clear figure on how many emails there are, no idea whether there are new emails not previously reviewed, and no sense (at least publicly) of how likely it is that there's anything that would change Comey's pronouncement in July that he did not recommend charges against Clinton for her use of a private email server and address. (He later said it wasn't even a close call.) In fact, the FBI didn't even get a warrant to look at the emails until Sunday.
Within hours of the letter being made public, the Democratic Party had swung its entire messaging apparatus into attacking Comey.
As a tutorial in executing a messaging offensive, it was impressive, showing how much more easily Clinton can unite her party and lead a unified front than, say, Trump after the video in which he boasted about sexually assaulting women. But whether it's the right message remains to be seen. For one, there's a risk of hypocrisy. While Clinton and her allies were not delighted with the manner in which Comey announced his decision not to recommend charges, calling her "extremely careless" with classified information, many of them were quick to praise Comey's integrity. Now some of them are even suggesting that Comey is trying to throw the election to Trump. There's no evidence for that claim, and it's hard to imagine it being true: As a studiously moderate longtime Washington establishment Republican, Comey doesn't fit the profile of a Trump fan.
Going to war with the FBI is also a dangerous game. If you work the refs, you might get better calls; or you might just anger them and end up digging a deeper hole. But this is likely a short-term strategy, designed to run out the clock and protect Clinton's lead ahead of Election Day.
There's a second, separate type of criticism of Comey, which argues not that his motives are questionable but that his decisionmaking process has been grievously wrong. On Friday afternoon, Benjamin Wittes wrote a much-read piece at Lawfare arguing that Comey was in a bind and had no choice but to inform Congress, even at the risk of thrusting himself into the midst of the presidential race's final week.
But there's pushback to that notion, now. Some of it comes from politically interested observers. Former Attorney General Eric Holder, for example, has campaigned for Clinton and made his views on the race clear, but his argument, laid out in a Washington Post column, is procedural rather than political. Several outlets have reported that Comey broke with Department of Justice policies, and that DOJ officials counseled him not to send the letter, but did not attempt to actually stop him. Holder argues that Comey violated protocol. "I fear he has unintentionally and negatively affected public trust in both the Justice Department and the FBI," Holder wrote. "And he has allowed—again without improper motive—misinformation to be spread by partisans with less pure intentions." Holder and dozens of other former DOJ officials also signed a letter criticizing Comey.
But it's not just Democrats. Richard Painter, who served as chief White House ethics lawyer under President George W. Bush, argued in a New York Times column and in a formal complaint on Saturday that Comey had violated the Hatch Act, which bars federal employees from using their authority to interfere with elections. (Interestingly, Painter initially told my colleague Emma Green he thought Comey was on solid ground, then changed his mind.)
Other Republicans have argued that Comey made the wrong decision in July when he recommended against charges for Clinton, but that his letter on Friday was misguided as well, sometimes for the same reasons.
Gonzales, who was attorney general under George W. Bush, was critical of Comey's July announcement, but said on MSNBC on Monday that the new move also seemed dubious. "It was probably inconsistent with protocol, so in that sense, you have to question the decision," he said. (It's curious to see Gonzales, who was forced to resign amid questions about his administration of the Justice Department, being cited in discussions of ethics—especially by Democrats.)
Fox New's Bill Hemmer reported that Karl Rove, the former Bush strategist, said Comey was "wrong in July and was wrong on Friday." An echo came from Joe Walsh, a controversial former one-term representative from Illinois who was warning just last week that he was "grabbing my musket" if Trump lost:
William Weld, a former U.S. Attorney and Republican governor of Massachusetts now running for vice president on the Libertarian ticket, was also scathing about Comey's decision. Weld knows a thing or two about sidestepping policies. He once led the Justice Department's criminal division, but resigned with other top officials in 1988, to protest the conduct of Attorney General Edwin Meese III. When a special prosecutor declined to indict Meese, Weld and a colleague took their complaints to Congress, forcing Meese's resignation.
Comey infuriated Republicans by not recommending charges against Clinton in July, and some who are enjoying Clinton's struggles may, as a result, be less likely to leap to Comey's defense. Arrayed against him, he finds the Democratic messaging machine plus former Justice Department officials of both parties. So now Comey finds himself a lonely man. Maybe it's just as well that he won't have social distractions, though: His agency has a lot of emails to read.