Clinton's Believability Problem
This week highlighted all the ways in which it's likely to follow Clinton—all the way back to Washington.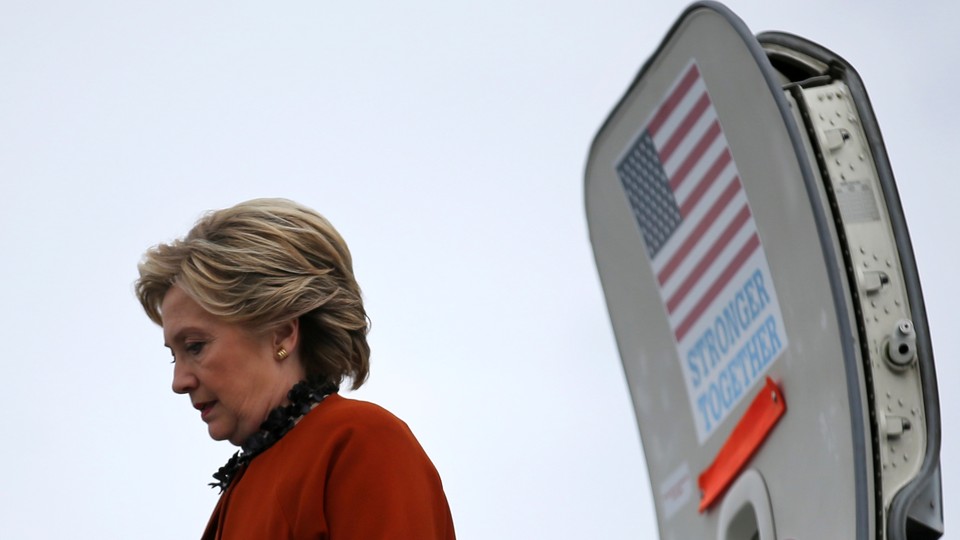 Amid a fired up sea of supporters chanting "Lock her up!" with renewed vigor, a freshly emboldened Donald Trump took to the campaign stump on Friday afternoon in New Hampshire, moments after the FBI announced it was reviewing new emails related to its investigation of Hillary Clinton's email server. "This is worse than Watergate!" he bellowed. The crowd was in agreement.
James Comey announced in July "that no charges are appropriate in this case," and there's no reason, at this point, to believe that the new emails will alter that conclusion. But the toll this takes—and will continue to take—on Clinton's ability to secure public trust is not to be discounted. Should she win the presidency on November 8th, (as polls suggest she will), the controversy is likely to follow her to the White House: This latest review may take time to complete, and this isn't a cudgel Republicans are likely to give up anytime soon. After all, their entire strategy has been to erode trust: in public institutions and, lately, in elections. The president herself will be no different.
And yet, to ascribe this erosion of trust as merely a page from some nefarious conservative playbook would be to underestimate the depth of the problem Clinton has created for herself.
The announcement of an examination of new emails containing classified information (possibly from electronic devices belonging to Anthony Weiner and Huma Abedin) could be damaging, given that it resurrects a problem Clinton has proven woefully unable to dispense with. But this development comes at the end of the week when the public has been treated to an exhumation of stolen emails from her campaign chair, John Podesta.
In one of the more damning tranches of correspondence, Podesta complains to the president of the Center For American progress—and Clinton surrogate—Neera Tanden about duplicity among Clinton's innermost circle of associates, including her former State Department Chief of Staff Cheryl Mills, communications adviser Phillippe Reines and her lawyer, David Kendall.
(By way of background, the New York Times had just broken the news of Clinton's private server, and the magnitude of the controversy was just beginning to dawn on Podesta and Tanden):
"Speaking of transparency, our friends Kendall, Cheryl and Phillipe sure weren't forthcoming on the facts here," Podesta wrote.
This is not good, but the response from Tanden is much worse:
"This is a cheryl special. Know you love her, but this stuff is like her Achilles heal. [sic] Or kryptonite. she just can't say no to this shit. Why didn't they get this stuff out like 18 months ago? So crazy," Tanden wrote.

"Unbelievable," Podesta replies.

"I guess I know the answer. They wanted to get away with it."
It is an understatement to say this reflects poorly on Clinton: It's not the questionable judgment involved in setting up her own server, but her own staff's feelings of betrayal (and outright disgust) that matter here. Whether or not you believe Clinton's server to be a legitimate scandal, Tanden's suggestion that "they wanted to get away with it" is a reminder of the problems that have dogged the Clintons. Many Americans felt like "they" wanted to "get away" with whatever it was that would serve their interests—whether that was ending welfare or dispensing with Monica Lewinsky. That this line of attack is coming from one of her own surrogates makes it doubly distressing.
And then there's the fact that this week, Clinton has faced renewed questions from progressives about the extent to which she can be trusted on certain issues, should she win the presidency. Inherent in this premise is, of course, the assumption that perhaps she can't be.
Zach Carter, writing in the Huffington Post, suggests that Clinton may choose Lael Brainard as her Treasury Secretary—Brainard currently serves on the Federal Reserve's Board of Governors:
Brainard's record on trade is certain to ignite the ire of the Bernie Sanders base. When she joined Bill Clinton's administration in 1997, Brainard helped implement the North American Free Trade Agreement and manage China's entrance on the stage of global commerce as a member of the World Trade Organization. As the top diplomat at Treasury under President Barack Obama, Brainard advocated for disappointing trade pacts with South Korea, Colombia and Panama, and laid the groundwork for much of what eventually became the TPP, while overseeing tepid efforts to thwart currency manipulation in China.

She has, in short, been involved with just about everything progressives have complained about on trade since the 1990s.
On this count, it is possible that Clinton might not exactly be "trusted"—if trusted means adhering to her public rejection of the Trans-Pacific Partnership once she is in office. Maybe most Americans already believe this, and that is why it has consistently proven one of Trump's most potent lines of attack. But either way, it signals a resurgence of the progressive skepticism that has trailed Clinton ever since her husband was president.
In the end, the news of the FBI's continued investigation may turn out to be not much of anything. The problem for Clinton is that, as we have seen so far in 2016, public trust is a set of feelings more than it is a set of facts. This is not fair, but it is also true. Clinton's extraordinarily long career in public service has given her a resume that she proudly touts as evidence of her qualification for the office of president—and it is difficult to begrudge her this. But all of these years of service have brought an accretion of skepticism relating to her believability—feelings that are sparked with each turn of the news cycle, no matter their relevance. Perhaps the news this week is that, for skeptics of Clinton, it isn't news at all.