Clinton's Careful Courtship of Muslim Voters
It's a political constituency just coming into its own—and although many Muslims are scornful of Donald Trump, they remain skeptical of the Democratic nominee.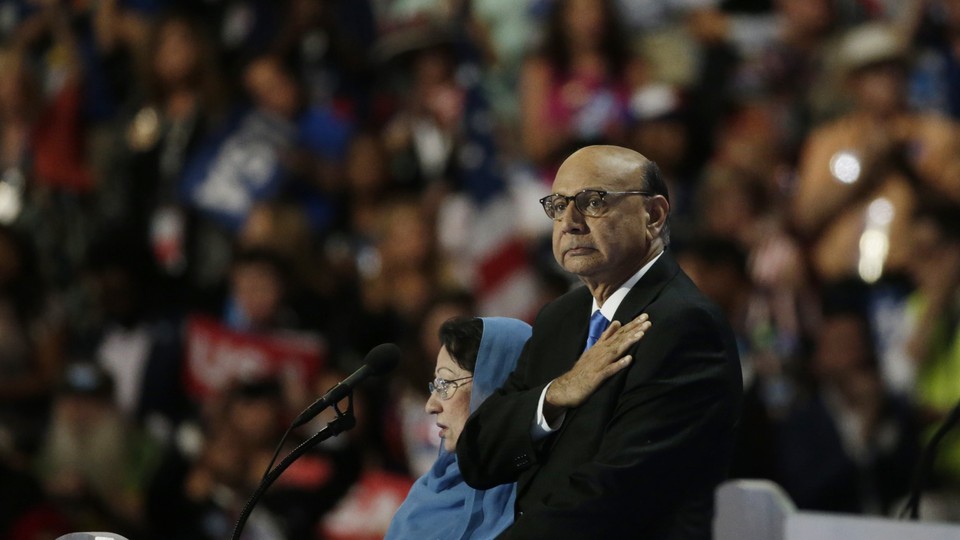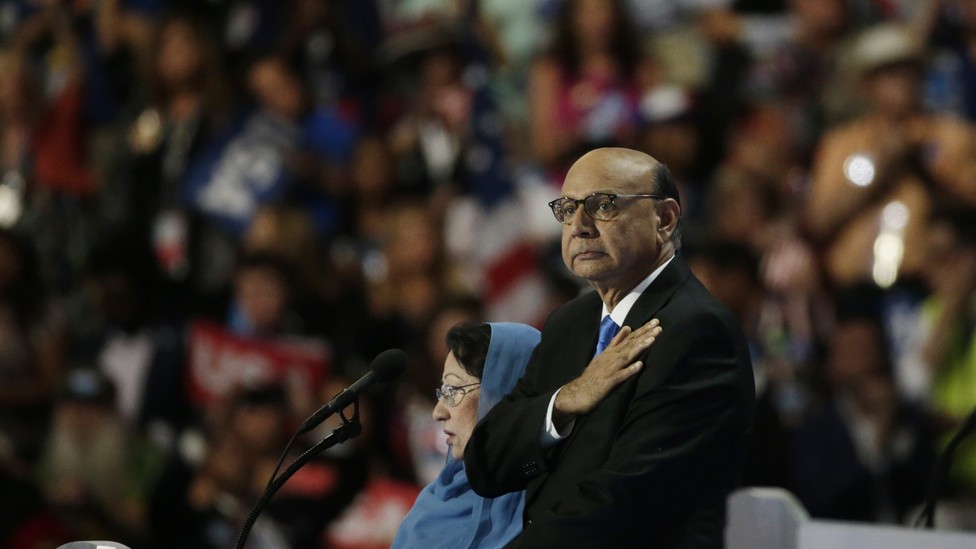 ALEXANDRIA, Va.—This Democratic headquarters one warm October night could have been practically anywhere in the country. Volunteers crammed into a dingy, decrepit office suite, complete with fake wood paneling from the era when Hillary Clinton still wore bell-bottoms, filling up every space—crouched over rickety tables or into corners, reciting a script as they called worked through long lists of voters, checking to see if people were supporting Hillary Clinton and whether they'd be willing to volunteer.
The only clue that this was an unusual event was sartorial: Several women wore headscarves, and a man sported a stylish kaffiyeh. The phone bank is one of dozens of Muslims for Hillary events that the Clinton campaign has arranged this year, part of what the campaign contends is an unprecedented effort to court a small but growing population.
On Friday, the Clinton campaign released an ad featuring Khizr Khan, the father of U.S. soldier Humayun Khan, who was slain fighting in Iraq. The ad, set to air in seven battleground states, is notable for its direct invocation of Islam. Telling the story of his son's death saving comrades, Khan says, "He was 27 years old, and he was a Muslim American. I want to ask Mr. Trump, would my son have a place in your America?"
Such an ad would have been unthinkable as recently as four years ago, as Barack Obama grappled with false rumors that he was a secret Muslim. It's surprising even now, amid a national campaign that has seen direct demonization of Muslims. But Donald Trump's decision to demonize Islam has created what the Clinton team sees as an opening, leading the Democrat to court Muslim votes more boldly and methodically than any predecessor.
There are an estimated 3.3 million Muslims in the United States—a tiny portion of the overall population, especially excluding non-citizens and people too young to vote. But their numbers are expected to grow quickly, and moreover, American Muslims make up a noticeable chunk of the electorate in several swing states, including Michigan, Virginia, Florida, and North Carolina. (The Muslim vote in Florida for George W. Bush, which was greater than his margin of victory, is sometimes credited with making Bush president in 2000.)
All of that was true even before the election got under way. But Donald Trump's campaign has foregrounded Islam in a way that no presidential campaign has before. George W. Bush, in 2000, went out of his way to appeal to Muslims. Barack Obama, during both of his elections, battled false claims that he was one. But only Trump has suggested banning them from entering the country altogether, with persistent suggestions that they are not loyal citizens. An initial proposal would have barred the entry of any Muslims, citizens or not; Trump was unable to explain how his idea of registering Muslims would differ from Nazi policies toward Jews. Later versions of the idea have narrowed the ambit to simply countries with a pattern of terrorism, from which prospective immigrants and refugees would have to undergo "extreme vetting," though he has not clarified what that means.
Sensing an opportunity, the Clinton campaign has opted to beef up its Muslim outreach. The campaign hired a dedicated staffer to work on Muslim outreach, and her campaign has hosted meetings and roundtables around the country, sometimes employing Huma Abedin, Clinton's long-time right-hand aide, as a surrogate.
The Trump campaign did not return requests for comment about what, if any, Muslim outreach it is conducting. The Daily Beast reported in September that several requests from the Trump campaign to visit mosques have been turned down. A Baltimore man named Sajid Tarar launched a group called "Muslims for Trump," though its footprint is extremely light. Tarar did not respond to a request to speak, but in April he told Fusion, "When Donald Trump has said something about Muslims and Islam, he doesn't mean American Muslims, he's talking about terrorists." Tarar also gave the closing prayer one night at the Republican National Convention in Cleveland, where he was heckled by someone shouting, "No Islam!"
That's one reason why a few Muslims are out making calls on a Thursday evening, just down the road from T.C. Williams High School—a symbol of the power of integration in America thanks to its role in Remember the Titans. They discuss strategies: Rather than ask about someone's religious affiliation, for example, a caller might start off a conversation with a voter bearing a Muslim name with a warm "Salaamu alaykum!" That has its risks, though; one volunteer mentioned a man with a Persian name being affronted at the implication of faith. On this particular night, there are a lot of no-answers. Someone theorizes that it's dinner time. That may be frustrating for the volunteers, but voter contacts are not the only point: These events are also an attempt at creating a sense of buy-in among Muslim supporters.
"We really want to get the community more engaged in the campaign overall," says Farooq Mitha, Clinton's director of Muslim outreach, a veteran of both the Obama administration and the Muslim advocacy group Emerge. "It's also a community that's more organized than it's been in the past. There's a younger generation of leaders that just see it as part of their duty as Americans to be involved not only in politics but in just civic life as a whole."
Shahed Amanullah, the man in the stylish kaffiyeh, doesn't need much convincing. A dotcom veteran, he registered MuslimsforHillary.com, just as he'd done for Barack Obama and John Kerry before. And having worked for Clinton at the State Department, in the office of the Special Representative to Muslim Communities, he was already a big fan of the Democratic nominee. But he wants to convince other Muslims, too.
"I'm sorry to say, Trump makes it easy!​​​​" he says. To be more precise: Trump makes it easy to scare Muslims, and it's helping to mobilize the bloc. But getting them to actually vote for Clinton is not necessarily a shoo-in.
"They really cannot rely on Muslim voters," says Dalia Mogahed, the director of research at the Institute for Social Policy and Understanding and a former member of President Obama's council on faith-based initiatives. "They may just stay home. There are third-party candidates, and for Muslims they're very real possibilities. I don't think anyone can take a Democratic vote from a Muslim for granted."
In fact, the idea that Muslims would vote as a bloc is a relatively new one. The story of the last 15 years is a study in how external forces treating a group of people as similar can create actual political cohesion.
Prior to the 2000 election, it was difficult to speak about a Muslim vote. It was a huge, multiethnic category, running from West Africans to Arabs, Persians to Pakistanis, and Indonesians to African American converts. While black American Muslims had a long tradition of political engagement, that wasn't as true of other Muslims. A large proportion of immigrants, many of whom either came from places where there wasn't a robust tradition of voting, or who took a quietist attitude toward politics. Those who were politically engaged voted on a range of different issues, sometimes connected to issues in their homelands; Pakistanis tended to lean right because of perceived Democratic coziness with India, for example.
George W. Bush changed that in two ways. First, he campaigned hard for Muslim votes during the 2000 election, speaking out against racial profiling and meeting with leaders. Surveys showed he won the Muslim vote. After the 9/11 attacks, he was careful to declare that Islam was not the enemy. Six days after the attacks, he visited a mosque in Washington. But in a grimly ironic turn, Muslims began to feel that the federal government had begun racially profiling Muslims, viewing them primarily as a security challenge. Other politicians, particularly on the right, were much blunter, portraying Muslims as a whole as a threat to the American way of life. This stereotyping of a widely varied, multiethnic bloc seems to have helped turned them into a unified voting bloc.
Yet they still haven't achieved their full political potential. An ISPU poll earlier this year found that while Muslims are roughly equally civically engaged as other denominations, but lag far behind in voter registration:
---
Civic Engagement Among U.S. Denominations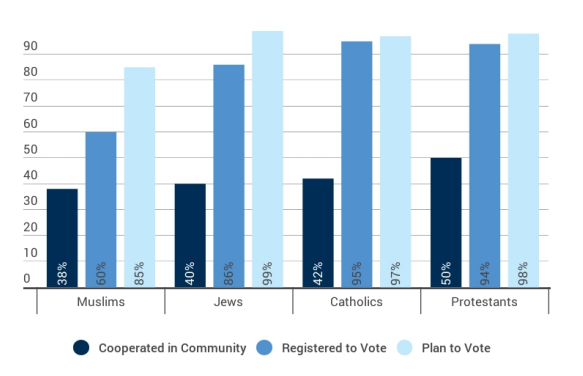 ---
Electoral politics have tended to be largely absent from the minbar in American mosques. Two Muslim advocacy groups organized a drive for Friday sermons in early October to emphasize the importance of voting. While Obama was popular among many Muslim Americans, the excitement was largely organic, with less direct outreach by his campaigns.
One goal of the Clinton outreach is to bring the voter-registration numbers up, through things like roundtables at mosques, registration drives, and phone banks.
Trump is a powerful motivator, Mitha says. "People have said that they're genuinely afraid," he says. "A lot of people have said to me that they're afraid for their kids, what is their future in America, and I'm afraid to send my kids to school because I don't know what's going to happen. There's definitely that sense of urgency in the community. For many people, it's about survival." That doesn't mean it's been easy for Clinton to win all of them over, though.
During the primary, many Muslim voters supported Bernie Sanders, for reasons that ran from his friendliness to Palestinians to the general liberalism of young, well-educated voters to wariness of interventionist American foreign policy, of which Clinton has been a prominent advocate. Some people still remember Clinton's decision to return $50,000 in campaign contributions during the 2000 campaign, and see it as evidence that she is willing to abandon Muslims when it's politically expedient. A strong showing in the Arab American capital of Dearborn helped Sanders shock Clinton in the Michigan primary.
Since the primary, the Clinton campaign has been working to assuage these concerns. That effort is aided by the presence of Abedin, perhaps the most prominent Muslim in U.S. politics today, and one who has the candidate's ear. Other surrogates have ranged from Muslim Representatives Keith Ellison and Andre Carson to entertainers from Kareem Abdul-Jabbar to DJ Khaled. The campaign put a special focus on events surrounding Eid al-Adha celebrations in mid-September. These events have also been helpful in creating the voter lists that are essential for get-out-the-vote pushes.
Simply speaking to the community through a lens other than homeland security has won positive reviews. So did the lineup at July's Democratic National Convention, which featured Abdul-Jabbar and made Khizr and Ghazala Khan, the parents of Humayn Khan, into overnight sensations.
"We've done, I think, a good job of highlighting, 'Hey, Muslims are our doctors and our teachers and police officers and entrepreneurs,'" Mitha says. "The community really wants to be viewed and known for its pluralism and its diversity. That's the No. 1 thing that comes up."
But even as those efforts win praise, hesitations about Clinton's policy instincts have remained since she defeated Sanders.  "I think that when it comes to Hillary Clinton and Muslim Americans, it stops at rhetoric," Mogahed says. "It's been welcome rhetorical opposition to the hateful statements, which is great. When it comes to concrete policies that impact Muslims every day, I don't think you see much of that."
Just take the presidential debates. Trump was asked what he would do to combat Islamophobia, and quickly turned the question into a finger pointed at Muslims for being insufficiently loyal—answering the question by demonstrating the problem.
"You're right about Islamophobia, and that's a shame," he said. "But one thing we have to do is we have to make sure that—because there is a problem. I mean, whether we like it or not, and we could be very politically correct, but whether we like it or not, there is a problem. And we have to be sure that Muslims come in and report when they see something going on. When they see hatred going on, they have to report it." (The remark spawned a hashtag, #MuslimsReportStuff, as Twitter users posted a mix of serious and sardonic eyewitness statements.)
Yet Clinton had her own debate moment to make many Muslims cringe. It was in the first meeting. "We finally need to pass a prohibition on anyone who's on the terrorist watch list from being able to buy a gun in our country," she said. "If you're too dangerous to fly, you are too dangerous to buy a gun. So there are things we can do, and we ought to do it in a bipartisan way."
Any mention of the no-fly list tends to raise hackles among Muslims. Civil-libertarians have long attacked the list as an unaccountable, unchallengeable violation of due process, and since many Muslims find themselves on the list—sometimes for preposterous reasons, like confused names—this equates to a removal of a constitutional right to a firearm without due process. There's no reason to think Clinton is intentionally targeting Muslims; it's the lack of consideration that grates on the community.
One longstanding bone of contention between Obama and the American Muslim community was the president's long delay in visiting a mosque in the United States. He finally did so in February. But Clinton has also not visited a U.S. mosque.
"I think the Clinton campaign has made a decision to be within arm's reach to the Muslim community but not necessarily stand shoulder to shoulder," says Robert McCaw, who is government affairs manager at the Council on American-Islamic Relations and generally has positive things to say about the Clinton campaign's efforts. "We're still waiting to go past private meetings into public forums. When does Clinton stand in a mosque and address the Muslim community?"
Her campaign acknowledges there's a desire for her to visit a place of worship soon, although she's unlikely to get in a visit before the election.
Even without that gesture, the outreach seems to be getting results. In September, Emerge PAC endorsed her for president. "Hillary Clinton knows this diverse and vibrant community is an asset for our country, and she's proven it," the group said in a statement. "Throughout this campaign, she has stood up to the hateful, dangerous rhetoric of Donald Trump, and she has presented comprehensive plans on the issues that Muslim Americans care about most." A newly created American Muslim Women PAC also backed Clinton, and featured Ghazala Khan as guest of honor for the announcement. A poll conducted by CAIR in October found that nearly three in four American Muslims planned to vote for Clinton. Trump pulled just 4 percent.
If Clinton has already locked up the Muslim vote for this year, it's the future that is most interesting. "The idea of even lip-service is new. When the community is so verbally assaulted, any show of support is greeted with some relief," Mogahed says. "It will be interesting to see how that lip-service and whether it's followed up on." Whoever the candidates are for president in 2020, they'll be contending with a larger, more mobilized Muslim community than ever before, and they may find that lip service isn't enough to win it over.
---
Related Video: