Clinton and Trump Are Shuffling the Electoral Map
Democrats are increasingly looking toward Sunbelt states rather than Rustbelt states for victory in 2016 and beyond. Not long ago that would have been unthinkable.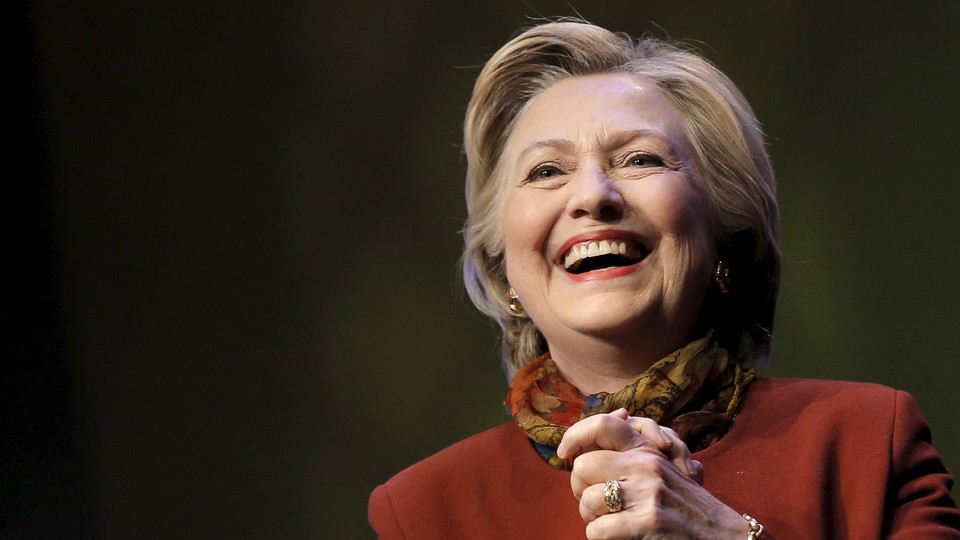 In the campaign's final weeks, Hillary Clinton's position now looks stronger in Florida than in Ohio; in Virginia than in Wisconsin; and in Colorado and even North Carolina than in Iowa.
In other news, the sun today rose in the West.
With Trump advancing in Rustbelt states dominated by older and blue-collar whites and struggling in Sunbelt states that contain more younger, college-educated and minority voters, these starkly polarized patterns of support are reconfiguring the Electoral College map by accelerating long-developing trends rooted in changing demography and shifting partisan allegiance. From the mid-1960s through the early part of this century, this pattern of relatively greater strength for Clinton in the Sunbelt than Rustbelt would have been unrecognizable to Democratic strategists. Now, The 2016 race is explosively fast-forwarding changes in the campaign map that many political professionals had expected to unfold more gradually over the next decade.
Craig Hughes, a leading Democratic strategist in Colorado, speaks for many in both parties when he says the two campaigns this year are pulling forward an electoral map that he didn't expect to see until 2020 or beyond. "Trump has moved it up like eight years," he said.
Added Alex Lundry, the co-founder of the Republican voter targeting firm Deep Root Analytics: "These aren't necessarily patterns we haven't seen before… but what we're seeing in 2016 is almost a radicalization of those trends."
The demographic and geographic trends reverberating through 2016 could produce a electoral alignment unlike any since the passage of the 1964 Civil Rights Act shattered the Democratic hold on the "solid South."
This reconfiguration largely leaves the same states at the center of the electoral deck, but shuffles which party looks to which state for a win. It's a shift symbolized by Clinton's clear decision to focus more effort on Florida and even North Carolina than on Ohio, the state traditionally considering the tipping point in presidential elections. (Clinton finally returned to Ohio Monday after nearly a month-long absence.)
"While the same ten states are in play by and large that we had in 2012 they have definitely been reordered," said Mitch Stewart, President Obama's 2012 field director and a founding partner of the Democratic consulting firm 270 Strategies.
Since 1968, Democratic presidential nominees have almost always run better in the big battlegrounds of the Midwest than they have in the key Sunbelt prizes. That's been especially true since 1992, when Democrats began their current streak of winning the popular vote in five of the past six presidential elections. Together, the five Rustbelt states offer 70 Electoral College votes, and the five Sunbelt prizes 72.
This year, the competitive picture looks very different, especially when considering the three Rust belt states where Trump has shown the most strength: Ohio, Iowa and Wisconsin.
In the averages of state polls compiled by FiveThirtyEight.com, Clinton is winning a greater share of the vote in all five Sunbelt battlegrounds than in either Ohio or Iowa. In the averages compiled by RealClearPolitics.com and Pollster.com, Clinton's vote share in all five Sunbelt battlegrounds also exceed her showing in Iowa and she's running better in all of them than in Ohio, except for Nevada.
Clinton is in a stronger position in Wisconsin. But even so, her Wisconsin numbers lag her showing in Florida and Virginia in all three averages, as well as her numbers in North Carolina and Colorado in the Pollster.com compilation. Pennsylvania and Michigan, to this point, look safer for her than the other three Rustbelt swing states (though in some cases the averages place her vote share behind some of the Sunbelt states in each of them as well).
Throughout the mid-1960s to the early 2000s, the Democratic nominee typically won a higher share of the vote in Ohio than in any of the Sunbelt battlegrounds. Over that period, Democrats have won a greater share of the vote in Florida than in Ohio only in 1976, 1996 and 2000—each time with Southern nominees (Jimmy Carter, Bill Clinton and Al Gore.)
From 1968 through 2004, Democrats exceeded their share of the vote in Ohio three times in North Carolina, once each in Virginia and Colorado and never in Nevada. (Southerners Carter and Clinton accounted for all but one of those exceptions too.) In all Democrats have run better in Ohio than the five Sunbelt battlegrounds in 43 of the possible 50 chances across the ten presidential elections from 1968 through 2004.
In Iowa, Democratic nominees outpolled their Sunbelt showings even more consistently. Democrats drew a higher share of the vote in Iowa than in the five Sunbelt swing states in 44 of the 50 possible chances from 1968 through 2004. Again the principal exceptions were Southerners Carter in 1976 (North Carolina and Florida) and 1980 (Virginia and North Carolina), and Gore in 2000 (Florida).
In Wisconsin, the tilt has been even slightly more pronounced: the Democratic nominee ran better there than in the Sunbelt swing states 45 times in the 50 chances over those ten elections. Southern nominees provided the only exceptions: Carter in 1976 (North Carolina and Florida) and 1980 (North Carolina); Clinton in 1992 (North Carolina again); and Gore in 2000 (Florida.)
This pattern began to erode in 2004 when John Kerry struggled in the Rustbelt (losing Ohio and Iowa and barely holding Wisconsin) while gaining ground in Colorado and Nevada, and establishing a beachhead in the suburbs of northern Virginia. And it cracked further under President Obama. He ran better in both Colorado and Virginia than Ohio in both of his victories and in 2012 also drew a higher share in Nevada than Ohio.
In both his victories, Obama, though, continued to run better in Wisconsin than any of the Sunbelt battlegrounds; he also performed better both times in Iowa than in any of them, except Nevada. (He also ran better in Michigan than any of the Sunbelt states both times, and better in Pennsylvania each time than in any of them except Nevada.) Most important, he won all ten of these Rust- and Sunbelt battlegrounds in 2008 and all of them except North Carolina in 2012.
This year, the contenders' contrasting strengths are pushing the two groups of states more decisively apart. While the polling averages still show Clinton leading in Michigan, Pennsylvania and Wisconsin, Trump appears within range in the latter, and he's been consistently leading in Ohio and Iowa.
Conversely, Clinton is comfortably ahead in Virginia, leading in both Colorado and Florida, and running essentially in a dead heat in North Carolina and Nevada. These dynamics were underscored by a flurry of swing state polls released Monday that showed Clinton leading comfortably in Colorado, holding five percentage point advantages in Florida and Pennsylvania, and maintaining razor thin leads in North Carolina-while still trailing narrowly in Ohio.
That new geographic pattern is rooted in the race's defining demographic trends. In the six major national polls released just before last week's first presidential debate, Trump led among white voters without a college education by resounding margins of 20 to 32 percentage points. But he confronted deficits of 40-50 points among non-white voters, and was facing more resistance than any previous Republican nominee in the history of modern polling among college-educated whites: five of the six surveys showed him trailing among them by margins of two-to-eleven percentage points (while he managed only to run even in the sixth.) The race is on track to produce the widest gap ever between the preferences of college-and non-college whites, while Trump may reach record lows among voters of color.
"We have a more aggressive sorting of voters occurring along education and socioeconomic status this year," says Lundry. "That overlaid with emerging electorate states, where you have growing Hispanic population, growing education numbers, those two things combined are pushing us forward more aggressively [to re-sort the Sunbelt and Rustbelt states]. You are seeing an accentuation absolutely of the trends we've seen."
While the Sunbelt states are growing steadily more diverse, the Rustbelt states are remaining predominantly white, and aging at that: as I wrote earlier this year, the non-partisan States of Change project has projected that from 2008 to 2016 the minority share of eligible voters will rise by more in each of the Sunbelt swing states than in any of the Rustbelt battlegrounds. And data from both the Census Bureau and the exit polls show that whites without a college-education represent a larger share of the vote in almost all of the Rustbelt states than any of the Sunbelt states. Indeed, one key reason Pennsylvania is stronger for Clinton than Ohio is that college-educated whites represent a larger share of the vote there, especially in the exit poll data.
Democrats universally recognize the importance of maintaining a presidential foothold in the Rustbelt––particularly in Michigan, Wisconsin and Pennsylvania. But as the party continues to struggle with working-class whites––and Republicans in turn struggle to craft an agenda acceptable to more minorities and socially-liberal whites––increasingly Democratic strategists believe Clinton's tilt toward the Sunbelt represents their party's future.
Both parties agree that the steadily growing minority population may eventually add fast-growing Arizona and Georgia to the list of competitive Sunbelt states––though it does not yet appear Clinton is attracting quite enough college-educated whites to tip either of them in 2016.
"As the battleground states that are important mirror the American population, you are going to see Democrats do better than they have historically," Stewart said.  "She is outperforming Obama right now in North Carolina, Florida and Virginia. I never would have said in those three Sunbelt states that she would be outperforming us."