InterVarsity's Move on Gay Marriage
A national campus fellowship network told employees they can be fired for their beliefs on LGBT relationships.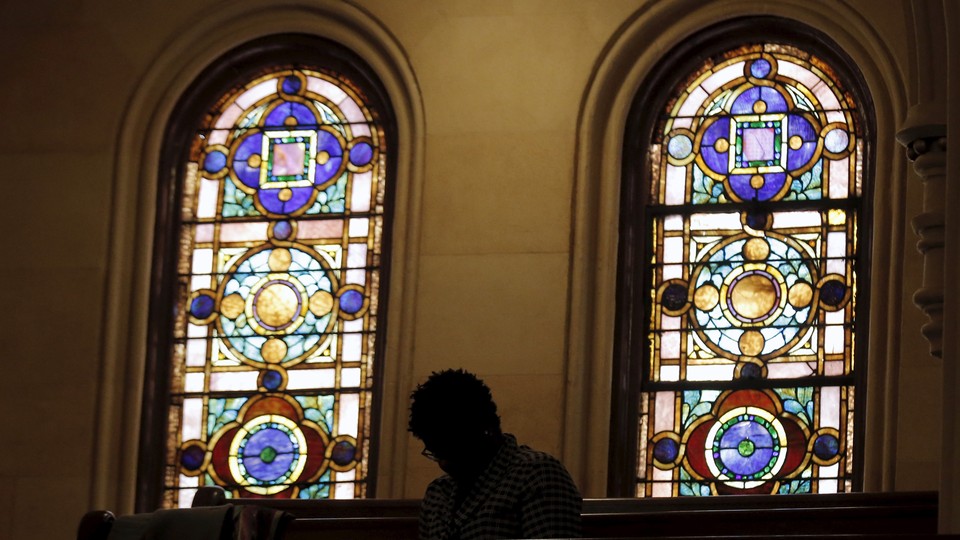 As America becomes increasingly accepting of same-sex marriage, many conservative Christians have feared that their stand on gay marriage could cost them their reputations or even their jobs. This week, it actually happened: Hundreds of workers were formally notified by their employer that they could be involuntarily terminated for their religious beliefs. But, ironically, those at risk are progressive Christians who support the consecration of gay marriages.
InterVarsity Christian Fellowship USA, a large ministry operating on 667 college campuses nationwide, has announced that it will begin dismissing employees who disagree with its theological stance on human sexuality starting on November 11, TIME's Elizabeth Dias reported on Wednesday. Rather than force employees to sign a document outlining their position, the organization is asking employees to out themselves. Once the employees inform their supervisor of their personal views, the "involuntary terminations" will be triggered.
InterVarsity has experienced backlash since this story broke and released a statement to make clear that they do not have a political position on civil marriage, but only a theological position on Christian marriage. Many will see this as splitting hairs. If an employee interprets the Bible in such a way that makes space for LGBT marriage, they are asking them to leave.
In the age of Obamacare and legal gay marriage, InterVarsity may have made such decisions to legally protect its organization. But do the potential benefits of such a bold move outweigh the ramifications of what Dias called "a theological purge?" It's difficult to make such a case. Instead, InterVarsity has drawn an unnecessary line in the sand that may alienate donors, frighten members, and force employees in good standing to choose between their loved ones and their livelihoods.
InterVarsity's decision is the result of a four-year internal review of gender, sexuality, and marriage. The study culminated in a 20-page internal position paper distributed in March of 2015 that stated, "We conclude, therefore, that God's loving intention—seen in the clear teaching of Scripture in both the Old and New Testaments—restricts sexual expression to a committed marriage relationship between a husband and a wife."
During the organization's time of internal review, InterVarsity found itself embroiled in an external brawl. California State University decided to "de-recognize" the ministry's 19 chapters on their 23 campuses because InterVarsity refused to sign a nondiscrimination policy. Ministry leaders said that, while their chapters were open to anyone, leaders must agree to Intervarsity's "doctrinal basis."
The statement does not specifically mention marriage or sexuality. But by affirming "the entire trustworthiness" of the Bible, college administrators feared it could lead to discrimination against LGBT students. CSU later restored InterVarsity's status, but other colleges had already taken similar actions against the ministry including, Tufts University, Rollins College, and Vanderbilt University.
What do InterVarsity's public battles have to do with its recent decision? Quite a lot, perhaps. As Rod Dreher points out at The American Conservative, Federal law does not always look kindly on religious organizations with inconsistent policies. If the organization did not take a firm stand on same-sex marriage across the board, it's possible that an unclear position on the matter would be difficult to defend in court if it were sued for discrimination.
Faced with this possibility, what's an organization like InterVarsity to do?
Religious organizations are analyzing how critical the issue is to their missions and ongoing operations. If you're a civil-rights organization, for example, it's necessary to have clear policies and procedures on race. If you're a pro-life group, everyone expects you to have unambiguous positions on abortion policy.
But it's not clear that a campus organization needs to make marriage a primary concern. No wonder that the organization has not codified a position marriage into its purpose, core values, or doctrinal statements in nearly 80 years of operation. To do so now is to fundamentally alter its organizational identity.
InterVarsity does, of course, have positions on the Bible and righteous living. But the Bible condemns all sorts of behaviors, including drunkenness. Will InterVarsity now ask that employees who have too much Moet at a weekend wedding come forward and receive a pink slip? And what about divorce? InterVarsity's 20-page position paper also prohibits divorce in most cases. So if an employee doesn't believe divorce to be sinful, will they also be terminated?
Organizations like InterVarsity are not infrequently torn between older, conservative donors and powerbrokers, and the younger donors and activists who hold the key to their future.
If public-opinion polls are any indication, a polarizing position like this may sharply limit the field of future supporters. In fact, it may even repel some longtime donors in the process. When I posted news of InterVarsity's move on my Facebook page, one Boomer asked whether he could keep donating to even though he supports gay marriage. While he concluded, "it would be wrong for me to stop giving," he also lamented, "the world we have made for pastors and Christian ministers is all too often one where they can't speak their minds for fear of losing their livelihood."
In addition to donors, the organization now faces the thousands of young people who are members of InterVarsity chapters across America. Convincing a college student to attend a ministry gathering is difficult enough already. Will the move create another hurdle to reaching the many de-churched and un-churched students who might want a moral voice and positive religious role models during their formative college years?
Of course, all of these concerns—lack of connection to InterVarsity's mission and values, the impossibility of consistent application, and the creation of new challenges to membership and donor development—are really secondary to the damage the policy may do to the lives of employees and students.
The policy imposes a doctrinal standard to which employees never consented. The decision to work for a non-profit ministry often means forfeiting a cushy job in the business world and accepting a lower level of pay in order to serve others. Untold numbers of InterVarsity's 1,300 staff members have made sacrifices to donate their best years to this ministry. Now the organization they love is moving the theological goalposts. While InterVarsity is offering one month of outplacement service costs to terminated employees, this will provide little comfort to the people who have given many more months of their lives to the organization only to be dismissed for their beliefs.
Ginny Prince, a 32-year-old mother with a transgender child, worked for InterVarsity for seven years when she learned of the policy. She promptly emailed her supervisor saying she could not affirm the policy and felt it was discriminatory. Her last day was filled with tears. "I thought that they would be more able to contain difference in this area as well, difference of opinion," she told TIME. "I think what they do is very important, and I am very sad to go."
Young LGBT Christians are similarly vulnerable. Once again, a leading Christian organization has sent a clarion message to sexual minorities who number among the faithful. Rather than opening their arms to young people, InterVarsity is choosing to to push them away.
If admitting to InterVarsity that you have no theological objection to gay marriage will get you fired, it's difficult to imagine that LGBT youth will feel safe admitting that they are gay or lesbian. And this makes its decision strange indeed. Conservative Christians hope to influence the conversation about sexuality and gender that they are quickly losing. But you cannot engage a conversation when you're frightening or even firing your partners in that conversation.
It is not extreme to hold the conservative Christian position on marriage and sexuality. But it is extreme to think that those who don't, but are otherwise committed to your mission, should be fired. And while opposing LGBT marriage is not necessarily hateful, punishing those who support it can hardly be called loving.
InterVarsity is a historic campus ministry that has accomplished an incalculable amount of good in its many years of operation. But this unnecessary position transforms them it into a culture war outpost that, on balance, harms the organization as much as those it serves.