A Reading Guide for Those in Despair About American Politics
Nearly three dozen book recommendations to help make sense of the state of U.S. democracy, from academics, comedians, activists, and more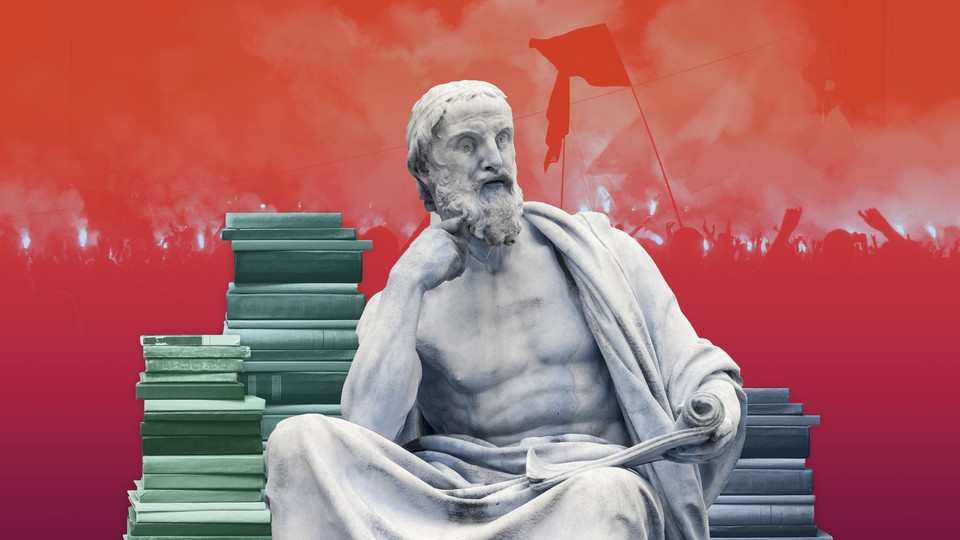 No matter who wins the U.S. presidential election on November 8, America's got some grappling to do. This race has been full of sexism, racism, anti-Semitism, Islamophobia, and general bigotry. Many voters are unenthusiastic about Donald Trump and Hillary Clinton, and the two candidates are widely rated as dishonest and untrustworthy in polls. Meanwhile, police shootings have rocked cities across the country. Hate groups have attacked Muslims. Long-standing political coalitions have devolved into in-fighting.
These are some reading recommendations that will hopefully provide a deeper look at some of these issues. Books may seem like small comfort. But in a time like this, when it's hard to understand how American culture became so hate-filled, reading is probably the best possible option—to get off the internet, pick up a book, and think about how the country has gotten here.
Besides, The Atlantic has observed that Donald Trump "appears not to read." As a courtesy to our readers, we've compiled nearly three dozen titles, recommended by academics, comedians, political activists, and more—plenty of material to help avoid Trump's bookish sin.
The recommendations below are from people who have had a role in shaping the culture around this election, whether through advocacy, written work, commentary, or other means. They are an ideologically diverse group of thinkers—intentionally so. The Atlantic isn't recommending these titles; they are. The titles are listed here. Each one links to its recommender, along with an explanation for why they picked that title; and the full list of recommenders and selection is below.
---
---
Alicia Garza, one of the founders of the Black Lives Matter movement
The Half Has Never Been Told: Slavery and the Making of American Capitalism
By Edward Baptist
"This book provides historical reference for the ways in which the enslavement of people for profit continues to impact and influence today's institutions. A must-read for everyone who has ever heard the statement, 'But slavery is over! Why can't they just get over it?' or 'Well, you know white people were slaves, too.'"
The Possessive Investment in Whiteness
By George Lipsitz
"A must-read for those who want to understand the phenomenon of whiteness beyond individual white people and their feelings. Lipsitz constructs a strong case for how whiteness is a social phenomenon impacting the economy and our democracy."
Roads to Dominion: Right Wing Movements and Political Power in the United States
By Sara Diamond
"A primer for anyone trying to understand the rise and consolidation of the conservative movement in the United States."
---
Russell Moore, the president of the Ethics and Liberty Commission of the Southern Baptist Convention
The Righteous Mind: Why Good People Are Divided by Politics and Religion
By Jonathan Haidt
"I hand this book out often. Haidt does an excellent job explaining why Americans are at loggerheads on the most basic of questions."
The Fractured Republic: Renewing America's Social Contract in the Age of Individualism
By Yuval Levin
"Levin's book is the best analysis I've seen of the way that nostalgia operates on both the left and the right."
Book of Judges
"This biblical book is a bracing, honest appraisal of what happens when moral norms are abandoned. 'In those days there was no king in Israel, but every man did that which was right in his own eyes.' (Judges 17:6)"
---
Melissa Harris-Perry, professor of politics at Wake Forest University and editor at large of Elle magazine
Strangers in Their Own Land: Anger and Mourning on the American Right
By Arlie Russell Hochschild
"Donald Trump's supporters are not deplorable humans writhing in a basket of racist intolerance. They are Americans with deep historic and emotional connections to a country that now feels painfully unfamiliar. With empathy and and dignity, this text reveals the stories of ordinary citizens seeking to regain a sense of political stake in their nation through the Tea Party movement. Whether Donald Trump wins or loses on November 8, his supporters are still our neighbors on November 9."
Democracy Remixed: Black Youth and the Future of American Politics
By Cathy Cohen
"Before the advent of #BlackLivesMatter as a social movement, Cathy Cohen's text explained how African American youth were perceived by both white power structures and existing African American political leaders as threats to the status quo. She argues these young people, acting outside the boundaries of narrow respectability politics, set off 'moral panics' by remixing American politics and forcing existing systems to respond to their demands. In effect, this is the book that predicts the movement, which defined the second term of the Obama administration and set the stage for the existing presidential election."
Killing the Black Body: Race, Reproduction, and the Meaning of Liberty
By Dorothy Roberts
"This book is the reason I am having a hard time getting all worked up about Trump's 'pussy grabbing' comments. Roberts carefully documents how the American state has sanctioned the the grabbing of black pussy for centuries. I rarely noticed much evening news outrage about the continuing legacy of these racialized pussy-grabbing policies. The hypocrisy is—shall we say—irritating, to say the least."
Don't Let the Pigeon Drive the Bus!
By Mo Willems
"This is a favorite children's book I read with my toddler. In it, a pigeon begs and pleads and throws quite a fit demanding to be allowed to drive the bus. But really, under no circumstances should we, the readers, ever allow the pigeon to drive the bus. Even my 2-year-old understands this wisdom."
---
Ali Wong, comedian and scriptwriter for Fresh Off the Boat
Americanah
By Chimamanda Ngozi Adichie
Habibi
By Craig Thompson
The Absolutely True Diary of a Part-Time Indian
By Sherman Alexie
---
Mark Bauerlein, professor of English at Emory University and signatory of a letter from scholars and writers supporting Donald Trump for president
The True Believer: Thoughts on the Nature of Mass Movements
By Eric Hoffer
"A study of populist utopianism, written by a man of the working class, not by an intellectual. Opening sentence: 'It is a truism that many who join a rising revolutionary movement are attracted by the prospect of sudden and spectacular change in their conditions of life.'"
The Tyranny of Guilt: An Essay on Western Masochism
By Pascal Bruckner
"A study of Western guilt that applies well to the identity politics of our time. Opening sentence: 'The whole world hates us, and we deserve it: That is what most Europeans think, at least in Western Europe.'"
Coming Apart: The State of White America, 1960-2010
By Charles Murray
"A study of how white Americans have steadily divided into two groups: 1) functioning, stable, successful citizens, and 2) more or less dysfunctional, scrambling individuals. Summary statements: 'This book is about an evolution in American society that has taken place since November 21, 1963, leading to the formation of classes that are different in kind and in their degree of separation from anything that the nation has ever known.'"
---
Chai Feldblum, a commissioner of the Equal Employment Opportunity Commission
American Nations: A History of the Eleven Rival Regional Cultures of North America
By Colin Woodard
"Colin Woodard's book was an eye-opening experience for me. Woodard's account demonstrates why a blue state-red state political picture of our country is too simplistic. His comprehensive yet accessible history of how various parts of the current United States of America were settled by people with different shared values and assumptions about government illuminates much of the sharp differences we see across our country today. Many Americans say they love their country. The question is—which country are they talking about?"
In Pursuit of Equity: Women, Men, and the Quest for Economic Citizenship in the 20th Century
By Alice Kessler-Harris
"Being able to work is the core of economic citizenship. Our country has moved, in fits and starts, toward providing such citizenship to women, to people of color, and to people with disabilities. What I love about this book is the clarity with which Alice Kessler-Harris explains how society's 'gendered imagination' shaped public policy in ways that reinforced the lack of economic citizenship for women. Kessler-Harris was herself a leader in changing that reality for women. Reading this book helps makes sense of our history, which helps make (some) sense of today."
Because of Sex: One Law, 10 Cases and 50 Years That Changed American Women's Lives at Work
By Gillian Thomas
"The working lives of women in America have changed significantly over the past 50 years because of a federal law that prohibits sex discrimination in the workplace. But the law did not implement itself. Gillian Thomas does a masterful job telling the stories of the women and the cases that brought about practical changes to allow women to get into the workplace and to be treated fairly once they got there. The story behind a case from 30 years ago, when the Supreme Court first recognized sexual harassment as a form of sex discrimination, is chilling in light of what we continue to see in our workplaces today."
---
Wayne A. I. Frederick, president of Howard University
Between the World and Me
By Ta-Nehisi Coates
"Given the state of policing and African American youth, this is poignant work. It speaks to a national issue that isn't receiving the attention of our candidates, but it should."
The Coming
By Daniel Black
"Howard students in the College of Arts and Sciences are currently reading this book as part of the freshmen 'Common Text' requirement. The book itself tells an important story of a people's migration, and those very same people now have the right to vote in this country."
Dreams From My Father
By Barack Obama
"This book speaks to a plight that I, too, can easily identify with. Similar to President Obama's story, I never had the opportunity to meet my father, as he died when I was very young. I was born in Trinidad and Tobago and came to the United States to pursue an education and study at the Howard University, with aspirations of finding a cure for sickle cell anemia. America, to me, has and always will be a country that reflects grace, a welcoming embrace, and opportunity to many who come to its land. As the president prepares to leave office, I am rereading this book to remind myself of what his eight years as president of the United States have meant to so many."
---
Brooke Gladstone, host of WNYC's On the Media
The Unwinding: An Inner History of the New America
By George Packer
"It's an apt title for a series of deeply reported and powerfully rendered portraits of Americans, that range from the obscure and powerless to the notorious and mighty, from the rural South to Silicon Valley to the Rust Belt to the bastions of Washington, D.C. Taken together, these stories explain why America is in such disarray."
Evicted: Poverty and Profit in the American City
By Matthew Desmond
"This is a bona-fide page-turner that conveys what a person who is poor must do to survive in America. Like The Unwinding, it conveys a bigger narrative through the experiences of complex individuals. We turn the pages because Desmond ensnares us; we become invested in their fates. Their American stories become ours, their America, more nuanced and comprehensible."
A Canticle for Leibowitz
By Walter Miller
"One of the greatest works of science fiction ever penned and an essential indulgence in this apocalyptic moment. Born of the nuclear anxieties of 1960, Canticle is a triptych that opens in a Dark Age 600 years after Armageddon, leaps ahead to a turbulent Renaissance, and then to a distant future. The rich characters, sparkling prose, and theme of cyclical history are enthralling and strangely soothing."
---
Robert P. George, professor of political science at Princeton University
The Fractured Republic: Renewing America's Social Contract in the Age of Individualism
By Yuval Levin
This book "is essential for understanding the current condition of our politics and nation. It also points the way forward for our polarized and de-moralized society: the revitalization of the basic institutions of civil society—the 'little platoons' that play the primary role in meeting people's health, education, and welfare needs and on whom any healthy society relies to transmit to each new generation the virtues needed for men and women to lead successful lives and be good citizens."
Truth Overruled: The Future of Marriage and Religious Freedom
By Ryan T. Anderson
This book "offers a powerful defense of marriage as a conjugal bond (the comprehensive union of husband and wife founded upon their sexual-reproductive complementarity) and a devastating critique of the non-conjugal understanding of marriage (as sexual-romantic companionship or domestic partnership) that has achieved dogmatic status in elite sectors of our culture and carried the day in the Supreme Court. Anderson's book also shows why it is a mistake to place the words 'religious liberty' in quotation marks when assessing claims that the redefinition of marriage has resulted in the denial of rights to people who, in conscience, cannot contribute their talents or in other ways implicate themselves in the celebration of non-conjugal sexual partnerships."
Taking Rites Seriously: Law, Politics, and the Reasonableness of Faith
By Francis Beckwith
This book "demolishes what is left of the formerly ascendant idea that sound political theory and constitutional interpretation require a relegation of religion to the private sphere and its banishment from the public square in which issues of politics and policy are debated by citizens of a pluralistic democracy."
---
Ai-Jen Poo, director of the National Domestic Workers Alliance
The New Jim Crow
By Michelle Alexander
"Michelle Alexander's book about mass incarceration explains, in no uncertain terms, the ways our system of criminal justice and incarceration operate as a racialized system of social control. It gets to the very heart of why we have a growing movement for black lives, and why transformation of this system is necessary if we are to create a healthy democracy for the 21st century."
The Next America: Boomers, Millennials, and the Looming Generational Showdown
By Paul Taylor
"There have been many books written about the racial demographic changes happening in the United States, but Paul Taylor's book layers in a critical analysis of the changing generational demographics. This lens reveals important challenges and opportunities to bringing us together as a nation, particularly amid rising levels of economic inequality. We must find new ways of creating connection across a growing racial and generational divide."
Citizen: An American Lyric
By Claudia Rankine
"Citizen is a powerfully written, poetic meditation on citizenship, race, culture, and American political life, full of everyday heartbreak and humor, woven through profound and searing critique, including appearances by cultural icons we all follow and love. May we each find a way to harness the power of art to help us make meaning of the world, and to push past the political back into the human and the soulful."
---
Heather McGhee, president of Demos, a public-policy think tank
Sleeping Giant: How the New Working Class Will Transform America
By Tamara Draut
This book "reveals the true story behind today's working class, not the white-male-hard-hat working class that is animating Trump's rise, but the majority female and people-of-color service-sector working class that is behind the Fight for $15 and low-wage worker organizing across the country."
Dog Whistle Politics: How Coded Racial Appeals Have Reinvented Racism and Wrecked the Middle Class
By Ian Haney López
This book "provides the missing link to the story of how the rules were rewritten to make it harder for the average American to get by at the same time the face of the average American changed. It links the politics of resentment to conservatives long before Trump."
Affluence and Influence: Economic Inequality and Political Power in America
By Martin Gilens
This book "explains how the rise in private fundraising for elected office has led to skewing of policy outcomes toward the far right."