Paul Ryan Would Like to Share With You the Most Amazing Book
The House speaker thinks there's a better way for America—and that his plan will change your life.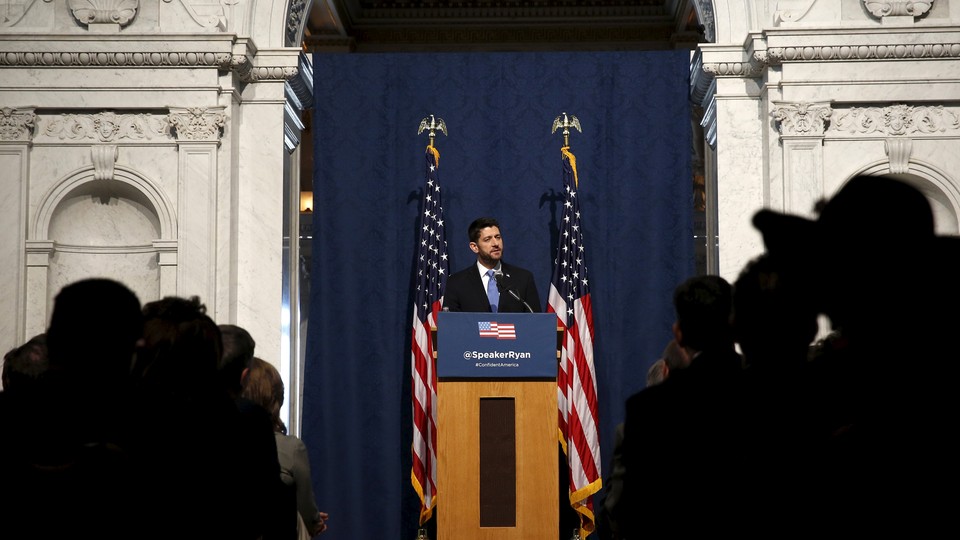 Picture the set of the Broadway musical hit, The Book of Mormon. House Speaker Paul Ryan stands on the doorstep of a cozy, nondescript house in a cozy, nondescript suburb. The well-tended yards up and down the street are a sea of red and blue campaign signs crowing "Trump!" and "I'm With Her!" Ryan is wearing a short-sleeve white oxford, black dress slacks, and a black tie. He clutches a slender, white booklet to his chest as he rings the doorbell, wide smile lighting his boyish face. After a few seconds, the door is opened by an impatient-looking blonde woman holding a cell phone to her ear. Before she can say a word, the Speaker of the House takes a deep breath, opens his mouth, and bursts into song.
"Hello!
My name is Elder Ryan!
And I would like to share with you
the most amazing book!"
Ryan waves his slightly crumpled booklet at the puzzled woman so that she can read the title: A BETTER WAY—printed in bold, blue, all-capital letters.
"It has [bum-bum] so many awesome parts.
You simply won't believe
how much this book can change your life!"
Ending her call, the woman eyes Ryan with concern, as though he might be nuts—or on drugs. Undeterred, he steps forward and presses the pamphlet into her hand.
"Hello!
I'll just leave it here.
It has a lot of information
you can really use."
And with that, the woman eases backward, smiles pityingly, and gently closes the door on the still warbling Speaker.
* * *
It's been a rough year for Paul Ryan. In addition to grappling with his raucous conference, the speaker has, with his Hamlet-esque dithering over Donald Trump, assumed an awkward position vis-à-vis the nominee: distant enough to be denounced as a traitor by Trump supporters, yet conciliatory enough to be deemed an enabler by much of non-Trump America.
But as the race degrades at an alarming rate, Ryan is increasingly striving to shun the chaos and take refuge in a purer source of inspiration: his beloved Republican agenda, A Better Way.
It has been four months now since Ryan rolled out his election-year blueprint for a GOP-controlled government. Since then, he has been all about introducing and educating the public about it. "Look no further than the speaker's Twitter feed or our press releases on weekly addresses, on-cameras, etc.," urged a Republican operative (who requested anonymity lest our chat be construed as critical of the party's tissue-skinned nominee). "I'd say multiple emails a day are sent on this topic and have been since the unveiling."
Thus far, the public has not been especially wowed by—or, really, even aware of—the speaker's grand vision. No matter: Ryan's faith in the power of his message abides, as does his commitment to spreading the Good News. If anything, the more debased the electoral scene, the more he has focused on his higher calling. Wherever he wanders, that little white pamphlet is in his pocket, ready to be shared. When reporters ask him a question—any question at all—he is likely to respond by invoking A Better Way (especially if the question involves Trump). And every few hours, into the dank political sewer of Twitter, Ryan will toss a #BetterWay reference on issues ranging from the VA:
President Obama doesn't want you to know this, but the #VA is still broken. We have a plan to fix it. #Better Way.
To the national debt:
RT if you agree: It's time to restore the power of the purse and impose new limits on government spending.
To executive overreach:
Under BOTH parties, the presidency keeps breaking the rules, and Congress keeps allowing it to happen. We have a #BetterWay to restore our constitutional separation of powers.
Some rank-and-file Republicans have made the decision to follow suit (if somewhat less zealously). "You might have noticed Better Way more now as some of our House members are seeking their own identity outside of the top of the ticket, localizing the race, etc," said the operative, who notes that, while this plan was in the works well before the nominee was decided, it now looks "fairly prescient in hindsight. And reaffirms Ryan's notion that policy wins out over personality."
Indeed, frantic to lift his brand above the swirl of electoral filth, Ryan has wrapped himself in the role of policy missionary, his sights firmly trained on leading the American people into a better, brighter future—no matter how uninterested they may seem. Rejection, disdain, mockery, abuse: Ryan has endured them all in his proselytizing. ("I am not ready to support Speaker Ryan's agenda," declared Trump, during one of their passive-aggressive skirmishes.) But mostly, his efforts have been met with overwhelming indifference, which may be the most discouraging response of all for a man convinced that he holds a map to the Promised Land.
Still Ryan soldiers on, bringing to mind the scrupulously polite Jehovah's Witnesses who are forever trudging through my neighborhood, braving bad weather, snarling dogs, and sneering teenagers to distribute The Watch Tower. More apt still, he's like all those bright-eyed Mormon lads who devote two years of their youth to knocking on doors in strange lands in the hopes that someone will embrace the story of Jesus in America. Except Ryan's message of salvation involves welfare reform and tax cuts.
No doubt, the speaker has his moments of frustration or exhaustion. (That trademark grin has seemed a little strained of late.) But his spokeswoman AshLee Strong assures me that he will keep at it long after this race is just a sour memory: "House Republicans have been energized about our Better Way agenda since its release, and will continue to push for these policy solutions well beyond the election."
Besides, any good missionary will tell you that it's tough to get people focused on long-term rewards when there are so many gaudy, short-term thrills distracting them. Thus, the truly committed must keep ring, ring, ringing those doorbells. As the shiny, smiley young elders implore so melodically in The Book of Mormon:
"Hello! You're gonna die someday.
But if you read this book
You'll see that there's another way."
Not just "another way." A Better Way. And Ryan is 100 percent determined to share it with America, even if no one is in the mood to convert right now.