A Trump Impersonator Better Than Alec Baldwin or Darrell Hammond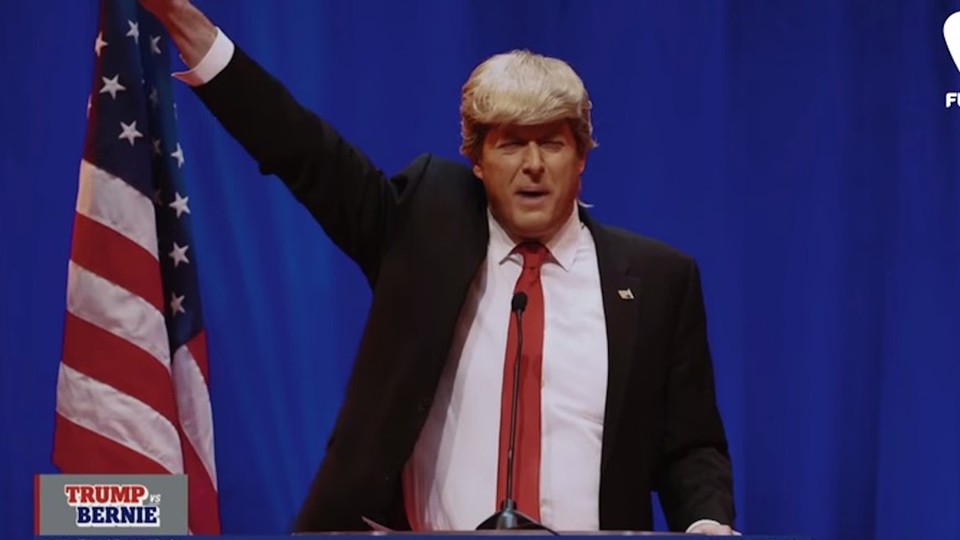 Editor's Note:
This article previously appeared in a different format as part of The Atlantic's Notes section, retired in 2021.
A reader highlights him:
As David Sims wrote in his piece "Alec Baldwin's Scarier, Nastier Donald Trump," Alec Baldwin gave us a very funny Trump, and a somewhat darker characterization than we normally see from Saturday Night Live. However, it is not the darkest or best Trump impression to emerge in this election season, and it clearly borrowed from the one that is.

Earlier this year, comic Anthony Atamanuik appeared as Trump in a number of appearances on comedy shows, often debating Bernie Sanders (as portrayed very humorously by James Adomian). While Baldwin's had elements of Darrell Hammond's goofy Trump, it is indeed closer to Drunk Uncle or Archie Bunker. Atamanuik, by contrast, is nonchalantly ghoulish—an uncensored peek into the dark heart of the Trump id as we fear it to be, if that were then blown up to full size and presented without any other element of Trump's personality. Baldwin's use of "Gina" was pioneered by Atamanuik's Trump, who repeatedly asserted that Gina was the enemy. With Atamanuik, this is just getting started, as he will casually promise to kill everyone, repeatedly tell young women that he can buy them and even tell one she has soft skin which he could remove if he wanted.

I was blindsided by this routine when I happened to see a version of this mock debate on Comedy Central's show At Midnight. It feels like genuinely dangerous comedy and was clearly the inspiration for SNL to go a bit beyond their glitz and goofiness in the characterization of a man who may truly be a hollowed out shell animated only by primitive drives.
Watch for yourself below. I caught the first seven minutes and it's truly packed with talent and blunt dark humor that doesn't feel petty. (For example, Baldwin's Trump referring to Lester Holt as "jazz man" and "Coltrane" felt cheap and lazy, compared to Atamanuik's inspired riff on "white power"—watch here as a standalone clip.)