Why Porn Stars Hate California's Ballot Initiative to Protect Their Safety on Sets
This November, voters will weigh a statewide proposition about condoms and worker rights.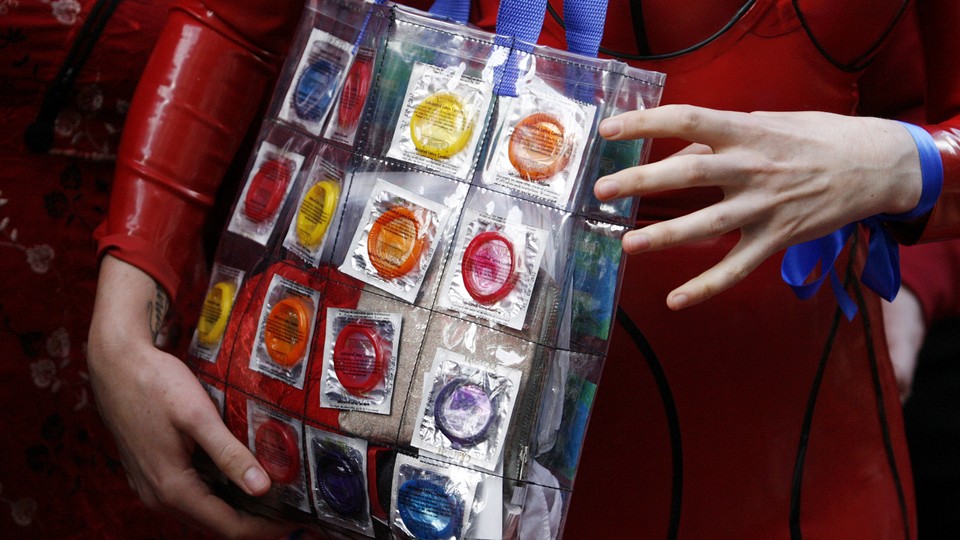 If you don't believe porn can be tedious, try reading Proposition 60, a ballot initiative in California about condoms in adult entertainment. The 13-page measure is labyrinth of legal terms, but here's a rough summary.
Say California resident John Smith is watching porn and he doesn't see the actors using condoms. He can file a complaint with the state's Division of Occupational Safety and Health, known as Cal/OSHA. The agency has to get back to him within 21 days. If it doesn't, or if it declines to investigate, Smith can bring a civil action—a lawsuit—against anyone who was involved in producing or distributing the film. Assuming a judge doesn't dismiss his suit, Smith would have to prove in court that condoms weren't used on the porn set. If he succeeds, the producers could have to pay the state thousands of dollars—and Smith would get 25 percent of the cut.
If this sounds convoluted, that's because it is—the proposal basically deputizes California porn fans as back-up OSHA officers. On its surface, this initiative seems to be about protecting workers' rights: It creates another way for porn producers to be held liable for not enforcing good health practices on their sets. But the measure doesn't actually create better health standards for the porn industry. Instead, it's designed to give outside groups a way to re-litigate health-and-safety decisions made by a state agency.
Many porn performers hate the initiative, and they're not alone: Multiple LGBT-rights groups and public-health organizations are standing against measure. The California Democratic Party opposes it because it fears performers will be held liable for not wearing condoms. The state's Republican Party opposes the "overreach and overregulation," a spokeswoman said. In fact, only one organization has given money to support the measure: the AIDS Healthcare Foundation, or AHF, a non-profit group founded in 1987 to provide HIV/AIDS treatment and prevention.
So far, it looks like AHF is winning. The group has given nearly $4.6 million to fund the measure, outspending opponents by a factor of 10. And an October poll by researchers at Sacramento State University showed 50 percent of likely voters supporting the measure, with only 31 percent opposed.
This is the legacy of California's referendum system. In the Golden State, any proposal that wins enough signatures and money to pay a filing fee can appear on a state-wide, general-election ballot. Theoretically, this gives grassroots initiatives a better chance at becoming law. But this year's porn measure perfectly illustrates how one organization can effectively write state law with just a few million dollars.
In 1992, California adopted its standard for workplace safety and blood-borne pathogens. For many years, Cal/OSHA effectively ignored potential hazards from blood-borne pathogens in the adult-entertainment industry, but in 2004, agency issued its first-ever citations to two porn companies after three employees were exposed to HIV. In 2014, a local California health department reported a case of a male performer with HIV and rectal gonorrhea. During the time between his last negative test and diagnosis, he had condomless sex with 12 performers on at least two different porn sets, although it's not clear whether those sets were in California. During the month before and after his symptoms started showing up, he had non-work-related sex with five male partners, who were all potentially exposed.
California porn advocates claim testing is the most effective way to prevent this kind of situation. Ela Darling, a performer and producer who serves as president of the Adult Performer Advocacy Committee, said the industry standard is to get tested every two weeks for HIV, Chlamydia, Gonorrhea, Syphilis, Hepatitis B and C, and Trichomoniasis. "Performers won't shoot if you're not following that protocol," she said. "Agents won't book you. Anyone who strays from that protocol is blacklisted, and the people you hire just won't do the work."
"The majority of producers are female performers who are actually shooting their own content."
Even though California law technically requires production studios to follow its blood-borne-pathogen procedures, "condoms are not very common [on sets]," Darling said. "Most people prefer to shoot without condoms. … There are plenty of sets where it's just not the content they're producing and it's just not what they shoot." Cal/OSHA investigated roughly 40 adult-film producers between 2004 and 2014, according to a former agency official.
For years, producers and actors have been lobbying Cal/OSHA to create new health-and-safety standards for the adult-entertainment industry. Last spring, the Free Speech Coalition, a pornography trade association, submitted a petition asking Cal/OSHA for a regulation that doesn't require "barrier protection" on sets and lets porn performers choose their own prevention method: getting tested regularly, for example, and taking the HIV-prevention drug Truvada, also known as PrEP.
At the same time, AHF has been pushing for more regulation of porn. In 2012, the organization led a successful campaign for Measure B, a Los Angeles County ballot initiative requiring actors to wear condoms on porn sets. In February 2016, the organization's president, Michael Weinstein, proposed an update to Cal/OSHA's standards, arguing that employers should have to pay for employees' Hepatitis B vaccinations, train performers about the health risks of making pornography, and provide treatment in the case of exposure, among other things.
The Cal/OSHA Standards Board punted. After hearing the proposals from both sides, it decided to convene an advisory-committee meeting open to "a diverse cross section of the adult-film industry." At the meeting set to take place in January, the agency specifically wants more input from workers, its officials said. While most disputes pit employees against employers, from the Cal/OSHA meeting minutes, that doesn't seem to be the case here. By and large, the only performers who support AHF's proposals are affiliated with AHF. "It's basically the entire industry siding together to oppose a measure proposed by external individuals," Darling said.
While all of this has been going on, Proposition 60—the porn initiative up for a vote this November—moved ahead. While the proposal seems like it's about condoms on sets, it's actually much more focused on Cal/OSHA's enforcement mechanism. It gives anyone who watches porn the right to bring a civil action, which could potentially create a "lawsuit bonanza," a superior-court judge said in August. The measure would force Cal/OSHA to respond quickly to all complaints about condom-less porn, which is different from the current standard—under the law, only certain people are allowed to make "formal complaints" to the agency. It would also require all porn producers to pay for state-issued licenses, along with testing for HIV and sexually transmitted infections, or STIs.
While these might seem like straightforward worker-safety requirements, with porn, nothing is simple. The industry has changed over the last decade, Darling said—the line between producers and performers has blurred. "We webcam, and that's production," she said. "There might not be a director present at all. It [might] just be me and some of my friends getting together, shooting together, and sharing that content." Porn stars often work for many different production companies, or they perform independently. While there's a clause in the ballot initiative saying performers can't be held liable for working without condoms, "the majority of producers are female performers who are actually shooting their own content," said another independent porn performer who goes by the name Julia Ann. "It puts all the performers in harm's way."
"Testing is not prevention, because it only tells when prevention has failed."
Producers also argue that it's not feasible for them to pay for performers' HIV and STI tests. "Have you studied economics?" asked the producer John Stagliano, aka "Buttman," who owns the porn-distribution company Evil Angel and has donated money to the opposition effort. "Because talent can get tested once and then work for multiple producers, it has evolved in the industry that the talent pays for their tests. It is completely economically irrelevant," he said. The consultant working on behalf of Prop. 60, Rick Taylor, disagreed. "It's a pocketbook issue," he said. "[Porn producers] are so greedy that they're not even willing to spend the money to protect the health and safety of their own workers."
The big question lurking in this swamp of legal details is how the government should regulate sex on porn sets, where workers are necessarily exposed to significant health risks. "Film performers, just like any other workers in the state of California, have certain rights on the job to be protected from recognized hazards," said Kevin Riley, the director of research and evaluation at the UCLA Labor Occupational Safety and Health Program. "What I would want to see, in an ideal world, is not just a mechanism to enforce condom use, but … [one] where performers have a say in making changes in their workplaces such that they're not developing HIV or STDs."
Doctors are somewhat divided about the best way to deal with health risks of making porn. The CDC maintains that "testing alone is not sufficient to prevent HIV transmission." At a May 2015 Cal/OSHA hearing, a former California public-health official who teaches at UCLA, Peter Kerndt, testified that the current porn-industry standard isn't sufficient. "Testing is not prevention, because it only tells when prevention has failed," he said, according to meeting minutes. "Testing cannot replace personal protective equipment such as condoms." But at that same meeting, David Holland, an assistant professor of medicine at Emory, argued that "current science offers multiple options for STI prevention that are at least as effective as condoms." While condoms work, they're not always the best option, he said, according to meeting notes. "There are other strategies to prevent transmission of STIs on set," he added.
Even pro-condom members of the porn industry have resisted regulation. "We've been condom-mandatory for 17 years, way before any government body or ballot measure was saying to be that way," said Steve Orenstein, the head of Wicked Pictures, the porn-production company where Jenna Jameson got her start. "That aside, we do still feel that's different than having the government regulate how things are done on the sets." Both Stagliano and Orenstein, who has also donated to the Prop. 60 opposition efforts, said porn sells better when condoms aren't visible on screen. "The communication of sensuality in a scene happens much better when there isn't this barrier between the most intimate parts of a sex act," Stagliano said.
"I would go back to being a librarian before I'd move to Vegas to do porn."
Weinstein, the AHF head who is spearheading the initiative, wrote in his Cal/OHSA petition that "the intransigence of this industry is inexcusable. Worker safety is not a joke, and I am unaware of any other industry that is as consistently dismissive of government oversight as the adult-film industry." But producers and performers feel that Weinstein and AHF are unfairly targeting porn, pouring millions of dollars into one tiny part of AIDS prevention. (Weinstein declined to comment or be interviewed for this story.) Other prevention groups don't seem to support AHF's approach—no other LGBT-rights or HIV/AIDS-prevention groups support the ballot initiative. "I think it's jealousy," Taylor, the campaign consultant, said.
Ultimately, if Prop. 60 is passed, a lot of porn producers and performers will probably leave California. "The initiative as written would cause my company to have to close down and immediately stop operation in California," Stagliano said. "It would be too risky to incur lawsuits." Even if the lawsuits would be hard to win without Cal/OSHA's investigative power, they could still be a nuisance, requiring legal fees and court filings. Darling predicted that many in the industry would move east to Nevada, but she'd probably quit performing. "I would go back to being a librarian before I'd move to Vegas to do porn," she said.
A lot of people don't want that to happen. Forty different California newspapers have come out against the ballot initiative, according to the Free Speech Coalition. In September, the Los Angeles Times editorial board made a business case against the measure, arguing that L.A.'s condom requirement has negatively affected the city. "It's not clear how much of the shooting has left the county or state, taking its sound, lighting, stage and other jobs and related economic benefits with it," the wrote. "But if Proposition 60 passes, it seems reasonable to expect the industry to go further underground."
This is a remarkable argument—a major newspaper is treating porn like any other industry that might bring economic benefits to the state. But that argument may be lost on California citizens, who have to digest this dense piece of labor law along with more than a dozen other ballot proposals when they vote this year. Porn performers may find themselves gifted with new protections on November 9. But more protection, whether latex or legal, doesn't seem to be what they want.
---
Related Video: