Trump's Unimpressive Support From Military Leaders
His campaign announced endorsements from 88 retired generals and admirals. That's nice, but 500 backed Mitt Romney in 2012.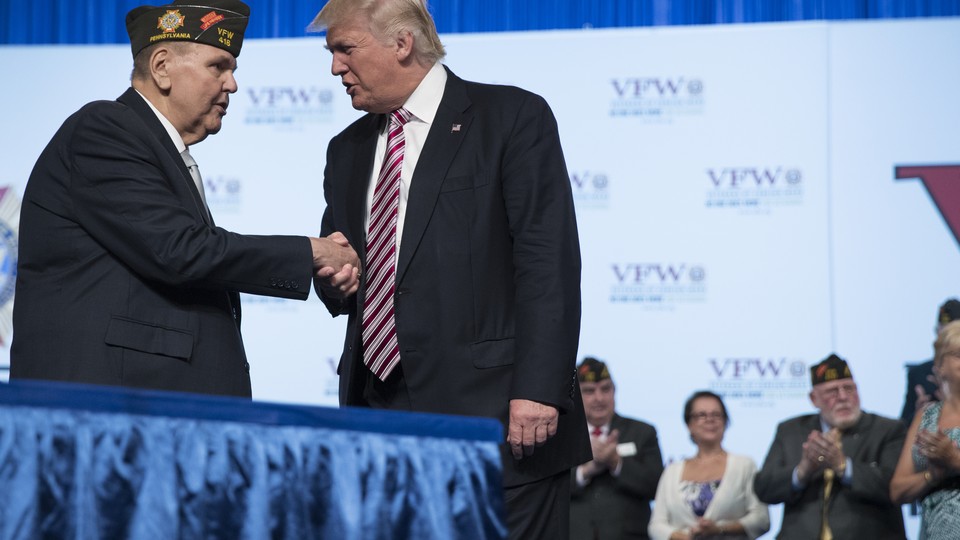 Donald Trump's campaign on Tuesday morning released a letter announcing the endorsement of the Republican nominee by "88 retired U.S. Generals and Admirals."
Seems impressive, right? Eighty-eight generals and admirals sounds like a lot of military leaders, all rallying around the tough-talking, law-and-order candidate pledging to restore greatness to America's armed forces.
Well, it's actually not.
Compare Trump's haul of 88 to the 500 retired generals and admirals who took out a full-page ad in support of Mitt Romney on the eve of the 2012 presidential election. Romney had some big names, too. The group of 500 included Army General Hugh Shelton, who served as chairman of the Joint Chiefs of Staff under Bill Clinton, as well as a former commandant of the Marine Corps and an Air Force chief of staff. In total, five ex-members of the Joint Chiefs of Staff backed Romney over President Obama. There are nearly 900 active general and flag officers in the military and thousands of retirees.
This is not to impugn the 88 former military leaders backing Trump, all of whom presumably served the United States with dignity and honor. Organizing the letter, according to the Trump campaign, were Rear Admiral Charles Williams, a Vietnam veteran awarded the Legion of Merit, and Major General Sydney Shachnow, a former Green Beret who was the first Holocaust survivor to become a U.S. general. Trump, Shachnow said in a statement, "has the temperament to become commander-in-chief." Williams said the point of making the letter public was to show that military leaders trust Trump over Clinton to lead the nation's armed forces.
None of the signatories was a service chief or led a major combatant command. The most prominent ex-military official backing Trump remains Lieutenant General Michael Flynn, who served in senior intelligence roles in Afghanistan but is best known as Obama's appointee to lead the Defense Intelligence Agency. Flynn delivered a lengthy and impassioned address in support of Trump at the Republican National Convention and was reportedly under consideration to be his running mate. As The New York Times noted, two of the signatories on the letter are best known for their controversial statements about Islam and, in the case of Lieutenant General Thomas McInerey, for filing court documents challenging Obama's eligibility to serve as president and command the military. Another signatory is listed as a major general in the California State Military Reserve, which is not a branch of the U.S. armed forces (although he did previously serve in the U.S. Army reserve).
Trump's campaign released the letter on Tuesday ahead of an event the Republican was to hold in military-heavy Virginia Beach focused on veterans. The candidates are also participating in an NBC News forum later this week on national security. Trump is clearly trying to play catch-up with Clinton on the issue; last month, dozens of Republican former national-security officials released a letter denouncing Trump and his fitness for office.
Clinton received her own high-profile military endorsement from retired Marine Corps General John Allen, who served as deputy commander of U.S. Central Command, commander of the war in Afghanistan, and as Obama's special envoy for the global coalition fighting the Islamic State. Allen joined other former military and national-security officials in speaking on Clinton's behalf at the Democratic convention in Philadelphia in July. Trump's public feud with the Khan family after that convention further eroded his support in the polls. And on Tuesday morning, Clinton released a new ad that is silent except for images of military veterans and families listening with concern to Trump's comments denigrating John McCain's capture in Vietnam and comparing his own "sacrifice" in business to that of U.S. servicemen.
The practice of retired officers endorsing candidates in partisan elections is not without controversy; critics charge that it risks politicizing the military, and the overwhelming majority of retired general and flag officers haven't publicly endorsed either candidate.
Trump does retain one advantage over Clinton: Polling of military households and veterans shows him with a lead. Here, too, his performance trails well behind that of other recent Republican candidates. Among prominent ex-military and national-security leaders, the edge clearly belongs to Clinton, and the 88 generals and admirals backing Trump on Tuesday don't provide quite the impressive show of unified support that it might seem on first blush.