Why Defending the Homeless in Court Is Not Enough
A public defender talks about the alternative approach that's making a path back home for many in California.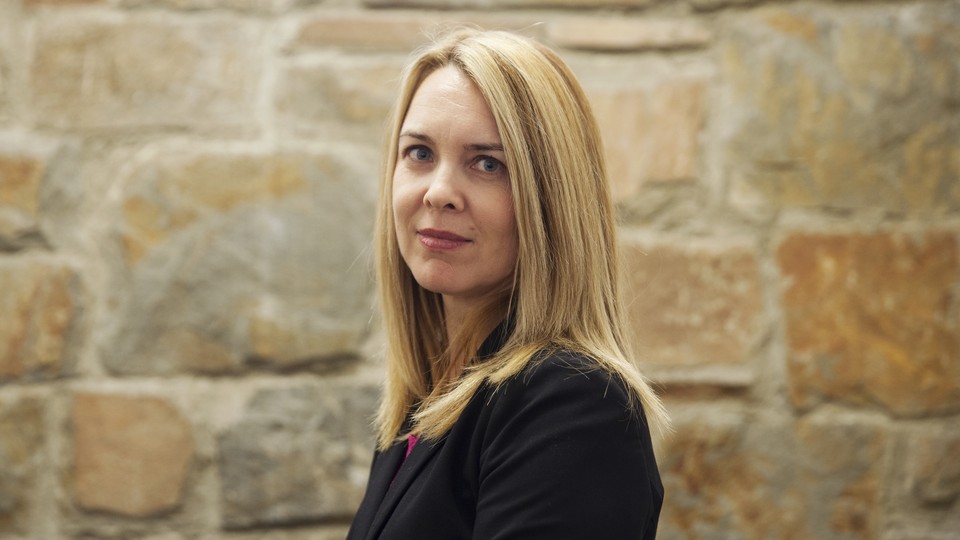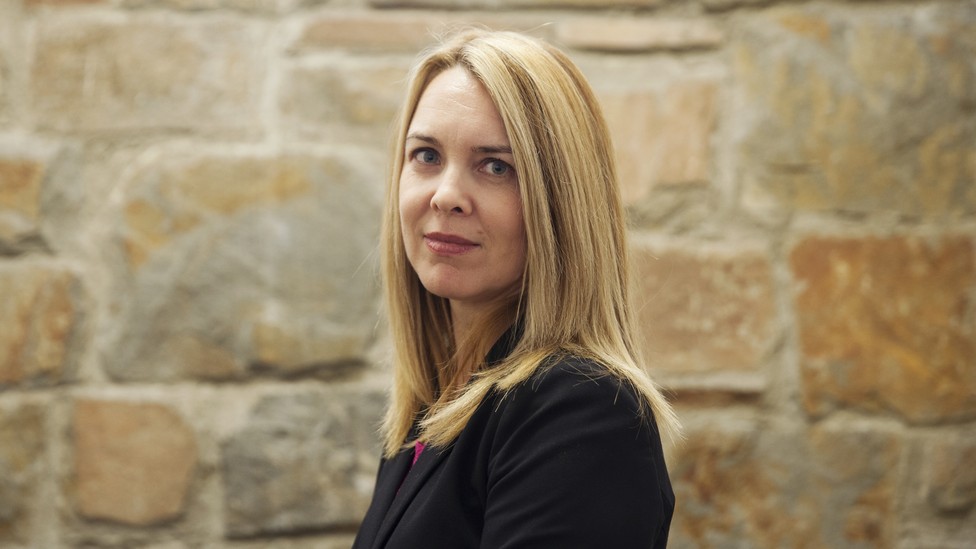 SANTA ANA, Calif.—Driving around this small city, I stopped at a red light at W. Civic Center Drive and N. Ross Street in downtown. In one corner is the concrete building that houses the Public Defender's office, across the street is a bail bonds storefront, across from that is a private law firm with its name in big gold letters. Perpendicular to that is the city's homeless encampment, from where hundreds of people live out tenuous lives steeped in poverty in the heart of one of the country's richest counties.
Larisa Dinsmoor is a deputy public defender who specializes in homeless cases in addition to a full roster of criminal-defense ones. "I think society feels like people who are homeless just don't want to do anything, that they're actually taking steps to become homeless," she told me when we sat in a breezy restaurant patio in downtown Santa Ana. "The majority of people become homeless [because] something tragic happens in their lives," she said. Her clients come to her after they hear from a homeless friend, an outreach worker, or a judge who has ruled on a petty offense like harassing store customers, shoplifting, panhandling, unlawful camping, urinating in public, and parking tickets. Those are usually indicative of homelessness.
The Orange County Community Court, where Dinsmoor is assigned, can help clients get some of what they lost back, like social benefits, stable jobs, housing, even custody of their children. After completing the individualized program, a client's outstanding fines and fees issued by county police are dismissed. This court model has gained momentum over the last two decades, with hundreds of them in operation throughout the country. Many include a homeless outreach court among more standard dockets like: drug, DWI, Veterans, juvenile, and mental health. Each court branch has tailored programs based on participants' needs.
By some estimates, about 900 people live in the Civic Center homeless community in Santa Ana. But there are several pockets of the city where homeless people also live that make the population hard to quantify. In 2015, 430 participants entered the OCCC homeless outreach court, with 254 completing the program by gaining employment, finding stable housing, and serving the required community service hours. Since its founding in 2003, over 2,700 individuals have had similar results.
But helping someone make their way back to a home is no easy task, and can take years in some cases. Dinsmoor is deeply committed to but also practical about the work and how she views her role. An edited version of our conversation follows.
Larisa Dinsmoor: My role is to not only represent my homeless clients but also to build a relationship with them and find out what's really going on in their lives that is causing them to be homeless. Oftentimes, especially for women, living in their car it's a safer option than actually being on the streets because you can obviously lock yourself in and be more protected. As long as you find places where you're not ticketed, then you can have your own little mini house, so to speak. The problem is, as a lot of these places start getting ticketed by local police departments, tickets add up and create an insurmountable cycle of money that they owe that prevents them from actually being able to transition from out of their car into a more stable situation.
Lantigua-Williams: For the women who end up living in cars, is it often as a result of domestic violence?
Dinsmoor: Yes. I would say, anecdotally, we don't have the statistics on it but, based upon my personal experience with clients that are female, a lot of it has to do with domestic violence or a negative relationship with a male.
Lantigua-Williams: How exactly does homeless court offer an alternative?
Dinsmoor: Our first step is to identify what led them to becoming homeless, to identify when were they not homeless, what were they doing then, what did that stable time look like. Then, we can work backwards to try and get them to that place. At one point, they had a home, but something destabilized them, so we work backwards. Oftentimes, what I have found is that the issues that are affecting our clients go deeper than that and extend to other matters. For example, child support. If there's unresolved child support, then that will trigger a suspended license, will then trigger a number of other things.
Lantigua-Williams: What do you think has been the impact of having homeless court as an option?
Dinsmoor: Once someone graduates from homeless court, we barely see them back. I have had clients who have gone on and I've seen the quality of their lives. It's not just a quantity question, it's quality. You don't want to just simply get someone off the streets. That's just a BandAid. What I've seen is people actually go on to start living their lives again and be successful and get jobs and have careers.
Lantigua-Williams: Please tell me about one of your clients specifically who has had success in the program.
Dinsmoor: In this client's case, she had a home, she had a husband, and a violent armed robbery occurred in which her husband was murdered in front of her. She sunk into deep depression. Because her husband was the major breadwinner, she lost the mortgage on the house. She was in a depression, she had post traumatic stress disorder, and, at some point after losing the house, she was driving and made a stupid decision to be in the high occupancy vehicle lane and got a ticket. She couldn't pay this ticket. It was a $500 ticket that just exponentially multiplied over time, and then took away her license. She lost her husband, her home, her car in this short period, and ended up homeless on the streets.
We started out with baby steps and identified each component that we needed to address with her. It wasn't just the housing. We could get her housing. But for her to ultimately be able to stay in some housing, we had to treat the post traumatic stress disorder and the underlying trauma that was occurring. By getting her a therapist and social worker, she ended up on her own, after going through the healing process, going back to school, getting a degree, and is now a therapist and a flourishing member of society so she's giving back.
Lantigua-Williams: How long did that process that you describe take?
Dinsmoor: That took quite a while. That took five years for her, but everyone's different. I think what's unique about the program is we don't put a time limit on anyone. We acknowledge that everyone's process is different, and that in order for them to be sustainable and successful, we need to address all issues.
Lantigua-Williams: There are some more traditional judges who see this as social work, who don't see this as part of administering justice. How would you engage with them?
Dinsmoor: I would say that even from a jurist's standpoint, the original theory about incarceration was rehabilitation. From a jurist's standpoint, if that is your reason to incarcerate—to rehabilitate—you have to acknowledge the fact that it's not working because of the recidivism rates. Then you have to redefine the ways to rehabilitate people and, certainly, a homeless court is doing this. It's absolutely legal because it's an access-to-justice issue as well because we really want to reserve our courts to punish people with truly criminal behavior. If you're homeless, the "criminal behavior" is a by-product of the homelessness so it's not criminal behavior itself. If you understand that distinction, then you understand the value of a homeless outreach court.
Lantigua-Williams: What would be at the top of your wish list for resources that could help you do your job?
Dinsmoor: Housing is number one. I would really like to see more employment opportunities for our homeless because, time and time again, I talk to my clients, they want to work, they're desperate to work, they're applying to work, and there's just not enough jobs for people who have a gap in their resume or have no resume.
Another thing on my wishlist is partnerships with police departments. What we're running into is a lot of clients have parking tickets that don't come under the court's jurisdiction, maybe a meter parking ticket or something that comes from [another county]. After they achieve everything and they're in a more stable condition, we send out letters to these police departments to dismiss or convert the fines and fees to community service. Police departments aren't working with us. Only the Santa Ana Police Department is working with us. Other police departments, they're just perpetuating a cycle of homelessness by not working as a community partner in that situation. A lot of times, they don't even want to talk to us, not even open to engaging in a dialog, so that's frustrating. I think that more partnerships with police to truly understand the cycle of homelessness, to reward people who do take the steps to get out on their own. Once they're successful, then they'll be dismissed of those fines and fees, and they have a clean slate, in theory.
Lantigua-Williams: Let me play devil's advocate for a second. Homeless court seems to be a resource-heavy approach if we compare it to the traditional approach of putting someone in jail versus having lawyers and healthcare providers and other professionals attend to and care for each individual in a very dynamic way.

Dinsmoor: Being a public defender I see the flip side of it. Incarcerating doesn't solve anyone's issues. It's actually more money. Then you have recidivism which, if you actually total up the numbers, it's much more costly to continually re-incarcerate someone than to simply take a moment and provide resources that already exist. You're just bringing resources together. You're not paying more money for creating new ones. You're taking resources that already exist to one location so that when people come in, they don't have to go and hunt down different resources and self-identify their issues. Part of homelessness is that you are stuck in a black hole that you often can't see out of.