How Political Correctness Chills Speech on Campus
A documentary film-maker was disinvited from an academic conference because an organizer feared she would be subject to ideologically motivated reprisals for hosting him.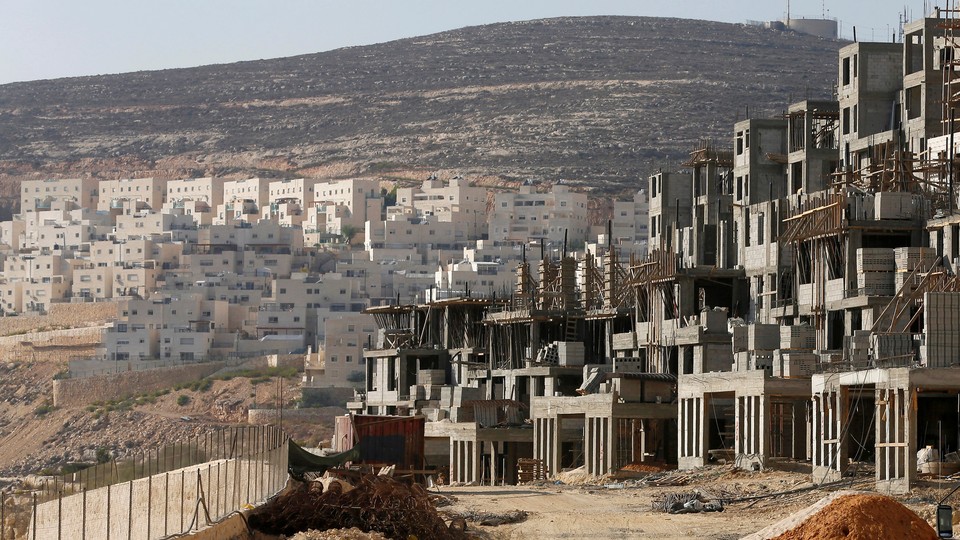 This spring, Syracuse University will host an international conference with a theme, "The Place of Religion in Film," that made one of its organizers think of Shimon Dotan.
The award-winning filmmaker, who sits on the faculty of New York University's graduate school of journalism, recently finished a feature length documentary, The Settlers, that chronicles the history and present state of the religious settler movement in the West Bank, where more than 400,000 Israeli Jews live on occupied land.
The film is "one of the first close-up views of the motives and personalities in a group that rarely opens up to outsiders," The New York Times noted. Variety raved that its festival presence is assured, and said that it is gripping enough to break out to wider audiences.
But despite an invitation to show The Settlers at "The Place of Religion in Film" conference, and interest on the part of the filmmaker, the screening will not take place. As happens so often in academia these days, campus politics got in the way.
The original invitation came from William L. Blizek, a professor of philosophy and religion at the University of Nebraska, where he founded the Journal of Religion & Film. "I sent a note to one of your producers to see if we could show The Settlers at the 2017 International Conference on Religion & Film in March of 2017," he emailed. "Can you tell me if you have a distributor? Or, who should I contact about showing the film. We would like you to come with the film of course." He later wrote that the conference "would pay your way from Israel to the States," and then Blizek would fly him from Syracuse to Omaha for another screening.
A few weeks later, on June 24, 2016, Professor M. Gail Hamner, a member of the Syracuse University Religion Department, emailed to renege on the invitation. Her stated reasons are a case study in how free inquiry and expression are chilled on campus:
Dear Professor Dotan,

I know you have been in contact with my Omaha colleague, Bill Blizek, about screening The Settlers and serving as plenary speaker at a religion and film conference in Syracuse in March, 2017. I am the convener of that conference and I found Bill's description of your work, and the reviews I read of it exciting.

I now am embarrassed to share that my SU colleagues, on hearing about my attempt to secure your presentation, have warned me that the BDS faction on campus will make matters very unpleasant for you and for me if you come. In particular my film colleague in English who granted me affiliated faculty in the film and screen studies program and who supported my proposal to the Humanities Council for this conference told me point blank that if I have not myself seen your film and cannot myself vouch for it to the Council, I will lose credibility with a number of film and Women/Gender studies colleagues. Sadly, I have not had the chance to see your film and can only vouch for it through my friend and through published reviews.

Clearly I am politically naive. I also feel tremendous shame in reneging on a half-offered invitation.

I do want to stress that my colleague who Chairs our SU Jewish Studies program, Zak Braiterman, was fully willing to strongly support your coming, even though he too has not yet screened your film.

Obviously, my decision here has nothing to do with you or your work, and nothing to do with Bill, who contacted you in good faith. I feel caught in an ideological matrix and by my own egoic needs to sustain certain institutional affiliations.

I sign off in hopes that I do have the chance to engage your work one day, and in prayer that you'll forgive me. My sincere apology and best wishes,

M. Gail Hamner
Professor
Religion Department
Affiliated Faculty in Women and Gender Studies
Affiliated Faculty in Film and Screen Studies
Syracuse University
The email didn't sit right with Dotan.
"My concern," he wrote to the colleague who originally invited him, "is that Gail Hamner rejected the idea of inviting the film without seeing it! She didn't even ask to see it. All she was concerned about is that BDS activists may not be happy with the screening of an Israeli film at Syracuse. That is really troubling. And that happens at a University, at a temple of freedom of speech, or so we want to believe."
As I put it in an email to Hamner, "I empathize with the tough political spot you felt yourself to be in. The forces that chill speech and action on college campuses are real and not of your making. At the same time—and I am open to being persuaded I'm wrong on this, but I wonder if you agree—it seems wrong to me to disinvite someone from an academic conference because of political pressure. And there are some who continue to deny that chilling effects like this exist."
Initially, she emailed, "I will not comment officially. I made the decision based on my personal assessment of the factors before me. To say more than that would be wrong, both factually and morally."
I reached out again and she sent this longer response:
As a professor in the humanities, I respect, encourage and support the academic freedom of all members of the academy, including Shimon Dotan. I want to be clear, however, that he was never invited by me, or anyone else affiliated with the University, to present his work this semester. While we had considered adding him to an upcoming series, no one from the University ever extended an invitation to him. This is a case of poor communication that has led to a terrible misunderstanding. I regret and apologize for the confusion this situation has caused.
Hamner should not have acted as she did, but I don't see her as the villain of this story. She didn't create the chilling effect to which she succumbed, and she appeared to nix the screening with genuine regret, not censorious eagerness.
And it is true that Syracuse University itself didn't extend an invitation. That was done by a faculty member at a different school who was helping to organize the same conference. But that seems rather beside the point here. The matter of concern here is the reason that the film was excluded: to avoid the perceived risk of ideologically motivated retaliation by campus activists, as well as the risk of losing credibility with "a number of film and Women/Gender studies colleagues."
A need to be perceived as politically correct proved decisive. I tend to avoid the term "political correctness" in my coverage of college campuses, but this incident fits the Merriam-Webster definition almost exactly: "conforming to a belief that language and practices which could offend political sensibilities should be eliminated."
If the email was truthful, the decision was made in a strikingly anti-intellectual manner, with Syracuse colleagues speculating that other members of their community would persecute them merely for inviting a filmmaker to show his work. As an outsider, I don't know whether that judgment reflects an accurate assessment of BDS protesters and a faction in the film and Women/Gender studies departments, or does them a disservice by underestimating their tolerance.
Either way, Hamner conformed. There is a chilling effect at Syracuse University. Fear of ideologically motivated retaliation is affecting the content of the academic enterprise. Were I Kent Syverud, chancellor and president of Syracuse, I would do my utmost to assess the magnitude of this clear threat to free inquiry on my campus.
The political viewpoint of The Settlers shouldn't matter. But a final irony is that the documentary, while allowing all sides to speak in their own words, portrays the settlements in a negative light, and is skeptical, at the very least, toward many settlers. A typical educated audience member would emerge with new knowledge of terrorist acts perpetrated by Israeli settlers, explicit racism in the settler movement, and a sense of the apartheid culture that has been created in the West Bank. Had I seen the film before learning of this controversy rather than after, I would have expected any attempts to stop it from being screened to come from the pro-Israel faction that has threatened free speech at the University of California.
Dotan is still invited to screen his film at the University of Nebraska.
Update––In a statement to Alternet, a group of BDS supporters at Syracuse University write:
As supporters of academic freedom, we endorse open discussions of difficult but necessary topics, including those relating to the Israeli-Palestinian conflict. We support the free exchange of ideas on our campus, an important tradition at Syracuse University and a basic tenet of academic principles, ideals, and practices.

We therefore welcome speakers, scholars, and artists whose work relates to Palestinians and Israelis in adherence with the Palestinian civil society's BDS guidelines. Importantly, these guidelines do not call for the boycott of individuals for being Israeli or for expressing certain views. Consistent with the principles of academic freedom, we call for a respectful campus environment in which BDS and the Israeli-Palestinian conflict can be openly debated and discussed.
---
Related Videos