What the FBI's Crime Numbers Mean in One City
Homicides are up nationally, along with other violent crimes—and a close look at San Antonio provides some context.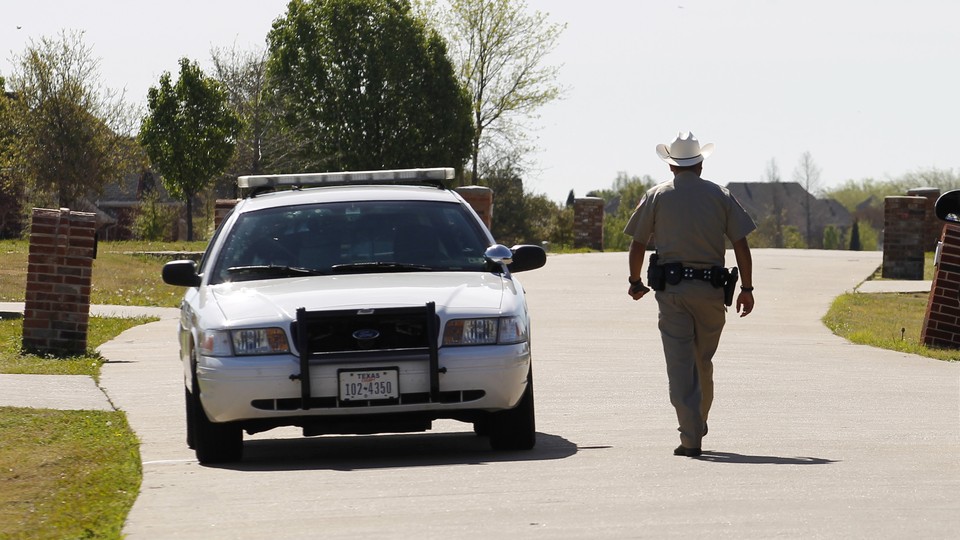 On Monday, the FBI released its annual report on crime, and a hailstorm of divergent opinions will likely follow. In cities with over one million residents violent crime is up three percent, but alarms will probably sound about the 10.8 percent increase in murders. One group, the Brennan Center for Justice, which analyzed crime data for 2015 and 2016 for the 30 largest cities in the country, has already placed the blame for that particular figure at the foot of three major cities: Baltimore, Chicago, and Houston. Chicago's spike of 234 murders alone constitutes nearly half of the additional murders committed year over year, according to Brennan's analysis.
But the FBI's annual look at trends in crime only measures eight crimes, which only add up to about 18 percent of all arrests, according to John Pfaff, a Fordham University law professor. He also stresses the narrow definitions for "violent crime (murder/manslaughter, forcible rape, robbery, aggravated assault)" and "property crime (larceny/theft, burglary, arson, car theft)." Those are important to consider in light of the astronomical rise in cybercrimes in the last decade. "In other words, no matter what the numbers say on Monday, there's a lot moving around we aren't measuring/tracking," he said in a Twitter post.
Overall, crime is at historic lows, including violent crime and murders. Some estimates put the figures at about half their peak in the early 1990s. That's not to minimize the fact that some cities have, in fact, gone through crime spikes in recent years. Chicago is among them, even if Brennan's researchers consider it "an outlier" and believe "no other large city is expected to see a comparable increase in violence."
On paper, Chicago's 9.1 percent increase in overall crime and 16.2 jump in violent crime seem to pale in comparison to, say, San Antonio's experience: 23.3 percent increase in crime, 52.2 spike in violent crime, and 52.9 percent climb in murders. The key difference is ratios versus actual numbers. Far fewer crimes and murders have to happen in a less populated and less violent city for it to see a significant jump in its per capita rates.
The Brennan report singles out Chicago for its "higher concentrations of poverty, increased gang activity, and fewer police officers." In general, the authors posit that in cities, conditions like persistent high poverty, racial segregation, and unemployment can create conditions that lead to "short-term spikes in crime." But Brennan analysts concluded that no real pattern emerges across the biggest 30 cities, and that "spikes are created by as-of-yet unidentified local factors."
Ames Grawert, one of the authors of the Brennan report, pointed to some potential local factors. "We found in cities that had a pronounced increase in the murder rate both this year and last year, those were cities that had less healthy institutions, higher-than-average poverty and a higher-than-average unemployment rate going back 10 years or so," he said.
With figures provided by the San Antonio Police Department, the Bexar County Sheriff's Office, and Brennan, I put some of those theories to the test in San Antonio, one of the fastest-growing cities in the country and one that faces similar socioeconomic challenges as Chicago, though on a more moderate scale.
Bexar County, which encompasses San Antonio, had a 10 percent population increase between 2010 and 2015, with a projected 20 percent increase expected by 2021. Today, 1.8 million call it home, according to the Census, with 20 percent of them living in poverty. Its unemployment rate is 4.2, compared to the national average of 5.6, according to the Bureau of Labor Statistics figures from August. The poverty rate has oscillated between 13 and 21 percent in the last decade.
Grawert also believes it's worth exploring whether cities that are growing very rapidly might have a harder time coping with increases in violence. "They might not be able to scale their police force and their law enforcement as rapidly to match the growing population," he said. Might there be a tipping point? Would single-digit or double-digit growth accelerate the incidences of crime?
"I don't think it's just us here," said George Saidler, Bexar County's deputy chief for criminal investigations. "Any time you have a rise in population, it's going to cause some type of rise in crime stats because you simply have more people. I don't know that there's some type of ratio for that, or that anybody has a formula."
Grawert said that the Chicago detective force shrunk by 300 detectives and that, nationally, there are fewer police officers than there were a few years ago. The latest numbers from the Bureau of Justice Statistics puts the total of sworn police officers at 477,000 in 12,000 local police departments through 2013. And since 1987, the number of officers has steadily increased, rising by 34 percent (or 122,000).
In San Antonio, the biggest concern is murders. "The violent crime that sticks out most right now is the number of homicides that have taken place here in San Antonio, which we don't have a clear explanation for," Doug Greene, the police department's public information officer, said. He said SAPD has been aggressive in solving them, with about a 70 percent clearance rate so far. Their efforts have been helped by city residents who seem resolute to see violence slow down in their town.
There is one significant exception to the tracking of homicides: police-involved fatalities. "All deaths are considered as homicides, it's just that some are justifiable. That's where some of the problems in reporting them come in," Saidler said. He drew a parallel between deaths at the hand of police and a homeowner protecting his property by shooting an intruder. "That could be filed as robbery or as homicide," Saidler said. Both the Bexar County sheriff's office and the San Antonio police department separate justified homicides from other categories of homicide, like capital murder, vehicular homicide, and negligent homicide. Through June 2016, there were six documented deaths that involved SAPD officers.
Durant Frantzen, a criminologist at Texas A&M University-San Antonio, has been studying crime and policing in San Antonio for several years and offered some insights. "In terms of the increases in violence, you see pockets of this happening. I think a lot of it is gang activity. But a lot of it is ebb and flow, not a consistent pattern that's been on the rise over several years. It's too early to speculate based on a one-year increase in violence."
The beginning of the year saw a couple of homicides tied to gang violence. The response from SAPD and city leaders was to "come up with creative ways to help these individuals get out of gang violence" by creating pathways to jobs and further education, according to Greene. (Grawert noted that in Chicago a disproportionate number of crimes were being committed by the same people, many of whom were on the police's "strategic subject list," comprised mostly of repeat firearm offenders, and which also overlap with gang membership. In essence, it translates to "a small number of people committing a disproportionate number of offenses," he said.)
Frantzen sees several factors as influential in the current crime spike in San Antonio, including rapid population growth, lower-than-average household incomes, concentrated poverty, and a large disparity in terms of income status. "We're seeing the violence in the lower-income high-poverty area of the city," he said. But he maintains that those characteristics are not atypical or out of the ordinary for fomenting violence in cities. "What's happening now is a combination of the presence of the gang activity and gang members seeing what's happening in other cities. They know, for example, what's going on in Chicago, which is the leading city in the nation for gang violence. As a way of drawing attention to themselves they act out in similar ways that others in cities like Chicago do," he said.
"I think it's safe to say that a lot of them are taking place in some of our impoverished areas around downtown. We've seen them all over, but mainly those areas. That's why we're trying to take another approach and trying to give individuals an opportunity to find employment and transitioning them out of that criminal life and into a productive life," Greene said. Most of San Antonio's poor are concentrated in the zip codes that surround the city center. Those areas are also among the most densely populated.
Frantzen believes that has been the case on the East Side section of San Antonio, which he described as "a distressed neighborhood," and which has seen in increase in gang-related activities. "That side of town has always been a bubble, but the violence has not been as pronounced as it has been this year. But it's been getting to that point, it's been simmering," he said. "A lot of it also comes from the fact that we are integrated as a society through social media. We've seen a lot of high profile police shootings. We've seen mass violence in certain cases as retaliation. I think that a lot of this is people looking at the legitimization of violence. They observe it in another community and they think that it's an acceptable response to the abuse of power. It legitimizes violence. Violence is one way to get attention from authorities and the media," he said.
But the sheriff's office has been identifying areas that pose special concern and begun to dedicate teams of deputies to addressing them. There's a family violence task force made up of prosecutors, judges, NGOs, and five deputies. Its role is to educate residents so they seek out social or other services if they're in domestic situations in which someone might be injured or end up dead. Though they don't track homicides that result from domestic-violence situations, Saidler estimated that about 50 percent of such crimes stem from these cases and another sizable number from gang-related activities. Greene emphasized that domestic violence cannot be prevented. "The main thing we can do is try to react as quickly as possible," he said.
"It's hard to compare our crime stats from the national stats that come out from the FBI," Saidler said. "I don't actually think the crimes have gone up, but the reporting has gone up." Specifically, property crimes, identity theft, and other forms of cybercrimes have gone up in the county. And national events, like the breach on 500 million Yahoo accounts, will eventually trickle down as locals begin to report that they were victimized. Ensuing scams, like unauthorized withdrawals from personal bank accounts could be classified as thefts, much like shoplifting at a store.
Both the police department and sheriff's office attribute the increase in calls and reported crimes to continued efforts to educate residents. One result is that it appears that family violence and children's crimes are up. But Saidler believes much of that is due to stricter enforcement of mandated-reporter laws that require professionals like teachers and pediatricians to report suspected abuses or face legal consequences. The specialized focus on crimes by type also led to the creation of a child-abuse unit, with three deputies that handle all crimes related to child victims for any crime under the age of 15. Any relevant crime statistics won't show up with family violence figures, including simple assaults and sexual assaults.
"In general trends, I think when the economy is doing fine, I think the crime rate goes down. When the economy goes down as a whole then the crime rate rises," Saidler said. He recalled seeing a jump in property crimes during the 2008 recession because "people out of jobs go to the grocery stores and steal to support their families," he said. "Overall, there's a lot of contributing factors to take into consideration when you're talking about and looking at types of crimes," he said. Frantzen agrees: "In terms of predictions, I would be reluctant to support the idea that those trends will continue. It's too early to speculate about that."
"I don't think there's any one thing that stands out. We can't say, let's attack this and that'll knock down the homicide rate," Saidler said. Looking for trends or predictive models is more a theoretical exercise in policing, which pales in comparison with approaches that focus on intervening, redirecting, and reinforcing shared values. In San Antonio, policing with an aim to educate the public, engage them in healing their neighborhoods, and addressing collective woes, seems to have inadvertently yielded higher crime rates in some instances. But the upside is that more people are learning to trust and rely on officers for their safety.