Almost 6,000 Americans Have Already Voted for President
The election is 46 days away, but thanks to early voting, some citizens have already made their choice—and millions more have requested absentee ballots.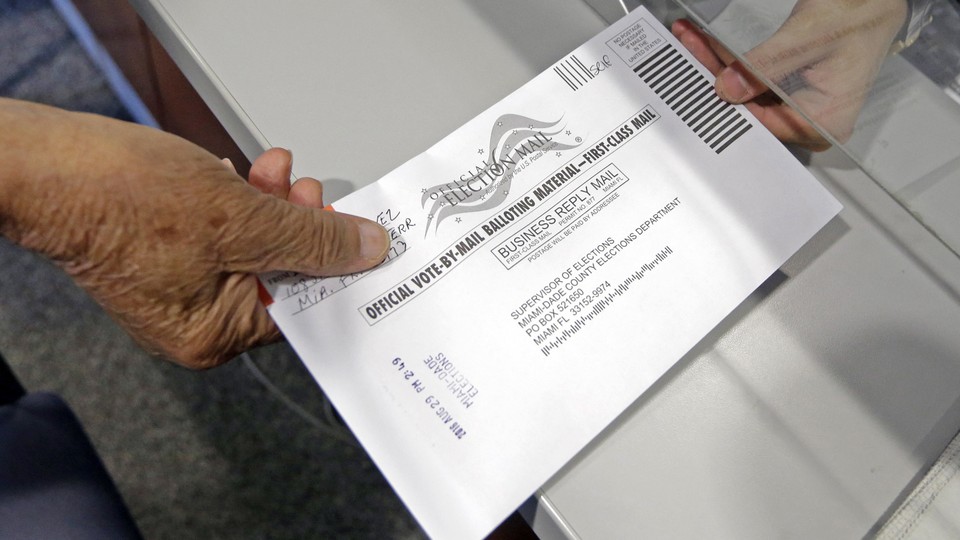 Maybe you are one of the millions of Americans who cannot wait for this election to be over, or alternatively, maybe you are paying no attention to this election. (There's really no third option.)
But the weary countdown—46 days left!—misses an important fact: In many places, voting is already underway. Voting began in parts of Wisconsin on Monday. Starting Friday, anyone in Minnesota can cast an absentee ballot, and they need no excuse to do so. So can Virginia voters. Meanwhile, a slew of other states are already taking absentee ballot requests. The list includes some of the most hotly contested swing states, including Florida, Ohio, Iowa, and North Carolina. In those cases, there's no way to know how the people getting their ballots will mark them, but there are ways to make some educated guesses based on who has made a request. Michael McDonald, a professor at the University of Florida who runs the invaluable United States Elections Project, calculates that 5,649 people have already voted (as of publication—the number keeps climbing).
Start with North Carolina. So far, about 61,600 absentee ballots have been requested, an increase over the pace four years ago. Based on voter registration, those requesters are split evenly, 35-35 between Democrats and Republicans, with another 28 percent unaffiliated. A much smaller number have been returned—around 5,500—but Michael Bitzer, a political scientist at Catawba College, crunches the numbers and finds that they look different from 2012:
However, both registered Democrats and unaffiliated voters are overperforming their same-day cumulative totals in comparison to 2012's numbers: registered unaffiliated accepted ballots are 167 percent of their same-day totals four years ago, registered Democratic accepted ballots are 153 percent of same-day totals from four years ago, and registered Republican accepted ballots are 93 percent of their same-day totals from 2012.
Bitzer notes that affiliation can be a little misleading in North Carolina, where there remain conservative voters who are legacy Democrats and have not switched registration, but are still unlikely to vote for the more liberal candidates the party puts forward.
If this is an indication of stronger Democratic turnout, however, it could be important. In 2012, when Republican same-day early-voting returns were stronger, Mitt Romney won the state by 2 percentage points. Four years before that, Barack Obama won it by just 0.32 percent. Both the Clinton and Trump campaigns have spent a great deal of time in the Old North State, and polls show a tight race.
Michael McDonald has some more breakdowns on the North Carolina voters. Notably, more than twice as many white voters born out of state have requested ballots as those born in North Carolina. Transplants, many of them moving to the state's urban areas, are one reason why North Carolina has become more liberal and more of a swing state.
Iowa is looking like the reverse of North Carolina. The Hawkeye State has voted for the Democrat in every presidential election since 1984 save one (2004). But recent polls have shown Trump building a decent lead over Clinton. Democrats hold a big edge in requested early ballots, but the total is still tens of thousands smaller than it was at this point four years ago. Republican requests are very slightly down against the same point four years ago.
Elsewhere around the country, more than 2 million Floridians have requested absentee ballots, with Republicans holding a 43-37 percentage edge. (Florida doesn't appear to have 2012 statistics available for same-day comparison.) More than 76,000 Georgians have requested ballots, as have more than 11,600 Mainers. In Ohio, more than 524,600 voters have requested ballots, versus around 485,000 at this time four years. However, that number is a little misleading, since the state mailed regular voters an application for an early ballot.
With the first presidential debate approaching on Monday, polls show that a large number of voters remain undecided. But as the election approaches the home stretch, a growing number of Americans have already made their decision and cast their ballots.