Another First for Obama: A Veto Override
Congress voted overwhelmingly to disregard the president's rejection of legislation allowing 9/11 victims to sue a foreign government in U.S. court.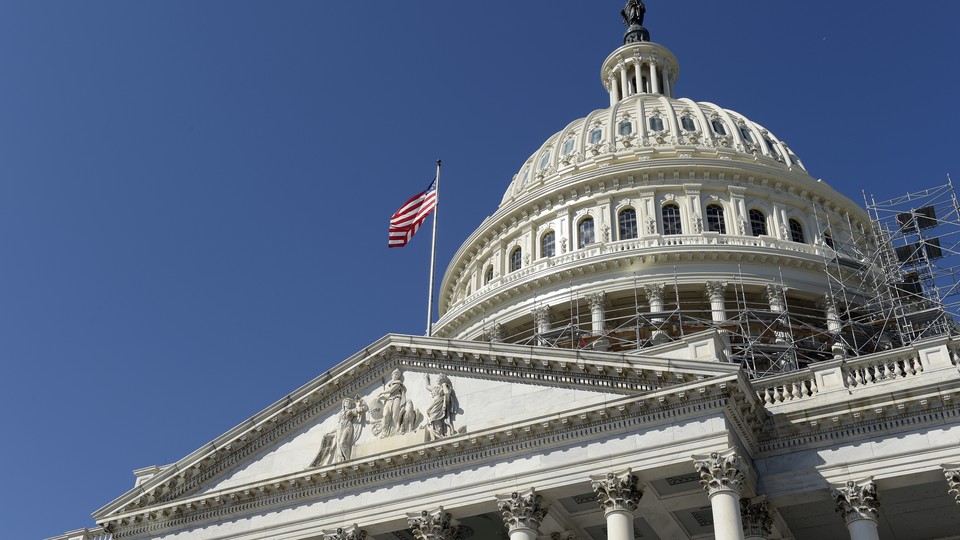 Updated on September 28 at 4:27 p.m.
For the first time in President Obama's two terms in the White House, Congress has enacted legislation without his signature.
The House and Senate on Wednesday voted by a wide margin to override Obama's veto of a bill that would allow victims of the September 11, 2001 attacks to sue a foreign government—namely, Saudi Arabia—in U.S. court, even if it had not been designated a state sponsor of terrorism. The president, in rejecting the measure, had warned that undercutting the principle of "sovereign immunity" could lead to retaliation against U.S. interests abroad, including countries that would try to bring legal action against American soldiers and diplomats overseas.
Forced to choose between 9/11 victims and the White House, however, U.S. lawmakers overwhelmingly sided with the victims. The vote in the Senate was nearly unanimous, with only Senate Minority Leader Harry Reid supporting the president's veto. The House voted about two hours later and passed the bill into law on a tally of 348-77. Each chamber needed a two-thirds majority to override the veto, and both reached the threshold easily. Obama's 11 previous vetoes have been sustained, but every president since Lyndon Johnson has seen Congress override at least one of their veto messages.
Congress has stymied Obama in a variety of ways during his nearly eight years in office. It has stalled his proposals to raise the minimum wage, to enact legislation combatting climate change, and to reform immigration laws. It has blocked his repeated efforts to close the terrorist detention center at Guantanamo Bay, Cuba. And more recently, the Senate has ignored his nominee to the Supreme Court, Merrick Garland.
But until now, and despite Republican control on Capitol Hill since 2015, the House and Senate had been unable to assert their own prerogative and pass a bill over the explicit opposition of the president. Democrats have generally maintained a unified front against partisan GOP proposals, either preventing them from reaching Obama's desk or sustaining his veto in the few times they did. Asked to comment on the likelihood of a first veto override, White House Press Secretary Josh Earnest's reaction on Tuesday was to wonder what took so long. "I think there are a couple reasons for that," he said. "The first is, we have not seen the U.S. Congress be particularly effective at passing legislation. The president hasn't issued that many vetoes, period."
"So the fact that the president hasn't vetoed that many bills I think is a pretty damning indictment of the effectiveness of Republicans in Congress," Earnest continued. "That's just a fact."
The difference here is that the Justice Against Sponsors of Terrorism Act is chiefly a Democratic bill, championed most vocally by Senator Charles Schumer on behalf of his constituents in New York. He worked over a period of years with a Republican colleague, Senator John Cornyn of Texas, to narrow the legislation and allay lawmaker fears of diplomatic retaliation. "This rare moment of bipartisanship is a testament to the strength of the 9/11 families, and the validity of their pursuit of justice," Schumer said after the vote on Wednesday. "Overriding a presidential veto is something we don't take lightly, but it was important in this case that the families of the victims of 9/11 be allowed to pursue justice, even if that pursuit causes some diplomatic discomforts."
Still, the Obama administration never came around. Senior officials continued to lobby against the bill even when it was clear votes were there to enact it, perhaps to show allies like Saudi Arabia that it was at least mounting a fight. Earnest reacted angrily after the Senate acted, calling the veto override "the single most embarrassing thing the Senate has done" in decades. CIA Director John Brennan called the legislation "badly misguided" and said it "doesn't take into account the negative impact on U.S. national security."
"I think there's a very, very dangerous slippery slope that we're going to get on," Brennan said Wednesday at the Washington Ideas Forum presented by The Atlantic and the Aspen Institute. He added that "foreign governments are going to start to pass similar type of legislation that is going to haul the United States into court overseas, even for the most frivolous charges and allegations for what the U.S. has done overseas."
Both Republicans and Democrats, however, said that the right of 9/11 families to "have their day in court" outweighed the potential consequences. "This, to me, is not about Saudi Arabia. It's about us," said Senator Bob Corker of Tennessee, the Republican chairman of the Foreign Relations Committee. He said he would vote to override Obama's veto "with tremendous reservations and with concerns about where this legislation is going to lead us."
In many ways, the threats of retaliation by Saudi Arabia, either by scrapping immunity for U.S. citizens abroad or by selling U.S. securities, seemed to steel members of Congress even more. "Is this really how we should be deciding policy?" asked Senator Charles Grassley of Iowa, chairman of the Judiciary Committee. "We absolutely, then, cannot be intimidated, and we cannot bend to that threat."
Democrats drew political cover from Hillary Clinton, who could not realistically go against 9/11 families who have praised her leadership and assistance as a New York senator when the World Trade Center came down. She ended a long silence on the proposal this month by saying that if she were president, she would sign the bill.