Keeping the President's Hands Off Utah's Land
A century-old law allows Obama to declare public lands as national monuments, but the state's Republican lawmakers don't think he should have that authority.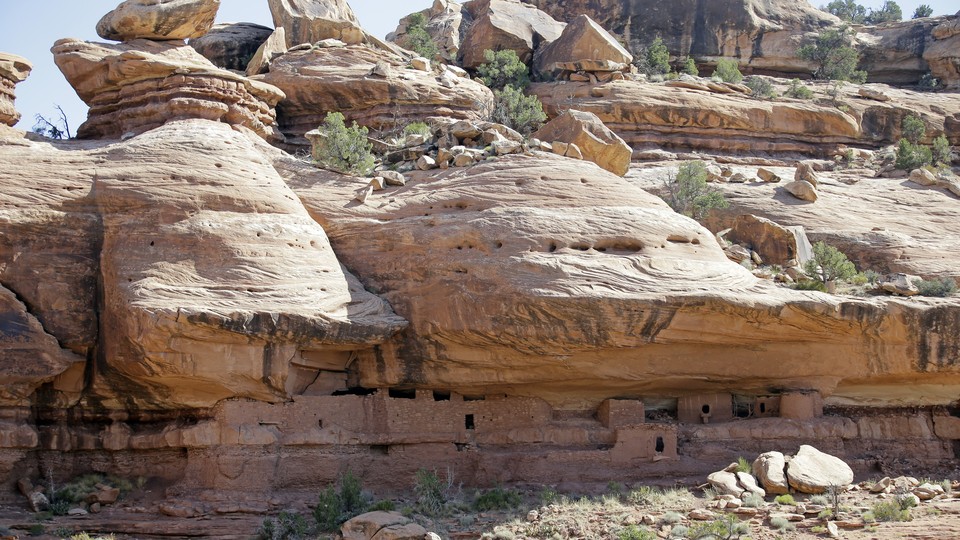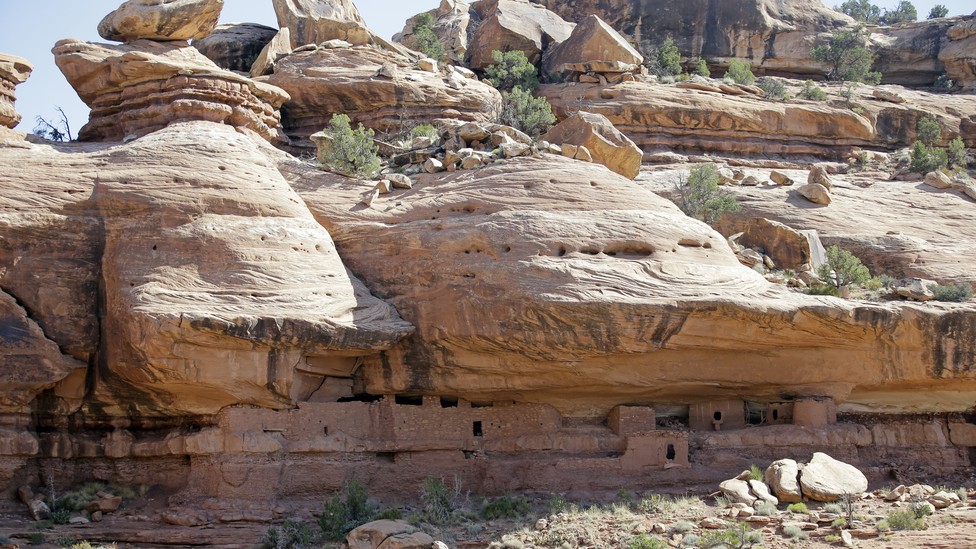 Looking to spark some excitement in the great state of Utah? Stroll into any PTA, Elks Club, or town council meeting, step to the microphone, and ever so gently broach the subject of Bears Ears. Then duck and cover as people's heads start to explode.
Despite the darling moniker, "Bears Ears" is not some deep-fried carnival snack or ancient Chinese libido booster. It is, rather, political shorthand for 1.9 million acres in southeast Utah that President Obama is pondering designating a national monument. The "ears" in question are twin buttes hovering over the surrounding San Juan County, a sprawling stretch of wilderness that now finds itself at the white-hot center of a brawl over public-land management, presidential authority, and the 110-year-old Antiquities Act.
Chock full of Native American burial sites, much of Bears Ears is important—sacred even—to local tribes. For decades, folks have been feuding over how the region should be managed and by whom. Last year, representatives from five tribes petitioned Obama to intervene using the Antiquities Act, a (Teddy) Roosevelt-era law giving presidents the power to declare public lands as national monuments. Environmental groups, 20 additional tribes, and a big chunk of preservation-minded Utahans support the proposal.
But land management is a flammable issue in Utah. We're talking Al-Sharpton-going-to-see-Hamilton-with-David-Duke level flammable. This is hardly surprising when you consider that 65 percent of the state's land is owned by the federal government. So while much of the nation has cheered Obama's second-term flurry of monument making (he's named 23 sites thus far, more than any other U.S. president), Utahans are more skeptical.
Many residents, in fact, get downright ornery about the possibility of a president—especially a Democratic president—unilaterally placing monument restrictions on huge swaths of their state. Part of it is a dislike of Washington D.C. generally and of presidential authority in particular. "Utah loves government process," explained Ted Wilson, a long-time environmental activist and former mayor of Salt Lake City. They like to see issues hashed out in the state legislature and in Congress, he said. "So the idea that a president can just put pen to paper is anathema."
More particularly, there remains much ill will in Utah over President Clinton's designation of the Grand Staircase-Escalante National Monument in 1996. It was, pretty much all of Utah agreed, handled badly. The president didn't bother giving a heads up to state leaders, and then went to Arizona to deliver the announcement, Wilson recalled. "Even the Democrats were mad about that one," he said. "I was co-chair of Clinton's campaign that year, and I was so upset about it, I threatened to resign."
Given this dynamic, the battle over Bears Ears has devolved into what you'd expect: name-calling, dirty tricks, accusations of corruption, and other assorted ugliness. (Last December, a San Juan County Commissioner known for his anti-Washington fervor was slapped with 10 days in jail and three years probation for leading a protest of armed ATV riders through a canyon that is off-limits to motorized vehicles.) At this point, it's hard to gauge overall local support. Polls vary wildly, and even respondents who want Bears Ears to receive some type of protected status say they prefer not to have it achieved by presidential decree.
Complicating matters, Utah's congressional leaders—a uniformly Republican lot mistrustful of Obama on even noncombustible issues—adamantly oppose the executive branch's involvement. For years, in fact, multiple members have been working on their own plan for managing the land that would curtail agency regulators' influence.
Leading the charge is Representative Rob Bishop, the chairman of the House Committee on Natural Resources. Since 2013, Bishop and Representative Jason Chaffetz, whose district contains much of Bears Ears, have been hammering out a detailed legislative package governing the use of a whopping 18 million acres in eastern Utah, including Bears Ears. In July, the duo at last rolled out their Public Lands Initiative.
Alas, the plan was poorly received by environmentalists and the tribal coalition favoring a monument. ("The PLI has been disparaged by most environmental people who say it just cut too much out of the protection side and left too much in the drilling side," Wilson said.) Bishop and Chaffetz say they have received zero feedback from the administration. No matter: Bishop will hold final hearings on the bill next week, and then start moving it out of committee. Still, the chairman acknowledged that the plan likely wouldn't get to the House floor before the election. "But I expect there to be a long lame duck session, and a great deal can be accomplished during that time."
For Bishop, this battle is about more than the fate of 1.9 million—or even 18 million—acres in his home state.
A Tea Party conservative, Bishop is famous for his opposition to the federal oversight of public lands in general. Last year, he and fellow Utah Representative Chris Stewart launched the Federal Land Action Group (FLAG), aimed at developing "a legislative framework for transferring public lands to local ownership and control." This—and other similar efforts—prompted the Center for American Progress to dub Bishop the head of Congress's "anti-parks caucus."
But Bishop harbors a special loathing for the Antiquities Act. It is, he told a gathering of Western state land commissioners last summer, "the most evil act ever invented." Of its fans, he said: "If anyone here likes the Antiquities Act the way it is written, die. I mean, [get the] stupidity out of the gene pool!"
Perhaps unsurprisingly, Bishop's PLI package would specifically prohibit the president from using the Antiquities Act in the seven Utah counties covered by the plan.
There are a number of fundamental problems with the law, Bishop told me. For starters, "it's terribly outdated," enacted "when there were [45] states and no environmental laws." Worse still, he said, "it's intellectually flawed." Decisions about public lands, he believes, "should be a legislative not an administrative concept." It was "dumb" for Congress to cede this authority back in the day. "But it doesn't mean they should continue on just because they did something dumb last century."
The PLI is far from Bishop's first shot at reining in this presidential prerogative. "I have done things in the past," he assured me, including an effort to subject the president to the same procedural hoops that Congress must jump through when protecting land. Bishop says that over the years he has gotten a "myriad" of such bills through the House—just not the Senate.
Bishop isn't fighting this fight alone. Chaffetz is firmly on the anti-Antiquities Act bandwagon. "It's the intrusiveness of the federal government that is unrelenting," he said. "It feels like Washington, D.C., is coming into our backyard and altering people's lives."
In June, FLAG co-founder Stewart introduced an amendment to the Interior Appropriations Bill that would bar use of the act throughout the West. Of course, any bill seeking to curtail presidential power carries a high risk of veto, as even Bishop acknowledges: "It's not logical, but the administration and the [Interior] Department always say, 'You shouldn't restrict the power of the president to do things.'"
While Bishop sees the post-election season as an opportunity to advance the PLI, Chaffetz fears it will simply allow Obama to make his monument proclamation without concern for electoral backlash. If that happened, he predicted, "I think the state, from top to bottom, would become absolutely unglued."
What exactly "unglued" would look like—more armed ATV rides, a Bundy-style siege, or just really loud sniping—Chaffetz leaves to the individual imagination. But there's no question that Utahans take their Bears Ears very seriously.