Trump Was Apparently Right About the Debate Microphone
The Commission on Presidential Debates issued a cryptic statement acknowledging some audio issues Monday night.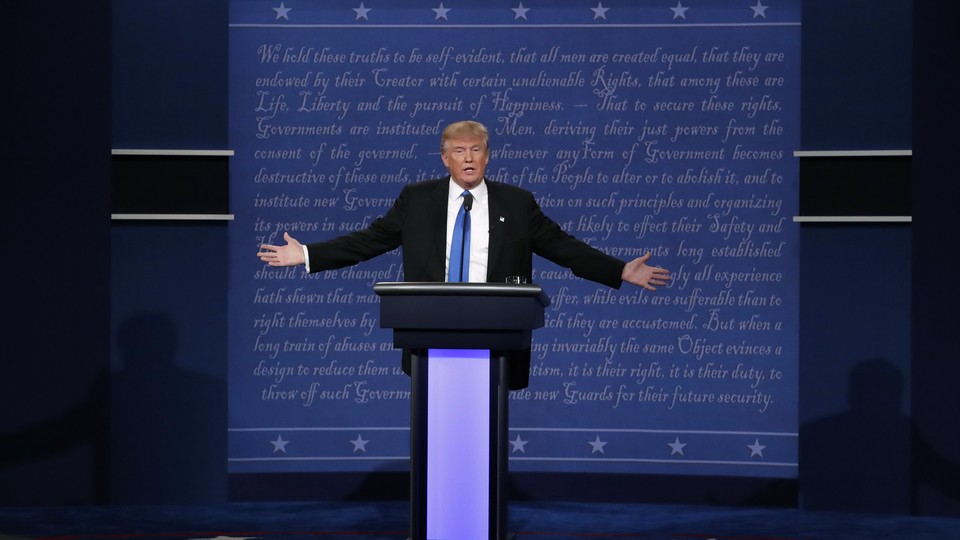 After critics savaged his performance at Monday's first presidential debate, Republican nominee Donald Trump alighted on several culprits: Hillary Clinton, the moderator, and especially his microphone.
The claim was met with some skepticism, but on Friday afternoon, the Commission on Presidential Debates seemed to confirm his claim, at least in part. The commission, which controls the debates, released a cryptic statement that reads in full:
Statement about first debate

Sep 30, 2016

Regarding the first debate, there were issues regarding Donald Trump's audio that affected the sound level in the debate hall.
We've called the commission to ask what that means, but have not heard back yet. Presumably, they are receiving dozens of such queries.
After the debate, Trump told reporters, "They gave me a defective mic. Did you notice that? My mic was defective within the room. I wonder, was that on purpose? Was that on purpose? But I had a mic that didn't work properly."
The next day he repeated the complaint. "I had a problem with a microphone that didn't work. I don't know if you saw that in the room. My microphone was terrible. I wonder was it set up that way on purpose. My microphone in the room, they couldn't hear me, you know, it was going on and off. Which isn't exactly great. I wonder if it was set up that way, but it was terrible. When I tested, it was beautiful, like an hour before, I said what a great mic."
Trump's comments were viewed with skepticism. He's blamed bad equipment for gaffes in the past; the feed on national television (and in the filing center where journalists attending the debate watched) had Trump loud and clear; and besides, the critique of Trump's performance was largely about the content of what he said, not the audibility of it.
But a keystone of Trump's approach, both in business and politics, is feeding off an audience. As my colleague James Fallows wrote in the essential debate-preview piece, Trump observers note "his ability to read a room, to sense when he is losing an audience, and to try the tone or theme that will win them back." That could throw the candidate off, even with an audience that has been told strictly not to clap, like the crowd at Hofstra University.
With luck, the CPD will offer some clarification about what the audio problems were and why they occurred. For now, we're left in the dark about whether Trump was left silent.