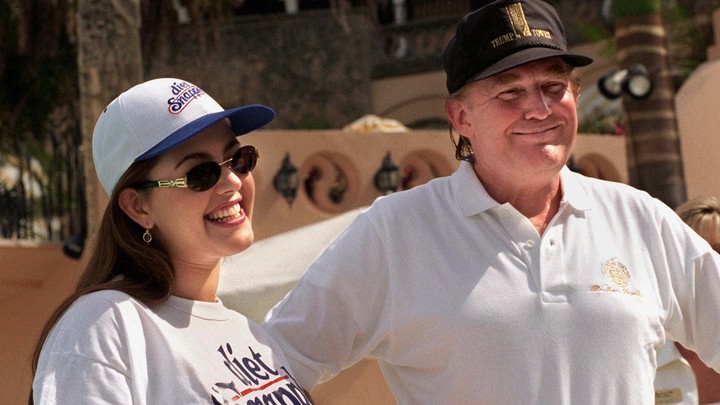 In the wee hours of the morning on Friday, Donald Trump was on his phone, delivering a series of tweets. At 3:20 a.m.:
Anytime you see a story about me or my campaign saying "sources said," DO NOT believe it. There are no sources, they are just made up lies!

— Donald J. Trump (@realDonaldTrump) September 30, 2016
At 5:14 a.m.:
Wow, Crooked Hillary was duped and used by my worst Miss U. Hillary floated her as an "angel" without checking her past, which is terrible!

— Donald J. Trump (@realDonaldTrump) September 30, 2016
Five minutes later:
Using Alicia M in the debate as a paragon of virtue just shows that Crooked Hillary suffers from BAD JUDGEMENT! Hillary was set up by a con.

— Donald J. Trump (@realDonaldTrump) September 30, 2016
And then at 5:30 a.m.:
Did Crooked Hillary help disgusting (check out sex tape and past) Alicia M become a U.S. citizen so she could use her in the debate?

— Donald J. Trump (@realDonaldTrump) September 30, 2016
Taken singly or as a whole, the string is remarkable.
A central tension since Trump locked up the Republican nomination has been the tug-of-war between the candidate and the campaign on messaging. The candidate tends to shoot from the hip—or more accurately, from his Android—at all hours of the day, tweeting what he feels.
His campaign has tried to contain the message, distilling the politically effective elements of Trumpism while burning off the unwise elements. For several weeks, it appeared the campaign was winning, and Trump's standing in the polls rose over that time period. Since the debate, however, the split has resurfaced, with mixed messages emanating from Trump and surrogates on any number of issues. Trump's string of early-morning tweets hardly makes the case that Trump has a steady, presidential temperament.
How about the content of the tweets? The first appears to be a reference to unnamed Trump aides handwringing to the press about his lack of preparation for the first debate. (As Maggie Haberman wryly noted, Trump would know: He was once notorious for calling reporters and speaking to them about himself while using a pseudonym.)
The fact that he was unready to take on Hillary Clinton is manifest to practically every observer except Trump, his adviser Rudy "Why would we change if we won the debate?" Giuliani, and spokesman Jason Miller, who somehow managed to mostly keep a straight face while insisting to Chuck Todd on Thursday that web surveys were more reliable than scientific polls.
Then there's the Machado tweets. Four days after Trump debate Clinton, he is still consumed by his anger at a woman who was Miss Universe in the 1990s. Or, to put that in demographic terms, Trump is still  insulting a Latina woman and calling attention to the fact that he called her fat with just a month left until an election, when he trails Clinton badly among Latinas and women. And he's doing so at the cost of attacking his opponent, at a time when she is seeing a rebound in the polls.
Let's remember how we got here: During Monday's debate, Trump questioned Clinton's stamina. Clinton responded by springing a trap, bringing up Alicia Machado and recalling how Trump called her "Miss Piggy" and "Miss Housekeeping." Trump said that it was unfair for Clinton to attack him. The next day, on Fox and Friends, he eagerly confirmed that he'd criticized Machado for her weight gain, walking farther into Clinton's trap. Now he's still going.
Machado is not without her own checkered past. She was accused of being complicit in an attempted murder in Venezuela, though she was never arrested or charged. She did not, it appears, act in any porn, though she did pose topless for Playboy and was filmed doing … something under sheets while on a Big Brother-style reality-TV show. The clip is more embarrassing than explicit.
Yet Trump's method of broaching that is baffling. There's the bizarre spectacle of a presidential candidate from the party of the religious right telling anyone who will listen to "check out [a] sex tape." (Trump has a special attachment to the word "disgusting," which he uses to describe a breast-feeding attorney and a bathroom break Clinton took during a Democratic debate.)
In a campaign of unprecedented moments, this is yet another. Machado's sex life has nothing to do with the issue at hand, which is Trump's comments about her weight and ethnicity, but by continuing to talk about her, he offers fresh reminders about what he said about her.
It also exposes some hypocrisy: Who is Trump to criticize anyone for salaciousness? This is the man who once said, "You know, it doesn't really matter what [the media] write as long as you've got a young and beautiful piece of ass," and who has bragged about his sexual exploits (perhaps literally) ad nauseam. Trump is only reminding everyone of his double-standard on sex for men and women, which is plays into Clinton's hands.
To see the sort of chaos Trump's dark-of-the-night, spur-of-the-moment messaging causes, look no further than Arkansas Attorney General Leslie Rutledge's appearance on MSNBC Friday morning, where she tried to blame Clinton for Trump's tweets.
"It's unfortunate that this issue was raised by Secretary Clinton during Monday night's debate," the Republican and Trump surrogate said. "She's the one that jumped off in the ditch bringing back comments from the '90s." The defense makes no sense: Clinton didn't make Trump tweet; even though she brought the issue up, he's under no obligation to keep making it the story of the day; and this all comes as the Trump campaign distributes talking points encouraging surrogates to bring up comments from the '90s.
Machado, meanwhile, published a response on Instagram, where she posted a photograph of herself wrapped in an American flag with a statement in Spanish, accusing Trump of trying to distract from his own shortcomings by attacking her.
"Despite this, I will continue forward, sharing my history, my absolute support for Mrs. Clinton in the name of women, my sisters, aunts, grandmothers, cousins, friends, and the female community," she wrote.
To ask what the strategy behind Trump's tweets is, or to question the wisdom of the strategy, is to miss the point. There's no strategy in play, just knee-jerk reflexes.
We want to hear what you think about this article. Submit a letter to the editor or write to letters@theatlantic.com.