Trump Time Capsule #100: An Interview That Would Have Made News in Any Other Year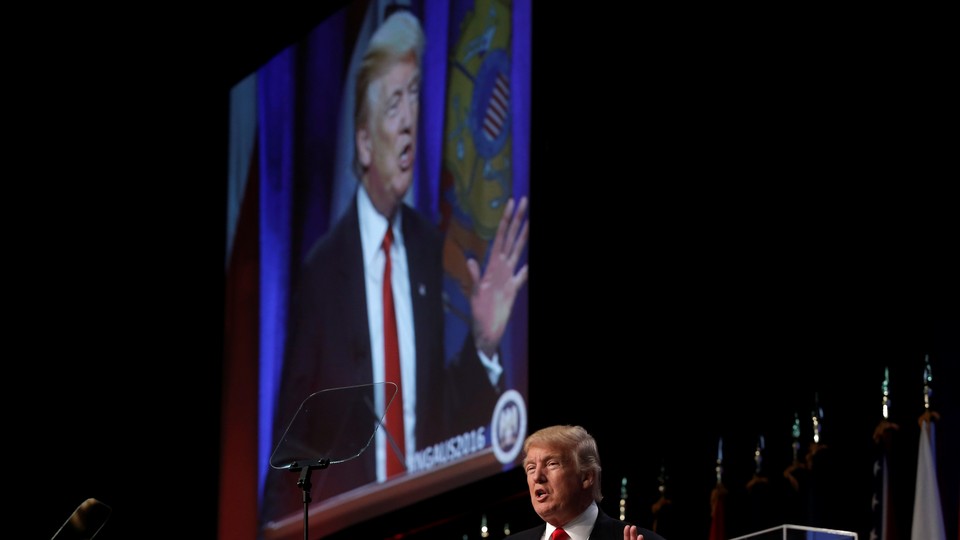 Editor's Note:
This article previously appeared in a different format as part of The Atlantic's Notes section, retired in 2021.
An uncatchable-up-with amount of news has happened in the three days since installment #99. So I'll start the regrouping process with something simple: a single incredible interview.
Early this morning, Donald Trump did a long phone-in session with CNBC, which you can see in full below. The questioners made Matt Lauer look like the Grand Inquisitor, as you will see if you take a look.
For instance, one of the early questions, from Joe Kernan, starts with the premise that businesses and business leaders are unfairly maligned in America today. What does a successful business leader like Trump think about that?
Through the rest of the interview, Trump reeled off several dozen surprising, unsubstantiated, completely wrong, and otherwise weird statements, none of which the interviewers challenged him on. Daniel Dale of the Toronto Star provided a convenient summary of a few: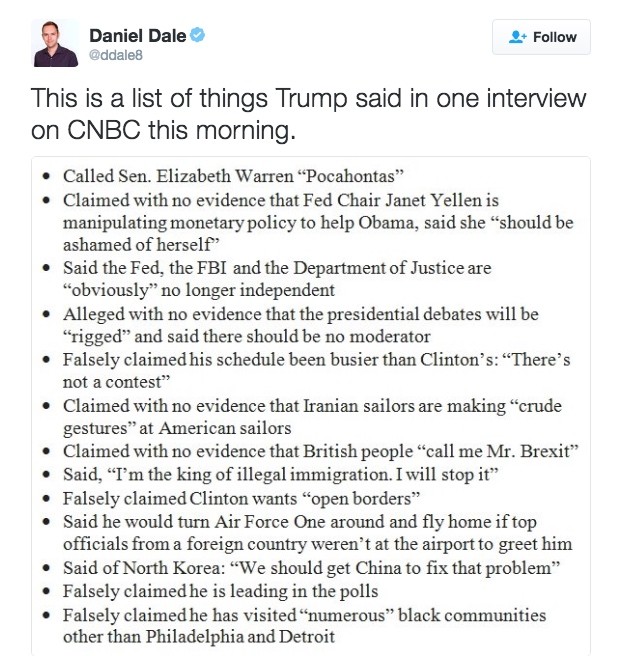 And that's just the start. Beyond the ones Dale mentions were Trump's (fantastical) claim that "China could solve the problem with North Korea in one day, if they wanted" (actually they couldn't). Or that Matt Lauer had been much tougher in questioning him than he had with Hillary (unt-uh).
After the interview, Matthew Yglesias wrote an item in Vox with the headline "Donald Trump gave an interview this morning that should be shocking — but we're numb." Sample:
A few observations about all this:

In a normal election cycle, a candidate making an offhand racist remark about a sitting US senator would be a big news story.
In a normal election cycle, a candidate making an offhanded lie about the state of his personal finances would be a big news story.
To be totally honest, even in a normal election cycle a candidate exhibiting total confusion about the mechanics and merits of monetary policy probably wouldn't be that big of a news story but it would at least get some attention.
***
It's 56 days and a few hours until the election; one of the candidates is still stonewalling about his tax returns; both of them, who will be 69 (HRC) and 70 (Trump) on election day should be offering full health information, but at least what Hillary Clinton has offered so far is not a self-evident joke; and the race tightens up. Just noting for now an interview that in any other year for any other candidate would itself be the stuff of campaign-altering news. I am trying not to remain numb.