The Backlash Against Trump Hotels
Will the Republican presidential nominee's campaign hurt his business empire?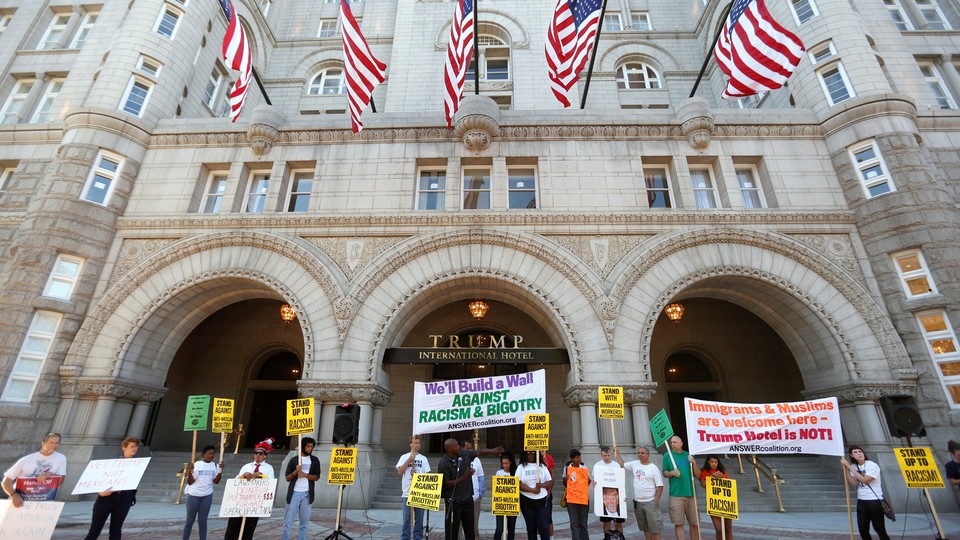 WASHINGTON, D.C.—A small crowd of protesters gathered outside the Trump International Hotel on Monday morning, chanting "No Trump! No KKK! No racist USA!" A banner read: "Immigrants and Muslims are welcome here. Trump Hotel is NOT!" The luxury hotel isn't slated to have its grand opening until October, but Monday's soft opening showed it's already become a target for protest against Donald Trump's presidential campaign.
Both the timing of the hotel's debut and its address seem fitting. The property is situated in between the White House and the U.S. Capitol on Pennsylvania Avenue. Its location ensures Trump will have a highly visible presence in the nation's capital no matter what happens in November. But win or lose, the election could have unintended consequences for Trump's business ventures, including his new hotel.
The power of the Trump brand name, and his track record in the private sector, is foundational to the Republican nominee's sales pitch to the American public: Elect him, and he'll save the country from ruin by running the government like a business. It would be ironic if his presidential campaign ends up damaging his family's brand. So far, Trump's White House run is driving some people to protest the new Washington hotel, and it may drive others away from Trump properties altogether.
Stacy Small, the founder of boutique travel agency Elite Travel International in Los Angeles, told me she has clients who specifically request not to stay at Trump hotels. Small describes her clientele as a "high-end crowd—a lot of Silicon Valley entrepreneur and Hollywood types." Quite a few are not fans of Trump: "I've had people say, 'I can't stay at a hotel with his name on it,'" she said. The agency remains politically neutral during the booking process, but respects clients' wishes. "The hotels themselves are beautiful. It has nothing to do with the property," Small said. "It's the association. If someone doesn't like Trump, they don't want to stay in a hotel with his name attached."
Holly Lombardo, a luxury travel planner who lives in Atlanta, no longer recommends Trump hotels to clients. Lombardo, a self-described Democrat, is so repulsed by Trump's presidential campaign that she feels it would be morally wrong to drive business to any of his properties. "That would be like putting money in his pockets, and I can't do that," Lombardo said, though she clarified that she would facilitate a booking if a client asks to stay in a Trump hotel. Before the presidential race started, Lombardo said she would have been "very interested in recommending" the new Washington hotel to clients. Now, she can't bring herself to promote the property "because of this divisive campaign."
The privately owned Trump Organization, which operates Trump Hotels, is not required to publicly disclose financial earnings. That makes it more difficult to precisely evaluate whether Trump's campaign is taking a toll on his businesses. The Trump Organization, however, has pushed back against any suggestion that the campaign has done damage. Instead, its representatives insist business has never been better for Trump hotels.
"With 10 years of experience with Trump Hotels, I can easily say the opening of Trump International Hotel, Washington, D.C., has been the most successful in terms of opening bookings, interest from groups, and large events," Managing Director Mickael Damelincourt said in a statement. A spokesperson for the Trump Organization added: "Our properties are known for their iconic locations, achieving the highest accolades, and for providing unrivaled five-star service. We continue to outperform our competitors and we are very enthusiastic about the future and our continued growth."
The protesters who gathered outside the hotel Monday don't share that enthusiasm. But it'll take more than demonstrations to affect the hotel's bottom line. Whether the venture succeeds, and by how much, hinges more on how well-to-do travelers decide to spend money. "None of us can afford to boycott the Trump hotel because we couldn't afford to stay here to begin with," Ben Becker, a protester and organizer with the anti-war ANSWER coalition, told me.
Many of Trump's own working-class supporters would likely not be able to afford the hotel either. Indeed, its location, price, and design make the hotel more likely to attract a well-connected crowd of Washington insiders, the very people Trump so routinely denounces on the campaign trail as he rallies supporters with populist promises.
Publicity from the presidential campaign won't necessarily hurt Trump hotels. It could even help: Some Trump supporters may go out of their way to patronize them. Other visitors may be drawn to the properties purely for the campaign-related novelty. And then there are the apolitical reasons to stay: Trump hotels offer up plenty of amenities designed to reel in wealthy clientele. The Washington hotel advertises opulent guest rooms and palatial suites, fine dining, and an upscale spa.
Still, if travelers want to experience the luxury of Trump's hotels, they may have to contend with criticism. "It's almost a political statement to do any type of business now with the Trump brand," the ANSWER coalition's Becker said outside the Washington building Monday. "If you are a millionaire, or a member of the ultra rich who can afford to stay in this hotel, then you have to be a particularly racist one at this point to book a room here," he added. That kind of reaction could make prospective clients squeamish, and might convince the controversy-averse to stay away.
The Trump brand is poised to live on well past the November election, but whether it thrives, or doesn't, is another matter. The Republican nominee's presidential campaign has already influenced the way some people view the Trump brand name. Even if Trump's presidential ambitions are thwarted, the legacy of his White House run could impact his business empire for years to come.