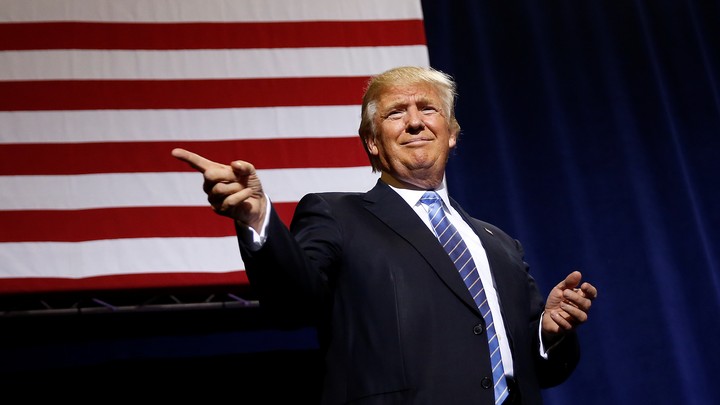 Donald Trump faced a choice Wednesday night between disappointing the anti-immigrant base that carried him through the Republican primary or the moderates he needs to sway to win the election. He chose to disappoint the moderates.
After two weeks of vacillation, confusion, and whispers about "softening" his policy on immigration, the Republican nominee steamed forward in a fiery speech in Phoenix, laying out the most detailed version yet of the hardline immigration stance that mostly resembles the one he has espoused for months.
Trump reiterated that he'd build a physical wall on the U.S. border with Mexico and that Mexico would pay for it. (That followed his short, strange jaunt to Mexico City, where he said he did not discuss funding for the wall with President Enrique Peña Nieto, who insisted he had told Trump Mexico would not pay for the wall, which Trump surrogates did not deny.) Trump promised strict enforcement of immigration laws, and while he did not specifically repeat a vow to deport the estimated 11 million undocumented immigrants currently in the United States, he said there would be mass deportations—up to 6 million, according to a Washington Post analysis. "There will be no amnesty," Trump said. He also again spoke of his plans for screening to detect would-be terrorists. That portion, like many others, remained skimpy on details. ("If we have the right people doing it, believe me, very, very few will slip through the cracks," he said.)
The fallout from Trump's speech was almost immediate, with some of Trump's few Hispanic supporters expressing anger, disgust, and betrayal. Within hours, surrogates began their own softening, wondering whether they could still support the candidate.
Jacob Monty, who was a member of Trump's National Hispanic Advisory Council, promptly resigned, blasting the candidate in a Facebook post:
Alfonso Aguilar, president of the Latino Partnership for Conservative Principles, tweeted that he felt "disappointed and misled." Aguilar was a Trump critic who came around, betting that Trump was developing a more circumspect plan. "It's so disappointing because we feel we took a chance, a very risky chance," he told Politico. "We decided to make a big U-turn to see if we could make him change. We thought we were moving in the right direction … we're disappointed. We feel misled."
Ramiro Peña, another member of the council, also ripped the speech, saying he believed Trump lost the election Wednesday night. "The 'National Hispanic Advisory Council' seems to be simply for optics and I do not have the time for energy for a scam," he wrote an in email obtained by Politico.
Aguilar, Peña, and Monty's journey from hope to disillusionment offers a mirror of the journey taken by immigration hardliners like Ann Coulter. The conservative pundit is touring behind a book called In Trump We Trust, in which she wrote, "There's nothing Trump could do that won't be forgiven. Except change his immigration policies." Just as Coulter kicked off her book tour, though, Trump started talking about a "softening." Without concretely reversing anything, he started asking questions about whether mass deportation really made sense. He criticized President Dwight Eisenhower's "Operation Wet Back," a 1950s program of mass deportations.
Coulter and others howled in anger and confusion, but Trump seemed to be embarking on an attempt at outreach. Not to Hispanics, by and large; he's already set to lose that group badly on Election Day. No, the more likely target for Trump's "softening" was white, educated voters. While Trump does well among white working-class voters, he's underperforming among those who are better off, who seem to view his rhetoric as too coarse and lacking in compassion.
But what the last week showed was Trump didn't have a good way to square that circle. He couldn't effectively stick to a hardline immigration policy, the heart of his presidential run, while also softening. In short, Trump had to choose between disappointing Coulter and Aguilar, and he chose to disappoint Al over Ann. He even specifically praised Eisenhower's deportations Wednesday night.
Some indication of the electoral toxicity of Trump's stance is the fact that neither of Arizona's Republican senators decided to attend the speech. John McCain, who is up for reelection this year, has grudgingly endorsed and stuck with Trump, despite the nominee mocking his capture in Vietnam. Jeff Flake, however, has been an outspoken critic of Trump's. Typically Republican territory, Arizona is considered a possible swing state this year for the first time since 1996, and Hillary Clinton's campaign announced a "six-figure" television ad buy there on Thursday.
Trump's proposals are likely unworkable as policy. The plan for the wall is vague, pricey, and unlikely to garner congressional approval, nor is Mexico likely to foot the bill. Meanwhile, even hardline immigration hawks like Mark Krikorian deem mass deportations an unworkable strategy.
The problem is that the underlying dynamic that Trump sought to correct—his struggling standing in the polls—has not gone away. Trump's former campaign manager Corey Lewandowski said on CNN that he thought the speech was aimed at "white men," one of the few groups Trump is not struggling with.
"Only the out-of-touch media elites think the biggest problems facing America—you know this, this is what they talk about, facing American society today is that there are 11 million illegal immigrants who don't have legal status," he said in Phoenix. "And, they also think the biggest thing, and you know this, it's not nuclear, and it's not ISIS, it's not Russia, it's not China, it's global warming."
Unfortunately for Trump, most Americans also don't think that immigration is the biggest problem facing America. It lags far behind the economy and terrorism in polls, and even Trump supporters rate it less important than those two issues. That's one reason why Trump's electoral coalition hasn't yet grown large enough to eclipse Hillary Clinton's. And after deciding to plant his red, white, and blue flag squarely on immigration, he'll need to look for a new way to expand his movement.
We want to hear what you think about this article. Submit a letter to the editor or write to letters@theatlantic.com.