The State That Fell Off the Electoral Map
Colorado was supposed to be a presidential battleground, but that now seems far-fetched. Democrats' success in places like this could spell trouble for the Republican Party long past 2016.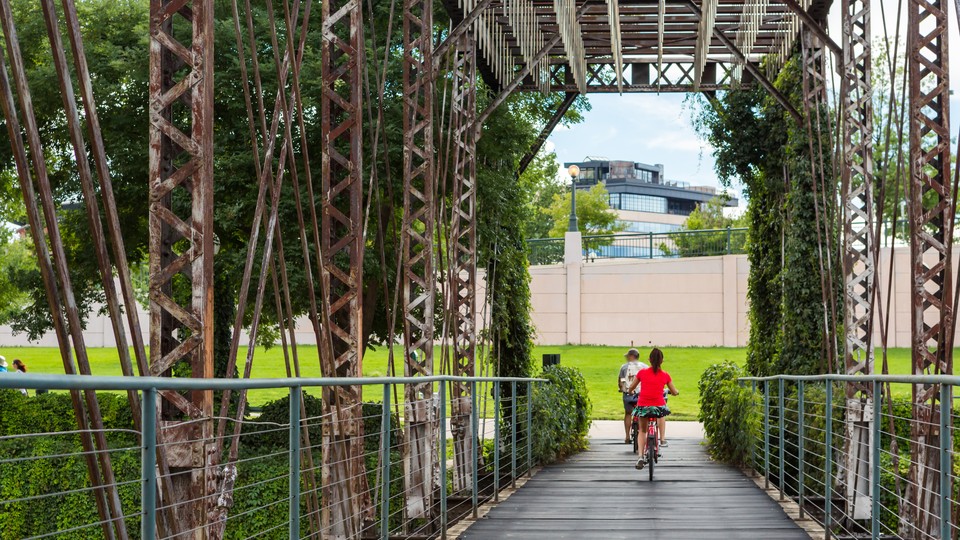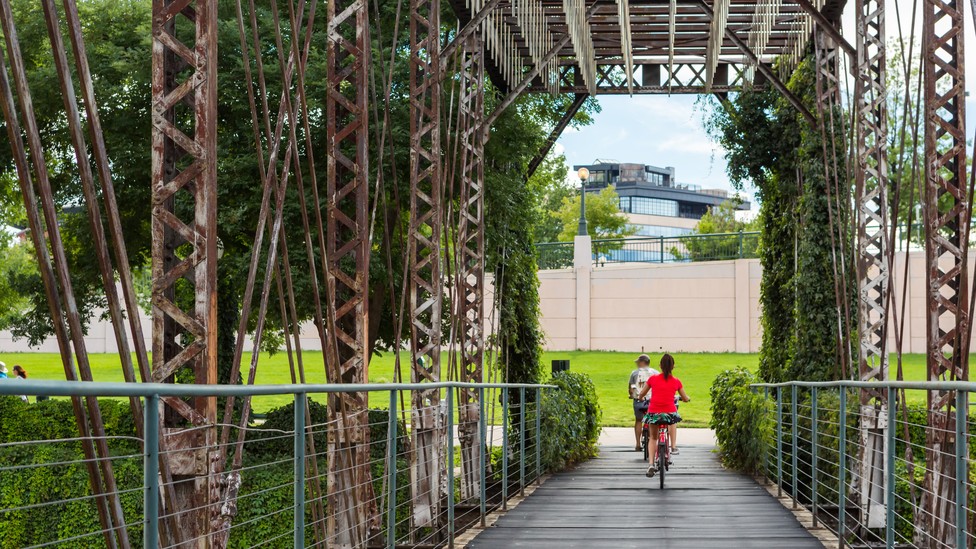 CENTENNIAL, Colo.—When I grew up here, it was a Republican suburb. I didn't know there was any other kind.
Our planned community, 20 minutes down the highway from downtown Denver, sat behind walls but not gates, its residents subject to a thick sheaf of "covenants" imposed by the homeowners' association. The neighborhood had been built from scratch in 1978, its winding cul-de-sacs carved out of the dry earth; each house had one of five floor plans. We were represented in Congress by Tom Tancredo, the firebrand right-winger known for his staunch opposition to illegal immigration.
It is not such a Republican suburb anymore.
Instead, this area has become the bellwether swing region of a changing state, which has gone from red to purple and now looks blue on many electoral-map projections. Arapahoe County, which contains Centennial, went for George W. Bush by 8 points in 2000 and 4 points in 2004. But it has voted for the Democratic candidate in every election for president, Senate, and governor since 2008.
The area's congressman, Mike Coffman, is still a Republican, but he is hanging on by his fingernails in a district Barack Obama won twice. (The district has been redrawn since Tancredo's day.) A top target of national Democrats, Coffman is airing an ad in which he says to the camera, "People ask me, 'What do you think about Trump?' Honestly, I don't care for him much."
A hotly contested swing state in the 2008 and 2012 presidential elections, Colorado this year seems to be falling off the map of battleground states. Hillary Clinton has been up by an average of 10 points in recent polls, and her campaign and super PAC pulled their advertising from the state's airwaves in July. Top Republicans are pessimistic. "I've never seen how a guy like Donald Trump could win here," Coffman's strategist, Josh Penry, told me. With women, with Hispanics, and with the educated moderates who value tolerance and civility, "the whole Trump shtick just doesn't play well," he said. Colorado's U.S. Senate race, once expected to be among the most competitive nationally, also now looks out of reach for the GOP.
How did this state fall out of contention? Is it a quirk of the unusual 2016 dynamic, or evidence of a long-term shift? This is the pressing question for Republicans who hope to keep states like Colorado, and suburbs like Centennial, in play once Donald Trump is no longer their standard-bearer.
It's a question that reverberates beyond Colorado: Another erstwhile swing state, Virginia, poses similar questions (and appears similarly uncompetitive this year), as do the burgeoning suburban populations of the New South and Southwest. If Democrats start winning upper-middle-class white voters like those in Centennial, a lot of traditionally Republican states become competitive. In recent polls, Clinton leads among college-educated whites, a demographic no Democrat has won for nearly a century.
For all the attention paid this year to the supposed American everyman in West Virginia or Kentucky—the downtrodden small-town laborer of the Appalachian holler, beset by economic stagnation and social upheaval—it is the suburban voter who really drives American politics. In 2012, 47 percent of voters lived in suburbs, versus 32 percent in big or medium-sized cities and 21 percent in rural areas and small towns. Arapahoe County and its suburban neighbor, Jefferson, are just two of Colorado's 64 counties, but they cast almost a quarter of the state's votes.
There are two overlapping narratives for Colorado's switch from red to blue. One is demographic: For the past couple of decades, Colorado's population has grown, becoming younger, more urban, and more diverse. The new voters tend to be Democrats, and there are now about 20,000 more registered Democrats than Republicans, the first time in 20 years the GOP has not had the advantage.
The other narrative is partisan realignment. To put it bluntly, over the past decade in Colorado, the Democrats moved to the center, while the Republicans went nuts. (Top Colorado Republicans and Democrats alike agreed with this assessment.) Local Democratic candidates, aided by a cabal of wealthy donors, began emphasizing quality-of-life issues like education and public safety; Republicans kept putting up Tea Party-inspired fringe candidates who said outlandish things and emphasized divisive cultural issues. The middle-class soccer moms of places like Centennial started to peel away.
On a sunny afternoon last week, I went back to my old neighborhood. Outside the public elementary school my little brother attended, softball practice was underway. Krista Taylor, a 41-year-old nurse with brown hair in a ponytail, sat on a blanket in the shade, supervising another mom's toddlers in a playpen.
"I am usually a Republican, but I am not a big Trump fan," she told me. "I just don't feel confident that he can be the leader of our country. But I've never voted for a Democrat in my life, and I'm not sure whether I'm ready to do that, either." She was hoping the debates would help her make up her mind.
I went to my old house—my parents moved away a decade ago—and rang the doorbell. Nobody was home; a hulking Ford Expedition sat in the driveway. Whitney Vanzel, a 32-year-old photographer, passed by in flip-flops, taking an evening walk. "When you're trying to hire someone for a job and you can't find the right person, you keep interviewing," she told me. That was what she proposed to do in the presidential race: Postpone the election for eight months or so and start over to find new, better candidates.
"Neither of them are my preference," she said. "I wish we had a system where there was someone else." A Republican, she planned to reluctantly vote for Trump, but she was also considering the Libertarian candidate, Gary Johnson.
At the King Soopers where my mother used to buy groceries, I met Claudio Herrera, a 38-year-old ski instructor and "entrepreneur" who grew up in another part of the state. Herrera, whose sunglasses perched atop his shaggy brown hair, didn't even want to call himself an "independent," because that's a category, and he doesn't like categories.
"Billary was great the last time, so of the two idiots, we might as well have the one who did a good job before," he said. Trump, with his million-dollar inheritance and multiple bankruptcies, didn't seem like someone he could trust. "But I don't trust any politicians. I don't trust the system," he said.
Dick Wadhams was adamant: Colorado, he insisted, was still a swing state. A former chairman of the Colorado Republican Party, he has been working at a high level in state and national politics since his first paying job, on the Gerald Ford campaign. But this fall, rather than work to elect another Republican candidate, his political activity consists of commentary for a local television station.
A hangdog look came into Wadhams's blue eyes as we shared a pitcher of coffee at a Village Inn off Interstate 25 in Denver. The state, he said, "is only blue right now because of the candidates leading the ticket."
Wadhams had hoped to be spending his autumn differently. At the beginning of the year, he signed on with a candidate for U.S. Senate, Jack Graham, whom he believed had what it took to beat the incumbent Democrat, Senator Michael Bennet. Graham, a former business executive and athletic director at Colorado State University, was a pro-choice former Democrat from San Francisco, running as a moderate in a party that has been doing its best to purge the ideologically impure in recent years.
As Trump barreled toward the nomination, Wadhams and his candidate began to fret. "Jack would look at me and ask, 'Is this nomination going to be worth anything if we win?'" Wadhams said. "But I think it would have been. I think we would have given them a hell of a run."
Many top Colorado Republicans had declined to run against Bennet, including Coffman, the suburban congressman; his wife, Cynthia Coffman, the state's attorney general; and George Brauchler, the district attorney who prosecuted the Aurora movie-theater shooter. The remaining candidates, including Graham, were mostly unknown. A county commissioner from Colorado Springs, Darryl Glenn, styled himself along Tea Party lines: He was endorsed in the primary by Ted Cruz and Sarah Palin, and was boosted by ads from the Senate Conservatives Fund.
Wadhams's theory of the race had been that multiple conservative candidates would split the "hardcore" vote, allowing Graham to consolidate the party mainstream. But the opposite ended up happening. In the five-way vote, Glenn got 38 percent to Graham's 25 percent, with other establishment-friendly candidates splitting the rest.
Glenn is the type of Republican who opens every speech by thundering, "I am an unapologetic Christian, constitutional conservative!" He has said that the problem with Washington is too much Republican cooperation, and called Democrats "evil." Unlike many swing-state GOP candidates, he spoke in support of Trump at the Republican convention in July. In his convention speech, Glenn, who is African American, blamed Obama for the country's racial divisions and urban violence. "Someone with a nice tan needs to say this: All lives matter!" he said.
Since winning the primary in June, Glenn has barely mounted a campaign, Wadhams and other Republican insiders told me. He barely speaks to the press, makes few appearances, has few staff, and has yet to run a television ad. Bennet has been on the air with gauzy positive spots touting his bipartisanship since the beginning of the year.
"All he does is go to Republican and conservative events," Wadhams complained. The deep-red county Glenn hails from is also home to the social-conservative powerhouse Focus on the Family and five military installations, including the Air Force Academy. "Conservatives in El Paso County are like liberals in Boulder—they don't understand that everybody's not just like them." (A strategist with knowledge of the Glenn campaign told me the campaign purposefully spent the summer focused on fundraising and planned to be more active in the coming weeks.)
The right kind of Republican, Wadhams said, can still win in Colorado. He recalled running the campaign of Senator Wayne Allard, who campaigned in 1996 on his environmental agenda and his record of cleaning up Rocky Mountain Arsenal, a former chemical-weapons plant. Or Bill Owens, the state's only Republican governor in the last four decades; he was a fiscal conservative who talked about improving education for minorities, and won endorsements from some Hispanic Democrats in his 1998 run. In 2014, Republican Cory Gardner became a senator, defeating the incumbent Democrat, by stressing fiscal conservatism and renewable energy.
"It's not that a fiscally conservative, pro-life candidate can't win in Colorado," Wadhams said. "But number one, you don't campaign on that. And number two, you take up an issue that shows you've got something outside the regular Republican agenda."
The party's candidates in recent years have been a mix of right-wingers and screwballs. The 2010 GOP gubernatorial candidate was so weak that Tancredo, running on a minor-party ticket, came in ahead of him, second to the Democrat.
The burgeoning suburban swing vote poses challenges for Republicans, Wadhams acknowledged. "Those unaffiliated voters in Jefferson and Arapahoe have always been hard," he said. "They're socially liberal but fiscally conservative. It takes a special kind of Republican to win them—someone like Cory Gardner."
Wadhams was sure that, had his party not made the mistake of nominating Trump and Glenn, Colorado would still be up for grabs this year. But given the demographics, I asked, wouldn't the state be trending away from Republicans no matter what? In 2012, after all, Mitt Romney lost the state by 5 points, underperforming the polls. Republicans occasionally win elections in Massachusetts, too, but nobody calls that a swing state.
Wadhams sighed. "I'm not ready to concede the state yet as moving so far to the left that we only win fluke elections," he said. As for himself, he would be voting for Trump. Clinton "is the most corrupt nominee either party has ever had—I really believe that," he told me. But he would have liked to see a different Republican candidate. "I think even Ted Cruz would have been better, and I don't think he could carry Colorado, either."
When Morgan Carroll was running for the Colorado state legislature, she prided herself on listening to her constituents. She held hundreds of town-hall meetings and knocked on thousands of doors.
Carroll, a Democrat from the Arapahoe County suburb of Aurora, expected to hear mainly about pocketbook issues. But over and over, these suburbanites complained about their homeowners' associations—the arbitrariness, the lack of transparency, the shady elections and unaccountable boards. "I realized that 2.2 million Coloradans live in homeowners' associations, and people's basic rights and liberties were not being protected," she told me.
Carroll introduced a homeowners' bill of rights, and it passed with broad bipartisan support. "That, to me, is what representative government is about," she told me. "Our job is not to push our agenda—it's to talk to the community and pay attention."
An attorney, 12-year legislative veteran, and former state senate president, Carroll this year is running for Congress against Coffman, the Trump-leery Republican. Local Democrats consider her the strongest challenger so far to Coffman, who's managed to hang on for four terms in his increasingly diverse swing district by taking moderate positions on immigration and gay rights and doing aggressive outreach to minority communities. (Aurora was 78 percent white in the 1990 Census; by 2010, that number was just 61 percent.) In 2013, he began studying Spanish. "Es muy importante para la comunidad," he told Fox News Latino, whose reporter had asked a question in English, last year.
Carroll dismisses this outreach as an election-driven ploy and portrays Coffman as part of the problem—bolstering a Republican majority in Congress intent on blocking gun control and immigration reform and shutting down the government. (Never mind that Coffman is one of the caucus's most conspicuous moderates.) Her logo features a purple mountain skyline and the slogan, "Let's Get REAL Results." "The mainstream Republicans have left the Republican Party," she told me. "They are more pragmatic and less hateful than their party's standard-bearers."
Candidates like Carroll have been Democrats' key to victory in places like the Denver suburbs: Culturally liberal without being sharply ideological, they run bread-and-butter campaigns that avoid the most divisive issues and paint their opponents as extreme and obstructionist.
This has been the trajectory of the suburban vote nationally, said Matthew Lassiter, a University of Michigan historian and author of The Silent Majority: Suburban Politics in the Sunbelt South. Academics once studied suburbs like Orange County, California, to locate the roots of the new Right. But over the last 30 years, suburban communities from Los Angeles to D.C., Denver to Atlanta, have grown steadily more racially and economically diverse; communities founded on white flight from the inner city now find themselves with an influx of immigrants and lower-income residents pushed out of gentrifying downtowns. The soccer-mom stereotype of the suburban voter—white, square, middle class—no longer applies.
The "pragmatism" that allowed the New Democrats led by Bill Clinton to begin to win the suburban vote in the 1990s was, Lassiter argues, a fundamental shift in the party's priorities. A party that had once been proudly working-class and anti-corporate began to woo upper-middle-class white professional voters chiefly by deemphasizing progressive economics; suburban voters had to be reassured that Democrats would not ask them to sacrifice for the sake of racial integration or anti-poverty programs. "It's not just that Republicans became more right-wing and distasteful," he told me. "It's that the Democratic Party doesn't ask suburban voters to make sacrifices like Democrats did when they were a working-class union party."
Carroll, like Coffman, did not attend her party's national convention in July, but she bristled at my suggestion that her party's unpopular nominee might similarly be dragging her down. I asked if she shared most voters' qualms about Clinton's trustworthiness. "I mean, like, do you trust her? I don't know, honestly," she said. "But I do know that, if you look at the things she's fought for, the things she's been doing, most of the issues she has supported represent values pretty well aligned with mine."
Carroll and I were talking in a Democratic office in an Aurora strip mall, where one wall was painted with the red-yellow-and-blue state flag and another bore a handmade poster reading, "A woman's place is in the House and Senate and Oval Office!" About 100 people, mostly women, had gathered for a women's organizing event featuring vice-presidential nominee Tim Kaine's wife, Anne Holton, the former Virginia secretary of education. There was some confusion about how to refer to Holton. If elected, would she be the "second lady," even though, with a female president, there would be no First Lady? Caroll wrestled with it in her introduction, then let it go.
Holton, a short-haired brunette in a belted blue dress, recounted her own history: Her father was Virginia's first post-Reconstruction Republican governor, elected in opposition to the segregationist Dixiecrats in 1969. He integrated Richmond's public schools by sending his children to them, including 12-year-old Anne. Holton met her future husband at Harvard Law School and, over the course of their joint careers in public service, has watched the state turn purplish-blue along the same trajectory as Colorado. After her speech, I asked Holton why she thought Virginia was turning toward the Democrats. "It's been a journey," she said. The state, she said, was still purple, with the legislature in Republican hands. "But we've gotten to the point where we've realized that our diversity is our strength."
One danger for Democrats in states like Virginia and Colorado would be to become victims of their own success—to become so dominant that their liberal base begins to make more extreme demands, forcing the party too far left for the swing voters of Arapahoe County to stomach. Bernie Sanders won the state's caucuses by a wide margin, and Bennet, an early Clinton endorser, was shouted down at the state convention by Sanders delegates insisting he change his superdelegate vote.
But so far there is not much sign of a left-wing takeover. Several Sanders-wing challengers in state legislative races lost their primaries this year. A single-payer health-care initiative on the November ballot is widely expected to be defeated; Democratic base groups such as ProgressNow Colorado and NARAL have come out against it.
At the Carroll event, a 42-year-old stay-at-home mother in a floral dress named Alexandra Castulovich told me she was looking forward to voting in her first presidential election. An immigrant from Panama, she had lived in Arapahoe County for 11 years but just became a citizen this year. Trump, she said, "enrages me." She added, "All of my Hispanic friends, they would never vote for him, even if they are culturally conservative. I'm not Mexican, but I am absolutely insulted by what he has said."
Democrats are betting that Castulovich is the new face of the American suburb. And if they are right, Republicans could be in trouble long past 2016.
---
Related Videos