Donald Trump Shifts the Debate on Childcare to the Left
Whether he wins or not, the Republican nominee has pushed his party closer to the Democratic position a key economic issue.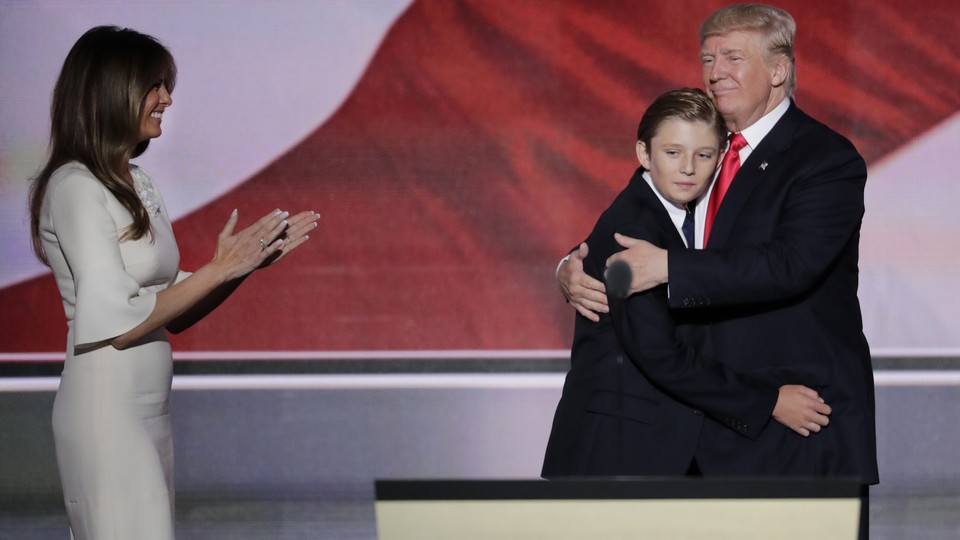 If Donald Trump has his way, Republicans in Congress next year would pass a plan providing federally-subsidized child care to Americans rich and poor, expanding a social safety net that conservatives have spent years trying to slim down.
During a speech in the Pennsylvania suburbs on Tuesday, Trump will unveil a proposal aimed at independent and women voters that his daughter, Ivanka, first promised two months ago at the Republican National Convention. As described by his campaign, the plan would allow individuals earning up to $250,000 ($500,000 for a couple) to deduct expenses for the care of up to four children or elderly relatives from their income taxes. It would also allow Americans in any income bracket to set up tax-advantaged accounts to save up for child and elder care expenses. Families who don't earn enough to pay income taxes would see an expansion of the Earned Income Tax Credit that would net them as much as $1,200 more per year. And perhaps most significantly, the Trump plan would guarantee six weeks of paid maternity leave—although he would pay for it with cuts to the unemployment-insurance program.
Taken together, it's a remarkable proposal from the leader of a party that has, on economic policy, shifted sharply to the right in the 16 years since George W. Bush campaigned on a slogan of "compassionate conservatism." The key question about this plan is whether the GOP will embrace its vision of government-funded support for child care, or whether, like Trump itself, the party will dismiss it as an aberration come 2017.
There have been signs that either outcome is possible. On the one hand, conservatives in Congress who support Trump have been in no rush to praise his increasing number of proposals that contradict GOP orthodoxy. House Speaker Paul Ryan's "Better Way" agenda includes nothing on expanded child care and no major infusion of federal spending on infrastructure—another Trump theme. And when Trump's running mate, Governor Mike Pence, stood alongside Ryan and House GOP leaders after a meeting in the Capitol on Tuesday morning, he passed on the opportunity to tout Trump's forthcoming plan. That isn't exactly a surprise: As a representative from Indiana, Pence was a stalwart economic conservative who would have rejected out of hand a proposal that called for such an expansion of federal tax subsidies.
For some notion of how conservatives viewed these ideas when President Obama proposed them during his 2015 State of the Union address, here's a tweet—and retweet—from Laura Ingraham and Sean Hannity:
"@IngrahamAngle: Paid sick leave...paid maternity leave...paid childcare...and it's all freeeeeeeeeeeee!" U forgot FREE COLLEGE

— Sean Hannity (@seanhannity) January 21, 2015
Ingraham, now a strong Trump backer, took a much more open-minded view on Tuesday. She tweeted "need to see details" on how the Republican nominee planned to pay for his paid maternity leave proposal.
Trump's more detailed plan follows the release of another conservative proposal for paid family leave released last month by the American Action Forum. Both blueprints are more limited alternatives to what Hillary Clinton and congressional Democrats are calling for: a universal plan that would allow people to collect up to $4,000 or two-thirds of their monthly income for 12 weeks to cover time off for the birth or adoption of a child, a qualifying medical condition, or a situation in which an immediate family member is suffering from a serious illness. Neither Clinton nor Trump have released details that show exactly how all of their numbers add up, although Trump's campaign said his plan would involve reforming the tax code as opposed to direct spending.
While the American Action Forum proposal is even more narrowly tailored to help low-income families, Trump's plan has different options that could benefit people across the income spectrum. When he first proposed offering a tax deduction for child-care expenses in August, the idea drew criticism that it would chiefly benefit higher-income families who pay more in taxes. But the fleshed-out version puts a cap on income for the deduction and expands the EITC for the poor. Still, the separate allowance for families to open tax-advantaged savings accounts could become a tax shelter for the wealthy, Carmel Martin of the Center for American Progress, a liberal think tank, told the Associated Press.
The Clinton campaign was also quick to criticize Trump's proposal for six weeks of maternity leave as a deception, since it would come at the expense of cuts to unemployment insurance. "After spending his entire career—and this entire campaign—demeaning women and dismissing the need to support working families, Donald Trump released a regressive and insufficient 'maternity leave' policy that is out-of-touch, half-baked and ignores the way Americans live and work today," said Maya Harris, a senior policy adviser to Clinton. "Instead of asking those at the top to pay their fair share, he's robbing Peter to pay Paul by raiding unemployment insurance funds, and giving the most to the wealthy while providing far less relief to middle-class and working families."
Representative Rosa DeLauro, a Connecticut Democrat and a chief sponsor of legislation for universal paid leave, was slightly more charitable.
Donald Trump's campaign proposal for paid maternity leave is a positive step forward for the GOP, and I appreciate him joining the conversation. However, we need to ensure that his plan is more than just talking points. While Donald Trump has rightly identified the need, his proposal for paid leave is limited and miscalculates what working families face when serious family and medical needs arise.
DeLauro went on to suggest Trump's plan was putting "lipstick on a pig." But her statement correctly identified the significance of the proposal in the first place. Trump sees a political benefit in traveling to a battleground state and calling for more government support for raising families. Whether he wins or not, the most unorthodox of Republican nominees has again shifted the terms of debate on a key economic issue in the left's favor, and that is reason enough for a Democrat to cheer.