The Question Some Public Universities Will No Longer Ask
Dozens of higher education institutions in New York state will stop asking applicants whether they have past criminal convictions.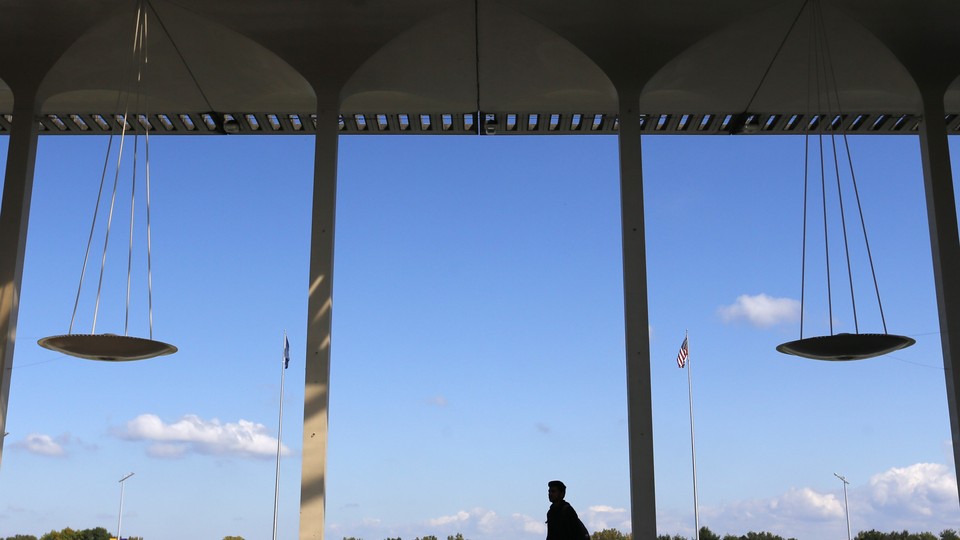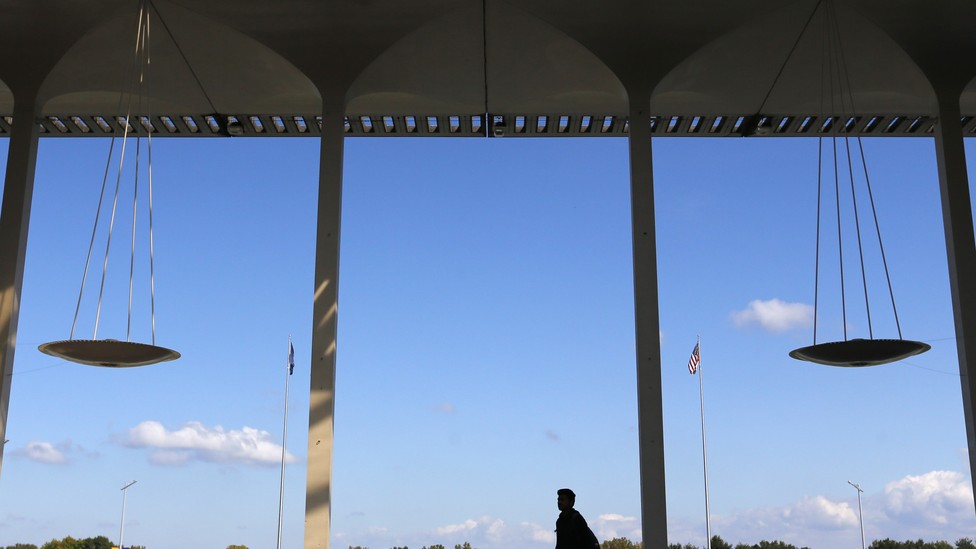 The trustees of the State University of New York voted on Wednesday to completely remove long-standing questions about past felony convictions from its general application starting with the fall 2018 admissions cycle, a decision that could have ripple effects across academia. The change affects 64 colleges in the statewide system that enrolls 442,000 students each year and received 310,000 applications for the 2015 academic year.
"This is a historic moment because SUNY is the first university system in the country to reverse its decision to screen for criminal history and remove the question from its admissions application," said Emily NaPier, the director of justice strategies at Center for Community Alternatives, which has been petitioning SUNY to make this change for about a decade. "[This] will open the doors for thousands of qualified applicants around the state who previously would have been deterred by the inquiry into their past."
SUNY, the largest public university system in the country, joins the ranks of 61 public and private colleges and universities that have committed to phasing out questions advocates believe discourage prospective candidates with criminal records from even applying to schools. But once enrolled, students could be asked about their criminal histories while applying for campus housing or for entry into specialized academic or training programs.
"Today's policy revision is a milestone achievement for SUNY, one that positions our university system as a leader in what has become a national movement to expand access and educational opportunity for individuals with a felony history," said SUNY Chancellor Nancy L. Zimpher in a statement.
Earlier this year, the White House launched the Fair Chance Higher Education Pledge, which asks institutions to eliminate the use of criminal histories in evaluating a candidate's academic potential. So far, the signatories represent 172 campuses, serving 1.8 million students, according to the Department of Education.
By signing the pledge, Secretary of Education John B. King Jr. said in a statement, colleges "are leading the way by committing to expand educational opportunity for all. We are better off as a country if we help those who have gotten off track get back on a pathway to success by giving them a fair chance to successfully reintegrate and lead productive lives in our society." One in five Americans, some 70 million people, have a criminal record, according to the Department of Justice.
According to DOE, 66 percent of colleges and universities collect criminal justice information for all prospective students. A seminal study by the Center for Community Alternatives found that that close to two-thirds of applicants with a felony criminal offense record ended the SUNY application after being asked about their criminal history (compared to 21 percent of all applicants). But most experts and the statement from DOE conclude that "The research that does exist suggests that colleges and universities that admit students with a criminal justice history" do not have higher crime rates than "those that do not."
But questions about criminal histories will not disappear entirely. A press release from SUNY announcing the decision stated that "Students will be asked to declare a prior felony conviction post-admission and only when they seek campus housing or participation in clinical or field experiences, internships, or study abroad programs."
Some students––such as those who are registered sex offenders––would be required to identify themselves to local police, who would then inform campus authorities of their enrollment. In other instances, students with felony convictions would be barred from certain degree or certificate programs in fields like teaching and health management because of legal and industry requirements.
Nevertheless, the change could be quite significant for the 25,000 people who leave New York State prisons each year. According to the governor's office, an estimated 40 percent recidivate within three years of their release. But higher education has proven an effective tool in reducing recidivism rates.
This week's decision is the result of a long process. After significant media coverage and a recommendation from the state's bar association, activities began to simmer on SUNY campuses. In April, hundreds of SUNY student senators passed a resolution to support banning the box across all SUNY institutions. In May, the SUNY board of trustees held a public hearing on the issue, where student senators spoke and formerly incarcerated advocates lead by the advocacy group Education from the Inside Out Coalition offered testimony based on their experiences trying to further their education after serving time in prison.
"Here's a chance for SUNY to get it right, and to have their policies lineup with the data and the research," said Glenn Martin, founder and president of the advocacy organization Just Leadership USA. "The disproportionate effect of the criminal justice system on people of color serves as a surrogate for race and class discrimination."
During the academic committee's deliberations the day prior to the vote, Joseph Porter, vice chancellor for legal affairs and general counsel since 2015—and widely credited with shepherding this change for over a year—presented the resolution by reminding the room that "The purpose of SUNY, its fundamental mission, is to provide the people of New York, with the broadest possible access," to education.
Porter continued by saying that, "as a component of that fundamental mission, SUNY has an obligation, as a public university, to provide" these individuals with a higher education to reduce recidivism and provide an opportunity to remake their lives. He made a point of emphasizing the impact on applicants of color who served their time but "still encounter difficulty accessing SUNY campuses even after they've filled their sentences."
Members of the SUNY academic committee and a handful of trustees who joined the meeting heard about similar public institutions that have eliminated the box from applications, like the University of California, the University of Wisconsin, Texas A&M University, Texas Tech University, its sister system the City University of New York, and neighboring Rutgers in New Jersey.
"I think we are seeing the beginnings of a trend of walking away from these kinds of practices," said Barmak Nassirian, director of policy analysis at the American Association of State Colleges and Universities, which includes SUNY.
Activists are continuing to press the issue. The Education from the Inside Out Coalition has helped draft legislation to bar colleges statewide from asking about criminal history. That proposal, known as the The Fair Access to Education Bill (S969/A3363), is currently under consideration by committees in both houses of the New York State Legislature.
NaPier, from the Center for Community Alternatives, was audibly happy about the decision when we spoke. "We hope that other colleges and universities across the country will follow SUNY's example and make the right decision to stop asking these harmful questions," she said.