The Oscars, but for Federal Employees
The FBI's chief bomb expert, a Secret Service cyber-investigator, and the developer of a life-saving medical computer are among the honorees of annual awards for government service known as the Sammies.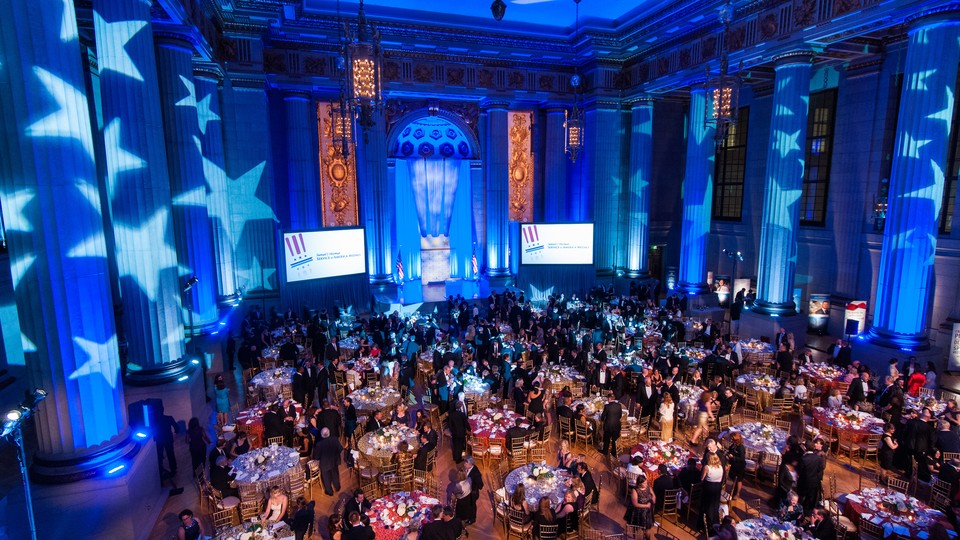 Other than the military, federal employees aren't often celebrated.
Political candidates dismiss them as  overpaid, paper-pushing bureaucrats. They make headlines mostly when something goes wrong—a major health insurance website failing to function, or senior managers spending too lavishly on the public dime. When Congress needs to slash the budget in a pinch, federal employee salary and benefits are frequently the first things it tries to cut.
On one night a year, however, America's top civil servants get feted Hollywood-style, with a black-tie gala and the presentation of their version of the Oscars—the Samuel J. Heyman Service to America Medals, or Sammies. Now in their 15th year, the awards are the brainchild of the non-profit Partnership for Public Service, which solicits nominations from government departments and agencies, the contractors and associations that work with them on a daily basis, and the public at large.
The goal, in addition to simply recognizing outstanding and often life-saving work, is to boost the reputation of civil service and encourage federal employees to strive for success rather than merely avoiding embarrassing failures. "We want a culture of recognition in government," said Max Stier, the Partnership's president. "We believe that no organization gets better if all you do is kick it."
More than anything, however, the stories of the winners serve as examples of what the government can do well at a time when so much focus is devoted to what it does poorly. The Partnership convenes a panel of experts in different fields to winnow a pool of more than 350 nominees down to 32 finalists and then to eight winners, most of whom receive $3,000 cash awards. (Political appointees, like Cabinet secretaries or under secretaries, are not eligible.)
The Partnership gave us an early look at the winners, who include a man who builds and analyzes bombs for the FBI, a team that achieved a 40 percent reduction in hospital patient-harm rates nationwide, and a scientist who devised a computer that can quickly detect when a wounded soldier or injured patient is suffering from a life-threatening hemorrhage.
Here are five of their stories:
---
Kirk Yeager, National Security and International Affairs Medal
Kirk Yeager wants everyone to know a bit more about bombs—not how to make them, of course, but how to recognize them and the ingredients that are used to build them.
Yeager is the FBI's lead explosive scientist, which is a fancy euphemistic title that basically means he's the government chief bomb expert. He analyzes them, builds them, and most importantly, he trains local bomb squads how to handle them. When two bombs exploded near the finish line of the Boston Marathon in 2013, Yeager received one of the first phone calls and met a plane carrying evidence from the attack at one in the morning so he could analyze it at the FBI's explosives lab in Quantico, Va. In all likelihood, he did the same this past weekend when pipe bombs exploded in Manhattan and along the New Jersey shore. "I never know when I come into my office what is going to be awaiting me," Yeager, 50, told me just a few days before the latest terrorist scare in New York.
Part of Yeager's job is to analyze bombs and build mock-ups of them to brief senior officials in the government, including the FBI director and lawmakers in Congress. Another part is to track the ever-changing methods that terrorists use and to anticipate what they'll try next. "Trends change with technology," he said. Where bombers once used alarm clocks and then pagers as triggering devices, they now use cell phones.
When he's not training police departments or helping investigators respond to a crisis, Yeager is building bombs and detonating them in the FBI's test range outside Washington, which can handle up to 50-pound charges. After Inspire magazine—the in-house organ of al Qaeda in the Arabian Peninsula—first published details of how to build a bomb targeting aircraft, Yeager worked with the TSA and other federal agencies to test out the instructions and then beef up the government's detection capabilities.
Yeager attracted the FBI's attention while studying energetic materials—another euphemism for explosives—for years in New Mexico. "When you spend seven years of your life making terrorist explosives," he joked," eventually you fall on the FBI's radar." And after 10 years of responding to daily threats, he rose to become the agency's senior scientist.
Now, he says one of his top goals is to educate not only bomb squads but the broader public about how to recognize suspicious activity. He cites the old adage of "a rising tide raising all boats." "I want to produce a more informed public," Yeager said. "I want to produce more informed and intelligent bomb squads, police officers." That also includes retailers who need to know about how the chemicals they sell can be used to make bombs.
"We want them to know what their products can do," Yeager continued. "We want them to have reach-back to places like the FBI if they think something is suspicious about a purchase. Because quite frankly, that's where plots of terrorism are disrupted. They're disrupted at the community level. The FBI is not the people who are finding all the terrorists. We don't have the numbers to do that."
---
Jaques Reifman, Science and Environment Medal
Ninety percent of war casualties die on the battlefield before they ever get to a surgeon. The No. 1 cause of death, said Jaques Reifman of the Army's medical research command, is undetected internal bleeding.
Over the past 10 years, Reifman has been working on a project called APPRAISE, a portable computer system he developed that can determine within 10 minutes whether an injured person is suffering a life-threatening hemorrhage. That's a vast improvement over the current norm in which emergency responders often have to wait until a patient reaches the hospital to detect internal bleeding.
Reifman and his team created a one-pound device that an EMS technician or a military medic can attach to the vital-sign monitoring system they apply to injured patients. The device sends an alert when it detects a serious hemorrhage. The APPRAISE system hasn't yet been deployed overseas, but in testing at Massachusetts General Hospital, it achieved an accuracy rate of 80 percent within 10 minutes.
The result was a breakthrough for a project that has been cost between $5 million and $10 million to research and develop over the last decade. "It started from a dream, an idea, nothing more than that," Reifman said. The difficulty was not so much creating the technology as it was to simulate the chaotic, real-time conditions under which it would need to work.
"To develop something that works in a controlled laboratory setting is relatively easy," Reifman explained. "The challenge here is that we had to develop something that has never been attempted before, had to work all the time correctly in a chaotic, unpredictable environment."
"It was a painstaking, slow process of overcoming one challenge at a time," he said.
The implications for the APPRAISE system go far beyond the battlefield, and Reifman said the technology could be transformative for first-responders both in urban centers where gun-shot wounds are prevalent as well as rural areas in places like Texas or Alaska where transporting casualties to a specialized trauma center can take hours. Born in Rio de Janeiro, Reifman immigrated to the U.S. in 1982 and spent years working with the Department of Energy in Chicago before moving to the Army. The next step for APPRAISE, he said, is FDA approval and then licensing so it can be sold to local governments and the military.
The technology's use overseas could be a ways off, however. "We're not there yet," Reifman said.
---
Lisa Jones, Citizen Services Medal
Whenever Congress creates a new federal program, someone has to actually stand it up and implement it.
In 2011, that job fell to Lisa Jones, who was appointed the program manager of the Treasury Department's Community Development Financial Institutions Fund. The program's name is a mouthful, but it's an initiative that allows the government to offer credit to local lenders at low-cost, long-term rates as a way to spur development in urban and rural areas where loans are hard to come by.
"When I came onboard, this program was literally just a six-page statute," Jones recalled. "And they said, 'Ok, create the program. Develop all the rules and regulations, terms, conditions. Implement it, launch it, and monitor it.'"
Along with her team at the Treasury Department, Jones did just that. The first money went out in 2013, and to date, the program has made available $852 million to low-income communities that has helped finance affordable housing, retail expansion, and the opening of charter schools, hospitals, and senior living facilities. Projects supported by the program include the revitalization of the 60th Street Corridor in West Philadelphia and the expansion of a recycling company in a Kentucky county hurt by the closing of coal mines.
Jones, 52, came to government after a career in investment banking. She was driven, she said, by the desire to marry her interests in finance and community development, which she had worked on in graduate school. In the lingo of her industry, she said: "It was just the perfect merger for me."
The program is unique because it can offer capital at a lower cost and over a longer period of time—30 years—than the 5 to 10 years of credit that community development financial institutions are typically able to access in distressed areas. "It didn't exist anymore," she said. "That has been a game-changer for them."
The program is also structured so it does not come at a cost to taxpayers, and Jones helped develop strict monitoring guidelines so that the Treasury Department can keep track of the bonds and ensure they are performing well.
"We really are running it like an investment portfolio," she said. And while it's early to assess long-term loans, she added that "so far, they're all performing really well."
---
Jean Moody-Williams, Dennis Wagner, and Paul McGann, Federal Employees of the Year
There have been few more frustrating aspects about the modern U.S. healthcare system than the alarming rate at which people become sick or injured while they are being treated at the hospital. Preventable errors at hospitals result in tens of thousands of deaths every year and billions in additional costs.
Beginning in 2010, Jean Moody-Williams, Dennis Wagner, and Paul McGann of the Centers for Medicare and Medicaid Services launched an initiative first to track and then to reduce preventable hospital-acquired conditions by 40 percent and readmissions by 20 percent over the next four years.
They succeeded.
Preventable patient harm went down by 39 percent and readmissions by the target 20 percent—reductions that resulted in 87,000 fewer deaths, more than 2 million fewer patients harmed, and a cost savings of some $20 billion, according to CMS.
How did they do it?
"We shined a light on what was working," Wagner said. That seems like the simplest way to describe a nationwide effort in which the CMS team brought together nearly 4,000 of the country's 5,000 hospitals to share best practices and spread the word on methods with which individual facilities had found success.
"Just as there is a massive nationwide problem with safety in hospitals, so too is there a nationwide asset of hospitals who are good at creating the systems that are needed to prevent these harms from occurring in the first place," Wagner said.
Wagner cited the example of San Diego's Sharpe Memorial Hospital, which discovered a way to reduce incidences of frail patients falling in their hospital rooms. The hospital had both the patient and a nurse fill out surveys assessing their risk of falling upon admission. Patients that scored above a certain number were assigned a room that automatically showed them a fall-prevention video when they turned on their television. When they needed to go the bathroom, a nurse was required to assist them out of bed.
That relatively simple procedure was shown to have a significant impact, and after Sharpe Memorial officials presented their findings through the CMS public-private initiative, it was adopted by many more hospitals across the country. "It's not the government teaching people," Wagner said. "It's peers and colleagues who are already good at these things showing their other peers and colleagues how to do it."
---
Tate Jarrow, Call to Service Medal
The perception that the hackers are winning grows with every report of a major financial, government, or more recently, political breach of data from a supposedly secure cyber network.
Tate Jarrow begs to differ.
Jarrow, 34, is a Secret Service special agent investigating cyber crime who was instrumental in two of the agency's biggest recent cases. One was the indictment of three Israeli men who broke into the networks of major financial companies and compromised the data of more than 100 million people. The other was a 10-month investigation that resulted in a guilty plea by the founder of Liberty Reserve, which prosecutors described as "an underworld cyber-banking system" that laundered more than $250 million in illicit criminal profits.
"There's this perception that nothing is being done about [cybercrime] or that what's being done is ineffective," Jarrow said. "I think that's an incorrect view."
He argued that the government's efforts to combat cyber crime had already pushed major hackers overseas and was steadily restricting the parts of the globe from which they can stage successful attacks. "Every time we make an arrest, we're really diminishing the area that bad guys can operate in," Jarrow said.
Another misconception that the public has, he said, is the belief that because it might only take a few seconds for cyber criminals to steal your data or your money, they can be caught just as quickly as those who commit physical crimes.
"Cyber cases take a long time, and it takes a lot of patience," Jarrow said. "It never moves within days." In addition to poring over emails and following a hacker's online trail, investigators have to coordinate across multiple agencies and with governments of many foreign countries where servers are hosted. "A bad guy using 12 different servers in 12 different countries—you can imagine how hard that is to keep track of."