The Legal Fiction That Could Kill Duane Buck
A man's life hinges on the Supreme Court's evaluation of racist testimony during his sentencing.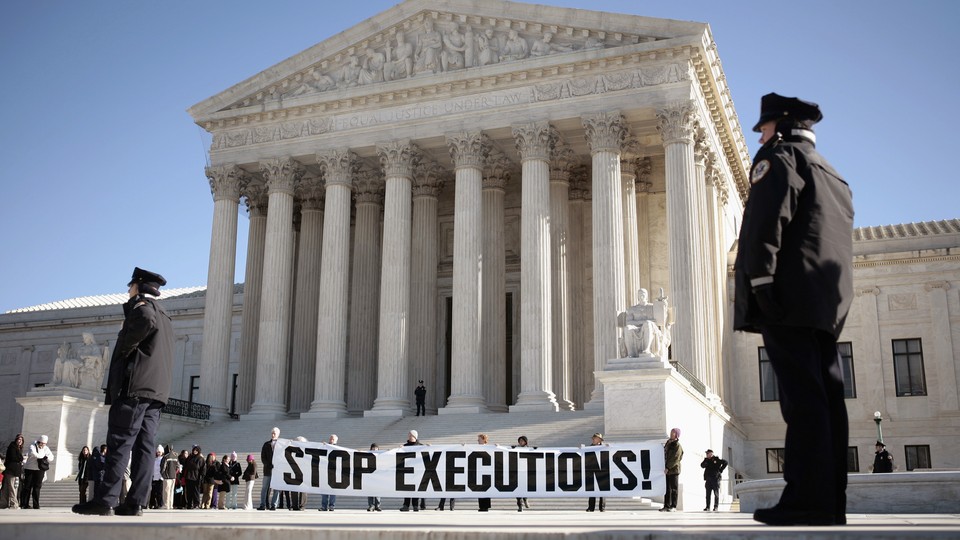 The island of Minorca is now part of Spain. Roughly 270 square miles in area, it basks in the sunny Mediterranean some 75 miles east of its larger sibling, Mallorca.
Minorca is also, however, located entirely within the Ward of Cheap, a district covering the half-mile between Farringdon Street and Old Jewry within the City of London.
You could look it up.
The island was magically imported into Cheap by the English Court of Common Pleas in 1774. This ludicrous geographical fiction was the only way the court could assert jurisdiction over a claim by a Minorca resident that the British royal governor had assaulted and falsely imprisoned him.
Like the wandering island, most legal fictions grow up because they allow the law to do things more easily.
But legal fictions can kill.
Consider this one: The acts of a lawyer in a capital murder trial are the actions of the defendant. This fiction will be in play next week when the Supreme Court hears Buck v. Davis, a last-ditch death penalty appeal from Texas. Duane Buck is asking the Court to void his death sentence and order a new sentencing hearing because the jury heard testimony that Buck, a black man, was more dangerous than he would have been if he had been white. If Buck's appeal is rejected, it will be largely because the incompetent lawyer who let this impermissible, false, and unconstitutional "expert" testimony go to the jury was his own state-supplied lawyer—and thus in a legal sense, Buck himself.
No one questions that Buck is guilty of two horrible murders. After he was convicted in 1997, the case, like all capital murder cases, moved on to the "sentencing phase." In this phase, the prosecution can provide evidence to the jury that the crime was "aggravated" by certain statutory factors (such as having been especially cruel, or  committed for money). The defense can present almost any evidence it wants, in an attempt to "mitigate" the crime—to show, for example, that a history of trauma or child abuse shaped the defendant's actions, or that, if imprisoned for life, he will not commit violent acts again. After this testimony, the jury can choose between death and life imprisonment.
The Sixth Amendment to the Constitution requires that, if an accused can't afford private counsel, a lawyer must be provided. Buck's trial lawyer, Jerry Guerinot, was appointed by the court and paid by the state. Guerinot did something that, on first hearing, seems all but unimaginable—he presented an "expert" who testified that Buck was more likely to commit future violent crimes because he is black.
As Adam Liptak of The New York Times outlined in a stunning 2010 profile, Guerinot seems to have been one of the least successful death-penalty lawyers in American history. Twenty of his clients have been sent to death row. (He is now out of the capital-defense business.) It was Guerinot who retained psychologist Walter Quijano as an "expert" witness for the defense at sentencing; it was Guerinot who asked Quijano on the stand what factors the jury should use to judge Buck's future dangerousness. "It's a sad commentary that minorities, Hispanics and black people, are over represented in the Criminal Justice System," Quijano responded.
On cross examination, the prosecution re-emphasized this point: "the race factor, black, increases the future dangerousness for various complicated reasons; is that correct?" Quijano said "yes."
Any first-year law student knows that defense counsel should not knowingly offer evidence that is inadmissible and harmful to the client and that it is improper to argue that a defendant's race should lead to a harsher sentence.
The state of Texas also knows this perfectly well. As far back as 2000, three years after Buck's trial, the Texas attorney general's office admitted that seven death sentences based on racist testimony by Quijano violated the defendants' "constitutional right to be sentenced without regard to the color of [their] skin." The Attorney General, and now Texas Republican Senator, John Cornyn, promised that the state would not oppose motions for new sentencing hearings from these defendants.
Then in 2002 Texas got a new attorney general: Republican Greg Abbott. When Buck asked a federal district judge to order a new sentence hearing, Abbott's office reversed course. It did object, arguing—falsely—that Buck's case was the only one in which Quijano testified for the defense. (The Texas AG office did not respond to a request for a comment on the switch.)
This is two fictions in one—one real, the other legal: The genuine falsehood is that Buck's case was unique; subsequently it became clear that in at least one other case, Quijano had been a defense witness. The legal fiction is that, under any conception of justice, there's a difference between having an unscrupulous prosecutor offer the unconstitutional evidence and having your own lawyer do it—a difference so great that it should determine whether you live or die.
At this point, the procedural nightmare that is federal habeas corpus law becomes relevant. Buck had already made one state habeas application before the Texas AG's announcement*. In order to justify a second habeas motion, Buck was required to make "a substantial showing of a denial of a constitutional right." Otherwise, his claims were "procedurally defaulted."
Buck argued that the submission of the racist testimony to the jury demonstrated that his lawyer had been ineffective—so ineffective as to violate the Sixth Amendment guarantee of a fair trial with "assistance of counsel." He also noted Cornyn's admission that several defendants' rights had been violated by Quijano's testimony in their cases, and Abbot's subsequent about-face in his case. A federal district judge, and later a three-judge panel of the Fifth Circuit, were deeply bored by this second habeas application**. They denied it, saying that that Buck didn't raise the matter in time.  (This is called "procedural default.") The U.S. Supreme Court denied review in 2011.
In 2013, however, the Supreme Court changed the background law: In a case called Trevino v. Thaler, the Court examined Texas's system of state appeals. It concluded that the system, by "design and operation," Texas law made it practically impossible for defendants to be on time with ineffective assistance claims.
Thus, the near-absolute bar on new federal habeas petitions should be waived, the Court said, when the defendant has a "substantial claim" of ineffective assistance. This decision offered Buck another chance to ask a federal court for a new sentencing hearing.
The district court, however, yawned again—the damage from Quijano's testimony, it said, was "de minimis," meaning insignificant. After all, Quijano had only referred to Buck's race twice; and, the court added, it is an "indisputable fact that African Americans and Latinos are overrepresented in the criminal justice system." Meanwhile, there was other, non-racial evidence to support a jury's conclusion that Buck would be dangerous if allowed to live. Thus, in effect, the use of the racist testimony was harmless, the court said.
Buck sought to appeal. Even to be heard at the court of appeals, he had to first ask the district court for a "certificate of appealability"—a judge's statement that he had made "a substantial showing of the denial of a constitutional right." The district court denied it, saying that Buck had no case at all.
Under the law, the appeals court must affirm that denial by a district court unless it's clearly wrong. The prisoner must show that "jurists of reason" could disagree with the judge's ruling.
The appeals court panels said no such judge could agree with Buck: "Buck has not made out even a minimal showing that his case is exceptional." It dispatched Abbot's change of heart in a footnote: "Because it does not change the outcome of this appeal, we need not explore whether such a promise was made or how explicit it was." No "jurists of reason" could disagree, the panel held.
The panel opinion was by Judge Jerry Smith, who during his three decades on the bench has emerged as a kind of appellate Judge Roy Bean. In 1996, Smith wrote an opinion overruling a Supreme Court decision on affirmative action, on the grounds that the Court probably didn't really stand behind it. (Reasonable appellate judges ordinarily understand that they don't get to overturn Supreme Court opinions.) Smith's decision was repudiated by the Court in two subsequent cases.
While the Supreme Court was considering the Affordable Care Act "individual mandate" case, Smith ordered Attorney General Eric Holder to write him a letter explaining political comments by President Obama. (Reasonable appellate judges ordinarily understand that the president and the United States are not the same thing; when the U.S. is a party to a case, the president isn't, and is thus not subject to the Court's political supervision.) But even for Smith, there was something breathtaking about his breezy assertion that "jurists of reason would not debate that Buck has failed to show extraordinary circumstances justifying relief."
Why?
Well, flashback to 2011, when the Supreme Court rejected Buck's first petition. Two justices—Justices Sonia Sotomayor and Elena Kagan––dissented from that denial of review. In an opinion by Sotomayor, they said: "a petitioner must show that 'jurists of reason could disagree with the district court's resolution of his constitutional claims or that jurists could conclude the issues presented are adequate to deserve encouragement to proceed further.' Buck has met this standard."
This was precisely the question before the Fifth Circuit panel. When Buck asked for rehearing by the full court, the majority denied it. But two judges dissented. "A proper, threshold inquiry into Buck's claim would have revealed that reasonable jurists could disagree with the district court's conclusions," their dissent said.
The bald-faced claim that no real judge could find Buck eligible for relief is belied by the record. Let's just say it is legal fiction.
Speaking of legal fictions, in that 2011 petition, Justice Samuel Alito, joined by Justices Antonin Scalia and Stephen Breyer, answered Sotomayor's dissent with a statement that Buck's case did not warrant review. It was true that the defense had offered Quijano as a witness in other cases, contrary to what the state had claimed, Alito said; but in those other cases, it was the prosecutor who asked the questions about race. "Only in Buck's case did defense counsel elicit the race related testimony on direct examination," Alito wrote. Again, Buck did it to himself.
Now the High Court has granted review again, and we will see what kinds of "jurists of reason" sit in our exalted temple of justice, whose entrance is inscribed with one of the greatest legal fictions: "Equal Justice Under Law."
---
Correction: This article originally misidentified Buck's first habeas petition as being federal rather than state. We regret the error.
This article originally misstated that Buck's second habeas application was evaluated by the Fifth Circuit. We regret the error.