The Conservative Churches Resettling Refugees
Despite pushback from Republicans, who have expressed concerns about admitting those from Syria and Iraq, religious groups continue to work in tandem with agencies to place individuals in their states.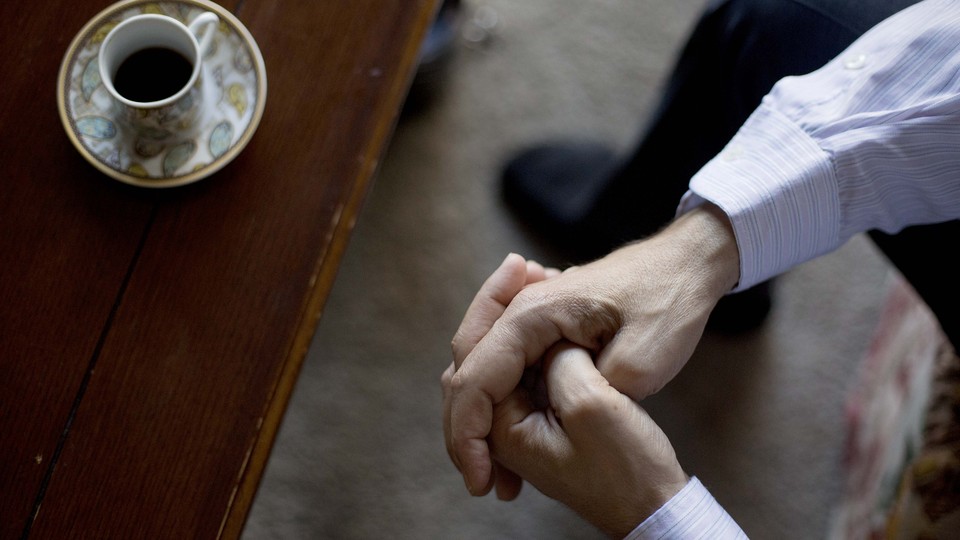 Despite the heated opposition of the Republican presidential nominee Donald Trump, and more than 30 state governors, conservative churches are welcoming Syrian refugees displaced by that country's civil war.
"The plight of refugees is very much in front of our churches right now," said Russell Moore, the head of the Ethics and Religious Liberty Commission of the Southern Baptist Convention. "Christians have a special affinity for Syria because this is a place that is very much part of our geography and our backstory. The Syrian crisis prompted the attention of many Evangelicals."
It's been nearly a year since those state governors vowed to reject the resettlement of Syrian refugees in their states, and since that time Trump has made opposition to taking in more refugees a centerpiece of his campaign. Nevertheless, conservative churches have joined their liberal counterparts in working to help the refugees find new homes in the United States.
"We've consistently had significant support from churches across the board from very conservative churches to other more liberal churches. It's never been an issue for us to really emphasize with churches that need to help some of these refugees,"  said Jenny Yang, the vice president of advocacy and policy at World Relief, one of the agencies that partners with the federal government to resettle refugees.
The State Department works with nine agencies to place refugees around the country, six of which are faith based. To be processed as a refugee, an individual has to meet the U.S. definition of "refugee" and be "among those refugees determined by the President to be of special humanitarian concern in the United States; not be firmly resettled in any third country; be otherwise admissible under U.S. laws." There are caveats that can keep someone from being admitted, but if approved, agencies will then work with local churches to resettle refugees. World Relief, an Evangelical organization, is among them.
World Relief's site says its mission is "to empower the local church to serve the most vulnerable." Within the last 30 years, the group has helped more than 250,000 refugees. Local churches are instrumental in the effort, since they're tasked with welcoming and resettling a refugee in the community, a process that can take several months.
But a string of events last November prompted concerns around the country about the admittance of refugees. More than 30 governors—all of whom were Republican except one—said they would not allow Syrian refugees to be resettled in their states, following the Paris attack that left more than 120 people dead and scores of others injured. In its aftermath, officials said at least one of the suspects had ties to Syria.
While states do not have the authority to refuse refugees entry, calls to halt the resettlement of refugees in the United States sparked widespread concern. Republican presidential candidates began expressing their hesitations, arguing the system was flawed and vulnerable to terrorists. Among them was Trump, who touted a hardline stance on immigration throughout the presidential primary.
"We have no idea who these people are, we are the worst when it comes to paperwork." he said. "This could be one of the great Trojan horses." The debate over what to do about the Syrian refugee crisis also landed in Congress, where the House introduced legislation to curb the number of refugees coming to the United States from Syria and Iraq. Senate Democrats later blocked the bill.
The contentious nature of the issue has had implications at the local level. Some churches have become wary of admitting refugees amid the heated rhetoric. After all, Trump once proposed a temporary ban on Muslims entering the United States, but shifted his position this summer to say the ban should be based on territory. "We've been surprised how much vitriol [there's been] against refugees in general," Yang told me.
Hope Point Church in South Carolina knows it well. The church began working with World Relief to resettle refugees roughly two years ago. Since then, they've worked with a total of nine refugees from the Congo. But the events that occurred within the last year brought a "sense of concern" among the community, said Richard Smith, the lead pastor at Hope Point. South Carolina Governor Nikki Haley called on Secretary of State John Kerry to stop the resettlement of Syrian refugees due to concerns about the vetting process.
Still, the state has received around 22 Syrian refugees as of mid-June and is expected to resettle 26 more. Smith has tried to emphasize the plight of refugees in his congregation to shift attention from a heated national discourse to one "motivated by compassion." These challenges are emerging across the country, particularly as the refugee crisis, which the United Nations called the worst since World War II, continues.
Samira Page, an Iranian refugee and now executive director at Gateway of Grace, which works with churches across denominations in Texas to assist refugees, noted that "the concern (about refugees) already existed; they were just intensified after the Paris attack." Page has noticed that refugees that have been in the United States are afraid, as a result of the rhetoric. "They feel like they're being identified as people from whom they escaped. They're being identified as their oppressors and that's a very scary thing for them," she said.
In June, the Southern Baptist Convention approved a resolution calling on churches to welcome refugees at their annual meeting. "Scripture calls for and expects God's people to minister to the sojourner," the resolution reads. "We encourage Southern Baptist churches and families to welcome and adopt refugees into their churches and homes as a means to demonstrate to the nations that our God longs for every tribe, tongue, and nation to be welcomed at His throne." The occasion marked the first time in more than 20 years that a resolution about refugees was included.
The resolution approved by Southern Baptists, one of the largest religious groups in the country, is not binding nor a reaction to Trump's proposals, Moore said. Still, it hints at a persisting problem: What happens when the Republican Party's standard-bearer espouses policy positions that are contrary to the efforts of religious groups that typically support the party? Moore and Yang noted that for now there continues to be an increasing number of volunteers willing to help refugees.
The Obama administration pledged last year to admit at least 10,000 Syrian refugees. National Security Advisor Susan Rice announced late last month that the United States welcomed the 10,000th refugee, reaching its stated goal "a month ahead of schedule."
In fiscal year 2016, the administration expects to admit 85,000 refugees from around the world. In Rice's statement, she thanked "generous communities throughout our country that have continued to open their arms to these new neighbors, demonstrating the values that have made our nation great." But it's balancing those values, and maneuvering through the tense political climate in the coming months that poses an ongoing challenge to these communities.
---
Related Videos