The Atlantic Politics & Policy Daily: World Leaders Still Confused Who Gary Johnson Is
The Libertarian Party presidential nominee struggled to name his favorite world leader during a television interview.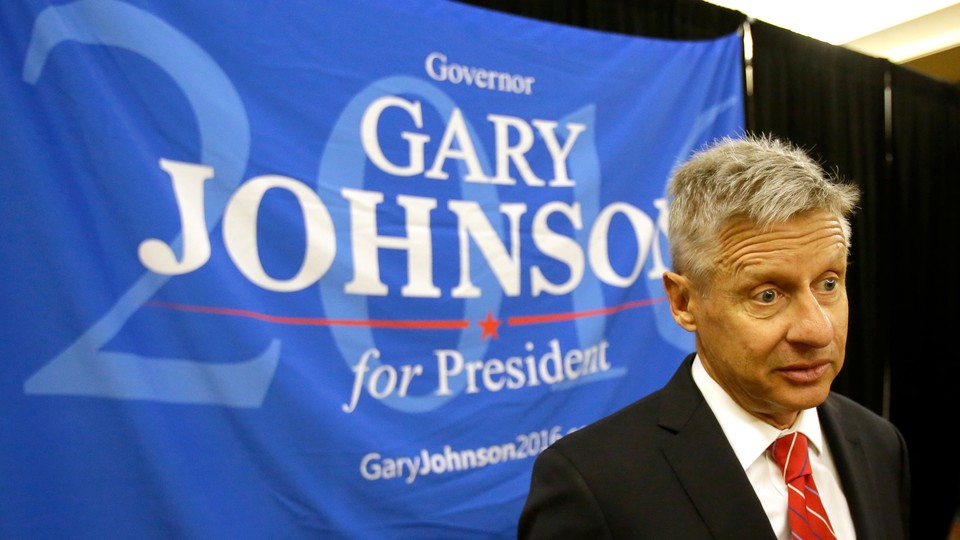 Today in 5 Lines
The U.S. Supreme Court agreed to hear eight new cases in the next term, including Lewis v. Clarke, a sovereignty case that could have big implications for Native American tribes. White House Press Secretary Josh Earnest expressed frustration with Senate Majority Leader Mitch McConnell and other members of Congress who suggested that a new law allowing the families of 9/11 victims to sue the Saudi government may have "unintended ramifications." Lawmakers again called on Wells Fargo CEO John Stumpf to resign during a House Financial Services Committee hearing regarding the company's opening of unauthorized customer accounts. The Detroit News endorsed Gary Johnson, who struggled to name his favorite world leader in an interview Wednesday night and who referred to his own gaffe as an "Aleppo moment." U.S. Secretary of State John Kerry said the United States is "on the verge" of ending talks with Russia on the war in Syria, after his Russian counterpart, Deputy Foreign Minister Sergei Ryabkov, rejected calls for a weeklong truce.
---
Today on The Atlantic
Obama's Final Fight: In the past two years, President Obama has made climate change a signature issue for his party. But his administration's last chance to implement significant domestic climate policy is the Clean Power Plan, which is complicated by constitutional and legal restrictions. (Robinson Meyer)

'The Forgotten Providers': As the American population ages, home-care workers are becoming increasingly vital to the country's health-care system. Most of these workers are women of color who experience sexism, racism, and marginalization. (Vann R. Newkirk II)

A Judgment on Race: Next week, the U.S. Supreme Court will hear Buck v. Davis, a case in which the defendant, Duane Buck, is asking that his death sentence be voided "because the jury heard testimony that Buck, a black man, was more dangerous than he would have been if he had been white." (Garrett Epps)
Follow stories throughout the day with our Politics & Policy portal.
---
Snapshot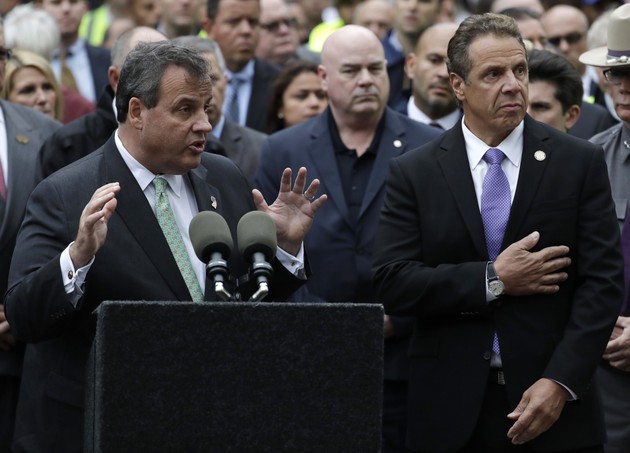 ---
What We're Reading
Ted Cruz Likes His Day Job: The Texas senator is back on the Hill after giving up his quest for the presidency, and some of his Republican colleagues are noticing a change in his demeanor: For the first time, Cruz seems to want to be helpful, rather than confrontational. (Paul Kane, The Washington Post)
'Not Pretty Enough': Donald Trump made inappropriate comments to female employees and encouraged club managers to fire female staff members who were "not pretty enough," according to employees who worked at his California golf club. (Matt Pearce, The Los Angeles Times)
Lobbyist, Schmobbyist: During his hiatus from the Senate, former Indiana Governor Evan Bayh spent five years wielding his political influence on behalf of the lobbying firm McGuireWoods. Now, in his attempt to return to Congress, Bayh is defending himself against the term "lobbyist." (Maggie Severns and Isaac Arnsdorf, Politico)
The Man Who Kicked the Hornet's Nest: Just as he turned "voter against voter, congressman against congressman, Bob Dole against the Bushes," Donald Trump has shaken up the right-wing media, pitting some of the loudest conservative voices against each other. (Robert Draper, The New York Times Magazine)
A Tale of Secrecy: The Panama Papers revealed a number of alleged activities by public figures, including tax evasion and money laundering. But the leak's true scandal may be the lack of government transparency. (Joseph E. Stiglitz and Mark Pieth, Vanity Fair)
---
Visualized
Unpacking the Polls: This interactive tool breaks down the data behind some of the most recent national polls, showing the age, gender, race, and education level of people surveyed—and explaining what to make of their responses. (Ken Goldstein, Bloomberg)
---
Question of the Week
This month, our very own Megan Garber kicked off a reader discussion on political films in our Notes section—a virtual movie club, if you will—as a way to "embrace and to escape the day-to-day doings of this long-running campaign season."
What politics-related movie do you consider mandatory viewing for all Americans?
Send your answers to hello@theatlantic.com, and our favorites will be featured in Friday's Politics & Policy Daily.
-Written by Elaine Godfrey (@elainejgodfrey) and Candice Norwood (@cjnorwoodwrites)